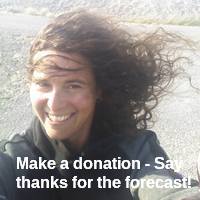 Thank you for using this forecast. I offer it freely so you can have more fun and plan your life. It does take significant time and energy to produce. If you find yourself using it often, or if you feel your life is enhanced by this information, please make a donation. I count on your support to pay my bills, and am deeply grateful to you for choosing to help support me. You can get this forecast via email by donation. The email subscription isn't $99/year. Not $50/year. Donating $12.34 or more gets you on the list for 12 months. Click on my photo to donate. Don't PayPal? Send a check to Temira @ PO Box 841 in Hood River. Thank you for your support and thank you for trusting my forecast.

Mt. Hood Snow Forecast – 5000′

4a-8a
8a-12p
12p-4p
4p-8p
8p-4a
Wednesday
2000′->4000′
Thursday
4000′->7500′->3000′
Friday
3000′->8000′
---
Mt. Hood Snow Forecast

There's finally a bit of new snow on Mt. Hood this morning. That's a delightful change from rain-rain-rain. We'll see continued light snowfall today with heavier snowfall overnight. Unfortunately, the snow will switch to rain Friday morning. We'll see another switch – rain to snow – on Friday afternoon. The weekend looks warm and sunny on the mountain, for the most part. Further details follow.
Wednesday is starting with light snowfall on the mountain. We'll see heavier snowfall this evening as a wetter system moves in. Unfortunately, this system will also be warmer, bringing a switch to rain before the slopes open on Thursday. The snow level Wednesdsay will be 2000′ during the day, and 4000′ in the evening and overnight. We'll see about .1-.2" water value during the day, for a couple additional inches of new snow on top of last night's 3". Wind will be W 25 all day, turning to WSW 20 overnight and building after midnight.
Thursday starts off with heavy snowfall, but the snow will switch to rain by 7am. Rain continues during the day and switches back to snow around 4pm. The snow level will be 4000′ early, 7500′ during the day, 4500′ late afternoon, and 3000′ after midnight. It's also going to be wickedly windy on Thursday. Orographic effects will add to precipitation totals, making the following numbers guesses. The mountain will receive 1.5"+ rain during the day. After 4pm, approximately .4-.8" WV will fall as snow, for 4-8" of additional snowfall. Given how windy it will be, even more snow than that is possible. Wind will be SW 25 early, WSW 50+ by 7am, and W 50 overnight. That, by the way, will impact snow quality, but will also make for good loading on leeward slopes.
Looking at Friday, strong wind continues in the morning, wringing additional snowfall out of the air. Sunshine returns in the afternoon along with some high clouds. The snow level will be 3000′ during the day, rising to 8000′ overnight. Mt. Hood will receive .3-.6" WV in the morning, for 3-6" of new snow. After that, no more snow. Just sun. Wind will be W 50 early, fading to W 10 in the afternoon and NW 10 overnight.
The weekend looks warm and sunny. The free air freezing level will rise to 10,000′ by Saturday afternoon, remaining there through the weekend. The next system looks to hit on Monday evening, which incidentally is MLK day and $20 night skiing at Meadows to benefit Hood River Rotary.

Random Morning Thoughts
One of the things that comes up over and over in my office is people's desire for things to be different. Often the desire for change relates to someone else's behavior. Perhaps a family member, a partner, or a friend is doing things that are perceived as hurtful or worrying.
Tension and anxiety arises in response to this desire for things to be different. We suffer. Notice I said that "we" suffer. The other person doesn't suffer. Our desire for someone or something to change brings up frustration and anxiety and feelings of powerlessness, sometimes even rage. This is painful, but the pain, note, is contained within our own bodies and minds.
We can support and love the people around us, but we don't have the power to force them to change. In the face of less-than-ideal circumstances, we need to learn to accept the way things are. This will decrease our negative emotions and allow us to move forward from a more balanced and happier place. Ironically, this is often when things will change for the better.
Next time you see yourself complaining about a person or a situation, stop. Breathe. Notice how wanting things to be different makes you feel. See if you can, for just a moment, accept that things are the way they are, at least for now. See if your negative emotions start to slip away… have an awesome day!

Disclaimer required by my grad school program: I am not your therapist, but I am seeing clients at this time at Comprehensive Healthcare in White Salmon. In the meantime, I am your weather forecaster. Take everything I say with a grain of salt, and consult with your actual therapist about your mental health issues. One other thing: I plan to keep doing this forecast indefinitely. Forecasting and counseling are both deeply meaningful and nourishing to me.

Gorge Wind Forecast
We'll have unreliable and gusty west wind today with light easterly flow by the afternoon. Thursday starts off with light west wind. In the afternoon, after 2pm or so, the wind will pick up to gusty 26-30 through the entire Gorge. Friday starts with 10-13 in the western Gorge and 15-28 in the eastern Gorge. In the afternoon, the wind will back off to 7-10 everywhere. Saturday and Sunday bring moderate east wind at 30-40mph at Rooster. River temp is 40 degrees.

Gorge Weather Forecast
It's raining. Again. It'll be a mostly cloudy and rainy day. Temps will be in the low 40's all day. West wind. 99% chance of rainbows. Thursday looks even rainier! Temps will be in the upper 30's early and low 50's (WARM!) in the afternoon. Strong west wind in the afternoon. 99% chance of rainbows. Friday looks partly cloudy with sprinkles that taper off. Temps will be in the low 40's early and upper 40's in the afternoon. Light westerlies. 99% chance of morning rainbows.
For weather specifically directed at travel through the Gorge, please visit Temira's Awesome Travel Advisory Service on Facebook.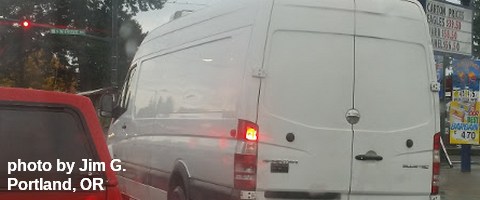 Road and Mountain Biking
I heard from someone that Syncline below the fence is good right now. Above the fence is muddy, so please don't ride or you will damage trails. Hospital Hill is also reported to be muddy, so let's leave that one alone too. As far as I know, Post Canyon remains closed to all users to protect delicate dirt from winter damage. Please respect this, even if you think it doesn't apply to you.

Upcoming Events
There'sfree yoga at 8am at Flow on Thursday morning. That's followed by $5Tai Chi at the Hood River Adult Center at 2:30, community yoga at 6pmat Samadhi in White Salmon, and free Tai Chi at Our Savior Church inBingen at 6:30. At 7am on Friday, there's theKickstand Coffee Run, where jogging or walking 4 miles gets you afree cup of coffee and a donut.

Click here for the full events calendar.
Have an awesome day today!
Temira