Random Morning Thoughts
I'm feeling very cozy in my house this morning watching the rain fall and the lightning flash over Underwood Mountain. What a show! And I'm so happy for my cherry farmer friends in Odell – they pulled their cherries last week. Unfortunately, this is not going to help the wildland fire situation. I was hiking at Meadows a few days back, and there were fires all over the place to the south. You can see the fires on the NWCC large fire map.

Do you find this forecast useful? Hooray! It's pledge drive month!
Thanks for coming here for your forecast. It's time for the annual pledge drive! "WHAT?", you say, "I thought this was free!" It is, but it takes lots of time. It's my job, and you're my employers! Here's the deal: Every day someone has to pledge. If not, no website forecast the next day: only the people on the email list get their forecast. Want on that list? Make a donation. Do I save you gas? Find you more fun? Entertain you? The email list is not $99/year. Not $50/year. No, just $12.34 or more gets you on the list for the next year. Anything over the minimum feeds my coffee and bicycle addictions and makes me feel loved, and god knows we all need to feel loved. Do it via PayPal/CC by clicking on my photo. And thank you so much for your support. Don't PayPal? You can send a check to PO Box 841 in Hood River. Thank you for your support. It means the world to me.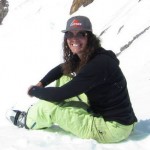 Tomorrow's forecast status:

Thank you Whit W. for tomorrow's forecast,
and thank you all for using this forecast!
Have a wonderful day!
Today's Gorge Wind – these are ranges for the average speed, not a predicted wind range. =)

Your favorite beach
Dawn
Patrol
9am-
11:30a
11:30a-
3pm
3pm-
dusk
Rooster's Rocks
lightning
and bare
butts =
bad idea
Steven's Locks
light
light
10-13
10-13
Hatchery/White Salmon Sandbar (minus a few for Hood River)
rainy
gusty
15-18+
gusty
21-24
lightning
Doug's, etc.
rainy
gusty
15-18+
gusty
21-24
lightning
Rufus, etc.
light
gusty
15-18
gusty
27-32
lightning
Roosevelt, etc.
light
gusty
15-18
gusty
27-32
lightning
Temira's sail: 35-40: 2.9 / 30-35: 3.2 / 26-30: 3.5
23-26: 4.0 / 20-23: 4.5 less than 20: something bigger!
Tonia's kite: 35-40: 4m / 30-35: 4-6m / 26-30: 5-7m
23-26: 7-9m / 20-23: 8-10 / 15-20: 10-12 / 10-15: 13-15.
Gorge Wind

As you might have guessed from the sounds coming in through your windows this morning, we're looking at a messy weather setup today. That makes for unreliable and difficult-to-predict wind. That said, the gradients at 6am were .10 (pdx-dls) and .01 (dls-psc). As the low pressure system causing all the chaos moves inland late today, you can expect gradients and wind to increase. Now, don't get me wrong: it's not going to be steady, it's not going to be awesome, and there's a good chance that lightning and thunder and big storm cells will shut down your playtime this afternoon.
That said, predicted gradients indicate the wind will rise to gusty 27-32 east of Mosier by late morning, filling in at Maryhill and Arlington this afternoon with gusty 21-24 near Hood River and less in Stevenson. I'd recommend you plan your day around storm chasing, rather than around wind chasing.
Tomorrow sees that low pressure system move inland for a more stable setup. Expect 17-21 east of Hood River early with 23-26 in the afternoon. Stevenson and Hood River should fill in by early afternoon with 15-18.
Friday starts with 5-10 and picks up to 10-13ish. As of right now, we're looking at light and variable wind Saturday (yay, wakeboarders), and easterlies at 20-23 on Sunday (again, yay, wakeboarders!).
The coast will have light or southerly wind until Friday, when the wind will return with a 4′ short period swell.



Advertising Worth Reading
Growlerz – Beer, Dawgs, Wine, Cider and Kombucha in Bingen

GROWLERZ in Bingen is now OPEN for biz! M-F, 11-9, S, 3-9. Growlerz is a Gorge community tavern that serves up good company, awesome DAWGZ and Cold Craft Beer by the pint or growler, as well as select bottled brews. We also feature cider, wine, and Kombucha! Music will be commonplace, with the Dam Good Jazz Trio playing every Thursday evening from 6:30 to 9:00, and Eddie Corduroy rocking the house with Blues every Friday, 6:30 to 9:00. Growlerz can host host book clubs, parties, and just about any gathering that would enjoy dawgz and refreshments.
Gorge Weather
There's a 50% chance of thunderstorms today, according to NOAA. They seem to be off by about 50%, because I'm watching the lightning while I write this report. Expect a lull in the action this morning, with round II of stronger storms this afternoon as an offshore low moves inland. As the clouds break up (hopefully) midday, we should see rainbows. And we'll likely have a lovely sunset tonight if the storms don't go too crazy. Temps will be in the low 60's this morning and low 70's this afternoon. If you'd like to watch for incoming storms on the radar, you can use this storm tracker link.
Tomorrow starts partly cloudy with a chance of showers and rainbows. Temps will be in the mid 50's early and mid 70's in the afternoon. Friday looks sunny with temps in the mid 50's early and low 80's in the afternoon. The weekend looks hot and sunny.
White Sprinter Van of the Day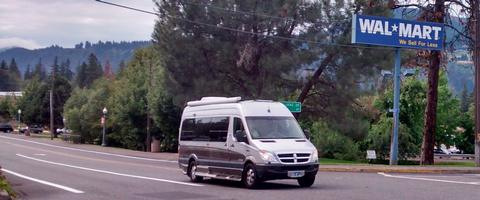 Road and Mountain Biking
Bless you, Mother Nature. I'm thinking you've just given us enough rain to make for tacky dirt in Post, Whoopdee, Syncline, Kitchen Sink, and the 44 Road trails. Woot woot! If this keeps up, it's possible we could even see mud. Wow. Just a note – you probably do not want to be riding in the woods this evening if the thunderstorm forecast is correct. Remember, Hospital Hill and Whoopdee close for the summer on Saturday, so if you want to say goodbye to them, ride them before Saturday. And remember, all trails on all lands are now closed to motorized use. And… if you are driving on forest roads, you must have a gallon of water and a shovel OR a 2.5lb fire extinguisher in your car.

The Clymb: free membership. Cheap gear.
Temira approves. Click to join.
River Levels / Cheezburger update
The White Salmon is at 2.5′. Cheezburger is probably watching lightning right now too! The Klickitat is at 1120cfs, 20% higher than it was yesterday. The John Day dam is putting out 132-163kcfs and The Dalles dam is reading 139kcfs. Columbia river temp is 68.9 degrees at The Dalles Dam.
Events – email me if I've missed any outdoor-related events
Today is Wednesday. That means that the Hood River County Fair, in Odell, starts today. Tonight, thunder and lightning permitting, there are sailboat races at the Hood River Marina (unlikely), the Post n' Pinot women's mountain bike ride (maybe), Families at Family Man (kid-friendly riding in Post), and Tai Chi at Wilson Park. Those are at 5:30, except sailboat racing, which is at 6ish. The Columbia Gorge Runing Club has a track workout at 6pm in Stevenson. There's Ping Pong at the Hood River Armory at 6:30 tonight ($5).
In Stevenson starting Friday, it's the Bridge of the Gods kite fest. The pro event is Friday, the amateur event is Saturday, and the blowout, for both kites and windsurfers, is set for Sunday. That's going to be difficult if the east wind in the forecast comes through. If you're in Stevenson this weekend, be sure to cross to Cascade Locks and check out the dinghy sailboat racing both Saturday and Sunday.
One last note for trail news: we are at Fire Level III, and that means that all trails are now closed to motorized use. In addition, all trails on Kreps and SDS and other local private lands will close for all uses for the rest of the summer starting Saturday. Trail closures include Whoopdee, anything on Hospital Hill, and the East Ridge hiking and biking trail. Please respect the landowners' wishes and stay off the trails once they are closed. And, of course, it's pouring rain this morning, but we'll be back to 90 degrees and bone-dry weather by the weekend. So, ride those trails now.
Have an awesome day today!
Temira