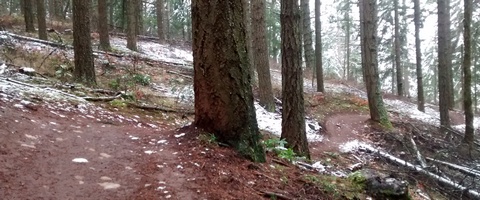 Random Morning Thoughts
Lots of people are bummed out by the lack of snow right now. Skiers and snowboarders want fun. Resort employees aren't getting a paycheck during the holidays. Resort towns, like Hood River, aren't getting the circulating dollars of skiers, snowboarders and mountain employees. No snow is hard on everyone, including me. I could find another job, but I couldn't find another family like I've found at Meadows. I usually spend Christmas Eve and Christmas and Chanukah and New Year's Eve and New Year's Day and my birthday working. I walk around and wish my coworkers "happy holidays", and they wish me the same. I give them hugs, and they give me hugs. We're a family, a big, supportive family filled with love for each other. I'm really missing that right now. That is all. Please let it snow soon.

Thank you for using this forecast!
Click on my photo to support it with a donation.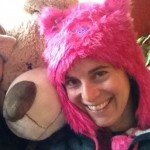 Thank you for using this forecast. Does it save you time, gas money, or help you find more wind, powder, or just plain fun stuff to do? Please make a donation to keep it going! Use it here for free or get on the mailing list for wind for the summer and Mt. Hood snow in the winter. Just click on my photo to donate. The email isn't $99/year. Not $50/year. No, just $12.34 or more gets you on the list for 12 months, and sometimes there are cool prizes. Donate via PayPal/CC by clicking on my happy photo below. Don't PayPal? You can send a check to Temira @ PO Box 841 in Hood River. Thank you for your support, and thank you for trusting my forecast. You guys mean the world to me.
---
Mt. Hood Snow Forecast – 5000′

4a-8a
8a-12p
12p-4p
4p-8p
8p-4a
Today
Tomorrow
The day after
Mt. Hood Snow
I was up at 1500′ running yesterday, and it was nice to see the snow. It was nice to think of it falling on the slopes of the ski resorts. It's good that they got a few inches yesterday. I'm proud of the new COO of Meadows for accomplishing his first task: making it snow. Unfortunately, he didn't accomplish the second part of the first task, dragging the inversion cloud from Hood River to Mt. Hood. But at least it's snowing!
Light snowfall continues on Mt. Hood today, with the snow level around 3000′ early and 5000′ this afternoon, dropping back to 3000′ tonight. We'll see .1" water value (WV) during the day and another .2" WV tonight, for a total of 3" of snow. Wind will be SW 10-15 all day.
Tomorrow starts off with a few flurries and sunbreaks, quickly becoming cloudy, with wet snow flurries or sprinkles starting around 1pm. Heavier precip starts around 10pm. The snow level will be 3000′ in the morning, 5000′ when the precip starts, and 6000′ when the heavy precip starts, dropping back to 5500′ after the bulk of the precip passes early Friday morning. This means we'll see maybe an inch of snow, followed by .5" WV rain by 4am Friday. Wind will be SW 20 Thursday morning, picking up to SW 40 in the afternoon.
The snow level will be around 5500′ early Friday morning, dropping to 3500′ by daybreak and holding through the rest of Friday. We'll see orographic (terrain-enhanced) snowfall, for .1-.3" WV, for 1-3" of new snow. Friday night looks dry. If nothing changes in the models, all hell will break loose on Saturday, as Mother Nature opens up the pineapple Gatling Gun and fires straight at Mt. Hood.
Current model runs show some snow Saturday morning, followed by heavy rain Saturday afternoon, continuing through Monday morning, with a total of 8+" of rain (it might have been a lot more than that – I actually gave up counting) in that period with the snow level way up high near the peaks of the volcanoes. Break out the outrigger canoes and the surfboards, because the Pineapple Express is headed to Mt. Hood Station.

Gorge Wind
It's nuking again this morning, with iWindsurf/iKitesurf reporting 42mph at Rooster and 18mph at Steven's Locks. Expect 35-45 today at Rooster with the correspondingly less amount at Steven's Locks. Tomorrow sees easterlies at 15-20 early at RR, rising to 25-30 in the afternoon. Friday brings westerlies at 10-13 through much of the Gorge.

Gorge Weather
It's Larry's annual beg-a-thon, and he's roped me into it. Please take the time today to make a little donation to the Hood River weather website. If you don't know about it, you do now. Everything weather-related in one place, including a chat room where you can talk about the weather!
Expect a cloudy day today with occasional sprinkles, with showers after 7pm. Temps will be in the upper 30's early and the low 40's this afternoon. Rainbow chances are just 4%. Tomorrow starts with low clouds, moves to high clouds, then sees mid-level clouds. Mostly, though, the day will be dry until the evening, when it will rain. Temps will be in the mid 30's early and the mid 40's in the afternoon. No rainbows.
Friday starts off rainy and becomes showery with sunbreaks. Temps will be in the upper 30's early and the mid 40's in the afternoon. Rainbow chances are 89%. Enjoy the mostly dry day on Friday, because models are coming to a consensus of pouring rain Saturday morning through Monday morning, with torrential rain of Biblical proportions Saturday night into Monday morning. It is a good thing that there's no snow on the mountain, or we'd be seeing a call for arks, boats, and amphibious vehicles of all sorts.

White Sprinter Van of the Day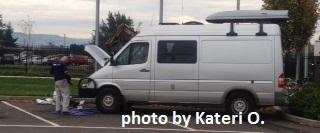 Road and Mountain Biking
I went for a jog in Post Canyon yesterday, and it was a little too muddy for biking. It was okay for jogging and gorgeous (see photo above) with snow on the ground and fog moving in and out. I got an email yesterday telling me that Columbia Hills is in great shape. The 44 Road trails, Nestor, and other trails above 1500′ are now snowy.


The Clymb: free membership. Cheap gear.
Temira approves. Click to join.
Freshies Bagels and Juice
Hi. I'm Matt. I'm the new owner of the bagel store, now known as Freshies Bagels and Juice. I wake up at 4am every morning to boil and bake the best bagels west of the Mississippi. I was raised in Boston so I know good bagels. I use flour from wheat grown in Washington and Oregon. Local apples and veggies for the juice and smoothies. Freshies is the perfect stop before heading to the mountain or any outdoor adventure. So come on in and say hello at 13 Oak Street, 6:30am to 3pm.
Upcoming Events
It is Wednesday night, and supposedly the Columbia Gorge Running Club has a track workout in Stevenson at 6pm on Wednesdays. I don't know if that continues through the winter. Guess I'll be doing some research today. Definitely on tonight is Kayak Polo at the Hood River pool, $8 at 8pm. Coming up tomorrow, there's community yoga, free or by donation, at Yoga Samadhi in White Salmon at 6:30pm.
On Friday morning at 7am, join Sunshine and Rainbows, aka Sea Toad, aka Twinkieface, for a 30-60 minute run leaving 10 Speed Coffee at 13th and State. If you do the run this week, you'll be rewarded with a cup of coffee and a donut. The fun continues weekly, with prize giveaways. This Saturday at 4pm, join the folks from Dirty Fingers for the KringleKrawl, Santacon on bikes. Dress up in your best Santa outfit and come wreak havoc in Hood River.
Have an awesome day today!
Temira