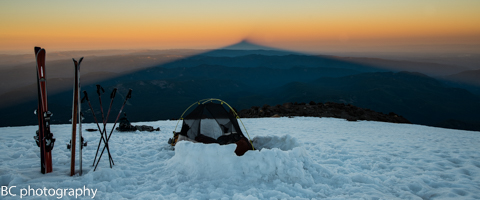 The big shots at NOAA (and elsewhere) are talking about the Madden-Julian Oscillation entering an active phase. That's indicative of a more active weather pattern for the Northwest. We'll definitely see that this weekend. Also worth noting is that long-range El Nino Southern Oscillation models are predicting a continuation of weak El Nino-ish behavior. What does this mean? Oh lordy, I dunno. Probably more of this unseasonably warm weather with more precip than we've seen recently. But you know how I feel about this long-range forecasting stuff… Speaking of, I'm 99% sure I won't have time to put out a Sunday forecast. I'll get ya one on Saturday, k? Continued below the chart…
Mt. Hood Snow Forecast – 5000′

4a-8a
8a-12p
12p-4p
4p-8p
8p-4a
Today
6000'-6500'
Tomorrow
5000'–>9000'
The day after
10,000'
For the short term, today, specifically, you can expect a cloudy morning on Mt. Hood with a little mixed precip, sunbreaks midday, and a return to clouds and precip tonight. The snow level will be around 6000′ early, 6500′ midday, and 6000′ tonight, dropping to 5000′ by Thursday morning. We'll see trace amounts of rain mixed with snow before 5pm today. From 5-11pm or so, we'll see relatively heavy precip. Expect around .5" water value (WV) for no accumulation at 5000′ and a couple inches above 6000′. Wiond today will be SW 25 all day.
Thursday may start with a few flurries or showers, but will quickly become clear and sunny. The free air freezing level (FAF) will be 5000′ early and 9000′ in the afternoon. Wind will be W 25-30 early, fading to W 10 by midday.
Expect sunshine Friday morning transitioning to clouds Friday afternoon. The FAF will be around 10,000′ all day, and the wind will be SW 20 early and SW 30 in the afternoon.
Saturday starts with sprinkles and transitions to steadier rain after 5pm. The exact amount of precip depends on the storm track, but for now, I'll say .1-.2" before 5pm and another .5" after 5pm. Sunday morning, at this point, looks to bring heavy rain, possibly transitioning to wet snow before the precip tapers off. Total precip Sunday morning will be 2". More details on the snow/rain ratio as we get closer.

Click on my photo to donate and support this forecast.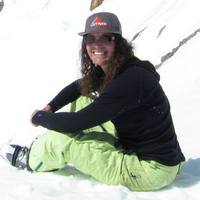 Thank you for using this forecast. Does it save you time, gas money, or help you find more wind, powder, or just plain fun stuff to do? Please make a donation to keep it going! Use it here for free or get on the mailing list for wind for the summer and Mt. Hood snow in the winter. Just click on my photo to donate. The email isn't $99/year. Not $50/year. No, just $12.34 or more gets you on the list for 12 months, and sometimes there are cool prizes. Donate via PayPal/CC by clicking on my happy photo below. Don't PayPal? You can send a check to Temira @ PO Box 841 in Hood River. Thank you for your support, and thank you for trusting my forecast. You guys mean the world to me.
---
Gorge Wind
The wind this morning is light and variable. It will stay that way all day. Tomorrow starts with W 5-10, picks up briefly to W 10-13 midday, and backs off to less than 10mph in the afternoon. Expect E 30-40 at Rooster on Friday. Saturday looks LTV. Sunday will probably bring gusty W 24-28 in the afternoon.

Random Morning Thoughts
So, my interview went well yesterday, I think. I played well with others. That phrase "plays well with others" reminds me of when I was in high school. I was a good student, and my teachers liked me. Sometimes they would let me pick the comments for my report card. I always picked nonsensical comments, preferably contradictory comments like "doesn't play well with others" and "works well in groups".
If I was getting an A in the class, I might pick something like "student's performance needs improvement" or "student is at risk of failing class." It never occurred to me that someone other than me or my family might read the report cards. I can only wonder what the college admissions folks thought…
There's really no point to this story. I just thought of it and giggled. Here's to playing well with others!
(don't forget that you're supposed to be writing down something you love about yourself each day this month and putting that nice thought in a mason jar for later…)

Gorge Weather Forecast
I just went outside to check the weather, and it was cloudy, warm and a bit on the muggy side. I felt a bit claustrophobic from the humidity, so I came back inside. Expect a mostly cloudy day today with a few raindrops possible during the day and some rain tonight. Temps will be in the mid 50's early and the upper 50's this afternoon. Light wind. 2% chance of rainbows.
Thursday starts off partly cloudy. Temps will be in the mid 40's early and the mid 60's in the afternoon. If you are near Cascade Locks early in the day, you may see some rainbows. Otherwise, ligtht west wind and no rainbows.
Friday looks sunny early (with maybe a few high clouds for a pretty sunrise) and cloudy in the afternoon. Temps will be in the upper 30's early and the mid 60's in the afternoon. Light wind. No rainbows. Saturday looks cloudy with sprinkles early and heavy rain overnight. Sunday looks rainy early with rainbows after 11am.

White Sprinter Van of the Day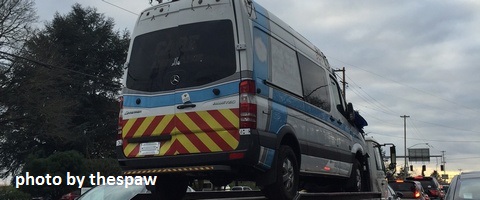 Road and Mountain Biking
There's a bit of rain in the forecast today, but it's going to take more than a bit to make the trails sloppy. That will happen on Saturday into Sunday. Between now and then, ride your ass off. Road biking looks good today too with light wind all day. Friday looks awesome for road biking with sunshine, highs near 65 and light east wind. Too bad I'll be in Portland all day. Ride for me, k?


The Clymb: free membership. Cheap gear.
Temira approves. Click to join.
Upcoming Events
It's Thursday. There's free community yoga at 8am at Flow. There's free community yoga at Yoga Samadhi at 6:30pm. Coming up tomorrow, join one of my favorite people, Sunshine and Rainbows Pola, for a 4.5 mile jog that earns you a free cup of coffee and a donut. Meet at 7am at 10 Speed Coffee on 10th and State. Saturday is Pi Day. It's also The Dalles Mountain 60 gravel ride, Interesting Mosier, Double's anniversary party. Lastly, there's a seed swap at the Rockford Grange from 3pm-7pm on Saturday.
Have an awesome day today!
Temira