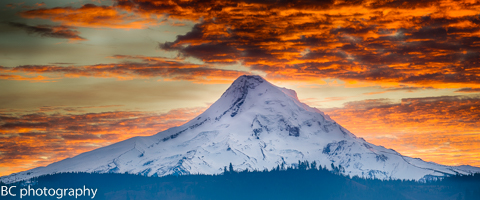 Yesterday's models contained all sorts of excitement. I had my fingers crossed that the models would stay the same. I'm sure you did too. Sadly, we've gone from 1-2 feet of snow this weekend to 4-6 inches in the latest model runs. And that's why we don't pin our hopes on anything more than a couple of days out. Continued after the chart…
Mt. Hood Snow Forecast – 5000′

4a-8a
8a-12p
12p-4p
4p-8p
8p-4a
Today
4000'–>5000'
Tomorrow
5000'–>6500'
The day after
7000'–>5000'
Expect a mostly cloudy day on Mt. Hood today with intermittent flurries.The snow level will be 4000′ early and 5000′ in the afternoon with up to 1" of new snow. Wind will be NW 10 all day.
Tomorrow starts off clear or partly cloudy. Clouds increase during the afternoon. The free air freezing level will be 5000′ early and 6500′ in the afternoon. No precip. Light and variable wind.
Friday starts off clear, becoming cloudier as the day goes on. Precip starts a bit after midnight. The free air freezing level will be 6500-7000′ during the day, dropping to 5000′ by the time the snow starts. We'll see .3" water value (WV) overnight, for 2-3" of new snow. Wind on Friday will be SW 25 early and SW 35 in the afternoon.
Snowfall continues Saturday morning before the sky clears in the afternoon. The snow level will be 3500′ early and 2000′ in the afternoon with .2" WV, for 2" of new snow. Wind will be quite strong and disruptive: W 45 early and W 35-40 after noon. The weather looks showery and cool through the first part of next week, but the precip amounts have definitely dropped way off since yesterday's model runs.

Donate and keep the forecast going!
(contribute to Temira's grad school, bike repair and coffee fund)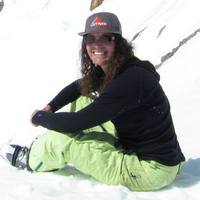 Thank you for using this forecast. Does it save you time, gas money, or help you have more fun in your life? Make a donation! Get your forecast here for free or donate and get on the mailing list for year-round wind forecasts and ski season snow forecasts. Just click on my photo to donate via PayPal or credit card. The email isn't $99/year. Not $50/year. No, just $12.34 or more gets you on the list for 12 months, and sometimes there are cool prizes. Don't PayPal? Send a check to Temira @ PO Box 841 in Hood River. Thank you for your support, and thank you for trusting my forecast.
---
Gorge Wind
We're sitting under a bit of a low pressure system this morning, and that's giving us light west gradients through the Gorge. As that weather system starts shifting east this afternoon, the westerlies will pick up. Expect W 5-10 this morning through much of the Gorge. By 2pm, that departing system combines with weak high pressure off the coast for W 23-26, probably strongest from Lyle to Maryhill, but possibly including Mosier too. Hood River and Steven's Locks will see gusty 10-14, and Arlington won't see much at all.
Tomorrow, Thursday looks light and variable, so it's going to be a good day for standup paddling, waterskiing, and rowing. Friday starts off light and variable. As a weather system approaches in the afternoon (and models keep pushing the timing later and later), we'll see the west wind pick up. Expect gusty W 25-29 from Lyle to Maryhill with rainy, rainbowy, gusty 12-15 from Steven's Locks to Mosier. Saturday, at this point, looks like leftovers: 13-16 through the whole Gorge.
In week-out fantasy land (next Tuesday, to be specific) a powerful and compact upper level low slides east just south of the Columbia as strong high pressure builds off the coast. This setup is nothing short of perfect, ideal, the consummate Classic Gorge Setup. If this model-depicted fantasy comes to pass, we'll see 35-45 at Maryhill and Arlington. Fingers crossed. That's my kind of First Day.

Random Morning Thoughts
On Monday night, I got to try something I'd been wanting to try for 20 years: Iaido, the art of drawing a sword, striking an opponent, flicking off the blood, and putting the blade away. This sounds rather violent, I know, and rather opposed to my normal take on peace, love, and harmony. I shall now point out the "ai" part of Iaido is represented with the Japanese character for "harmony".
Iaido is more like Tai Chi with a sword than boxing, fencing, or mixed martial arts. Iaido is about fluidity (which I am lacking at this point), precision (also not much of that in my practice yet), and focus. It's meditation with a sword. Swords are cool. Meditation is cool. What more could you want?
I guess my bigger point is that you can turn any activity into an opportunity to grow your focus and presence. You can be totally in the moment and committed to excellence on a bike, in the pool, on the river, or in a dojo or yoga studio or out in your garden. It's not about the activity; it's about your approach. And it's worth pointing out here that if you are buzzed or high while you are doing your activities, you are not 100% there and focused. You might be having more "fun", but you're going to miss the opportunity to have your body and mind in complete harmony.

Gorge Weather Forecast
It's mostly cloudy outside my house this morning, with a view of eastward-drifting clouds and clear sky around snowy Mt. Adams. Did I ever mention that my ghetto location has one of the best views in Hood River? Anyway, expect partly to mostly cloudy weather today with a few sprinkles possible at random times during the day, especially in the afternoon. Temps will be right around 50 degrees this morning and 60 this afternoon. Increasing wind. 14% chance of rainbows.
Tomorrow looks partly cloudy, maybe mostly cloudy early. Temps will be in the upper 30's early and the mid 60's in the afternoon. Light wind. No rainbows. Friday starts off clear and becomes cloudier as a weather system approaches in the afternoon. Temps will be in the upper 30's early and the mid 60's in the afternoon. Increasing wind becoming strong in the afternoon, no rainbows. There's a very good chance of rainbows on Saturday.

White Sprinter Van of the Day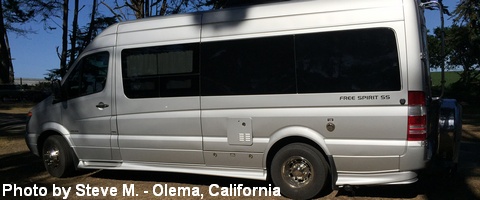 Road and Mountain Biking
I went for a mountain bike ride in Post Canyon yesterday. I'm going to report that conditions are borderline, and could use a day to dry out, at least from the top of GP on down. So, there's your official Post Report: a little bit too wet to ride. In other cycling news, the morels are out from 1000-1500′ in the Gorge. For you road bikers, today's just going to get windier as the day goes on, but tomorrow looks mighty awesome: partly cloudy, zero wind, and temps in the mid 60's. Friday looks windy.


The Clymb: free membership. Cheap gear.
Temira approves. Click to join.
Upcoming Events
Looking ahead to this evening, there's the women's Post n' Pinot mountain bike ride at Dirty Fingers at 5:30. There's Aikido at Trinity at 5:30. There's ping pong at the Armory at 5:30. Friday night at Dirty Fingers, starting at 5pm, it's the Fungasma fundraiser for our women's mountain bike racing team, the Dirty Harlots.
Coming up Saturday, it's the Team Sophie breast cancer fundraiser run. Meet at 10 Speed at 9am for a 4 mile jog to benefit this lovely lady. Saturday is also the Hard Pressed Cider Festival in Hood River and the Ski to Defeat ALS fundraiser at Mt. Hood Meadows. Coming up Sunday, Big Winds has a free standup paddle demo at the Waterfront Park from 1pm to 4pm, and there's a "Know your Soil" workshop at Grow Organic from 1pm to 3pm.
Have an awesome day today!
Temira