The long-range models are looking good this morning, with today being the least windy day of the next six. This is a very nice setup we've got: blocking high pressure in the eastern Pacific, a trough of low pressure along the coast, and a heat low in the desert. The only negative bullet point right now is the moist atmosphere and the possibility of afternoon thunder, or at least disruptive clouds. That said, if nothing changes in the models, you'll be very tired windsurfers and kiters by Memorial Day. Continued after the chart.
Today's Gorge Wind – these are ranges for the average speed, not a predicted wind range. =)

Your favorite beach
Dawn
Patrol
9am-
11:30a
11:30a-
3pm
3pm-
dusk
Rooster's Rocks
tan in
the bare
if you
dare
Steven's Locks
5-10
10-13
10-13
10-13
Hatchery/White Salmon Sandbar (minus a few for Hood River)
13-16
13-16
10-13
10-13
Doug's, Lyle, Rowena
10-13
10-13
10-13
10-13
Rufus, etc.
10-13
5-10
5-10
5-10
Roosevelt, etc.
10-13
5-10
LTV
LTV
Gorge Wind forecast, continued…
Today, however, doesn't look so awesome, despite the .09 (pdx-dls) morning gradient. Before I forget, the river is 58 degrees, and the flow is 164kcfs, half of what it should be this time of year. Also before I forget, the salmon and steelhead are still delicious, because the water is still plenty cold, so go get some fish from Doug (at Windance) before the water warms up more. I had some for dinner last night, and mmmmmmm yummmy.
Okay, back to the forecast: models are predicting no wind on the river by midday, but given the current .09 gradient and a marine layer that's deep enough to cause drizzle in Portland, I'm not buying that. This makes for a difficult forecast, because contradicting the models means I'm predicting on gut feelings only. Let's call it 13-16 this morning, backing off to 10-13 or a bit less this afternoon. The strongest wind will be from Swell to Doug's this morning and from Stevenson to Mosier this afternoon.
Tomorrow starts off with 12-15, strongest from Swell to Mosier. The wind will build to 22-25 from Stevenson to Doug's by noon and to 24-27 from Stevenson to Doug's in the afternoon. As usual, the windspeed will drop and the gustiness will increase at Swell after 3pm or so. It's 50/50 that the wind will push out to Maryhill late tomorrow afternoon, so keep an eye on Rufus as well.
Offshore high pressure intensifies on Friday, setting up stronger synoptic-scale gradients. As of this morning, it looks like we'll have Dawn Patrol at 23-26 from Swell to Mosier Friday morning with a quick build to 28-32 from Swell to Rufus. Saturday currently looks to max out at 28-32 and Sunday looks like 23-26. Monday also looks windy.

Support the forecast!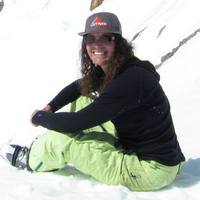 Thank you for using this forecast. Does it save you time, gas money, or help you have more fun in your life? Make a donation! Get your forecast here for free or donate and get on the mailing list for year-round wind forecasts and ski season snow forecasts. Just click on my photo to donate via PayPal or credit card. The email isn't $99/year. Not $50/year. No, just $12.34 or more gets you on the list for 12 months, and sometimes there are cool prizes. Don't PayPal? Send a check to Temira @ PO Box 841 in Hood River. Thank you for your support, and thank you for trusting my forecast.
---
Mt. Hood Snow Forecast
Nothing to say here today.

Random Morning Thoughts
I was at the meditation at Yoga Samadhi last night, and our local abbot was talking about holding "non-ill-will" towards others. Part of this message is that you don't have to love everyone; you just want to do your best to wish them well, or at least no harm.
Yesterday I was talking about neural networks and neural patterns, and that ties into what Ajahn Sudanto was saying last night. Neuroscientists are pretty sure our brains work like this: the more we have a particular thought, reaction, or emotion, the more efficiency develops in the brain circuit for that (let's call it, via Dan Siegel) flow of information. In other words, the more we hold the concept of goodwill in our minds, the easier it is to access. And conversely, the more we hold anger/frustration/etc towards others, the more likely we are to run that pathway. And if we use a particular pathway enough, it becomes myelinated, and then it is even zippier and more likely to get used.
That's hard science backing up the practice of cultivating positive emotions, mindsets, and thoughts, whether towards others or yourself. Another piece of this: If you hold illwill towards others, you will likely direct it toward yourself as well. And vice-versa. So be careful about languishing in painful emotions – try to get yourself out of them with the company of a loving friend, something humorous (I love damnyouautocorrect.com for this) or something beautiful. And then bask in the positive so it's more likely to return in the future. Speaking of beautiful things… we live in a beautiful place, don't we? Take a moment each day to bask in that. =)

Gorge Weather Forecast
It's a hazy, blue-sky start to the day outside my living room window, and I can just see the marine layer to the west. Expect a sunny morning with cumulus clouds building this afternoon. They'll bring a chance of thunderstorms. Temps will be in the upper 50's early and mid 70's in the afternoon, with relatively high relative humidity. Light wind. No rainbows.
Tomorrow starts off sunny with temps in the upper 50's. We'll see another round of cumulus clouds and possible thunder in the afternoon with temps maxing out in the mid 70's. Once again, the mugginess will be evident. Moderate wind. No rainbows.
Friday looks sunny. Temps will be in the mid 50's in the morning and low 70's in the afternoon. The chance of thunder will be minimal. Strong wind. No rainbows. Repeat for Saturday. Repeat for Sunday.

White Sprinter Van of the Day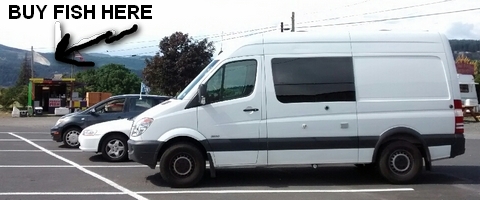 Road and Mountain Biking
I'm afraid I don't have much to say in bike news today. All the trails are open except for Gunsight, and the road biking is going to be mighty windy through Sunday unless you're up early today or tomorrow.


The Clymb: free membership. Cheap gear.
Temira approves. Click to join.

The weekend forecast looks winday, and that's great news for everyone, but most of all for kiters. Come to the Gorge and take advantage of a big sale and a kiter-only swap meet at Windance. You want to play all day, not shop, right? This swap's in the evening: Saturday, 5pm-8pm, at Windance. Music by Spruce, BYOB. $10 for sellers, free for buyers. And if you don't find what you need at the swap, shop: 20% off 2015 Slingshot Rallys, directions, and most twin-tips. Everything you need, one place. Windance.
Upcoming Events
This evening's events include the weekly Post n' Pinot women's mountain bike ride. That ride's all levels, and you can join it at 5:30 at Dirty Fingers or at 6pm at the bottom of Post Canyon Road. There's also sailboat racing this evening at the Hood River Marina from 6 to dusk, and there's ping pong at the Hood River Armory at 5:30.
Tomorrow night is the race-pace Post n' Pint mountain bike ride, pickleball for grownups at westside elementary at 5:30, and a free community yoga class at Yoga Samadhi at 6:30 in the evening.
Coming up this weekend, our very successful local women's mountain biking team, the Dirty Harlots, have a car wash fundraiser at Dirty Fingers Bike Shop on Saturday. Then on Saturday night, Windance is hosting a kite-only swap meet – your chance to either clean out your garage or pick up some new gear.
Have an awesome day today!
Temira