Random Morning Thoughts
I had to clean a house in Odell yesterday, and on my way up, I passed Nelson Tire. Cars were shoehorned into the parking lot, waiting for snow tires. Dozens of cars. I was confused. What have all those people been doing on these icy roads for the last week? And for those of you who haven't made it to Nelson or Les Schwab or Buntings or McCurdy's yet, what are you going to do tomorrow morning when the Gorge is our Skating Rink? I just have to say something: I'm really excited for the weather to be above freezing and for the snow and ice to melt off the roads and trails.
Thank you for using this forecast!
Please donate to support it!
Thank you to everyone for using this forecast. Does it save you time, gas money, or help you find more wind, powder, or just plain fun stuff to do? Please consider making a donation to keep it going! Use it here for free or make a donation and get on the mailing list for wind for the summer and Mt. Hood snow in the winter. It's not $99/year. Not $50/year. No, just $12.34 or more gets you on the list for 12 months. Do it via PayPal/CC by clicking on my happy photo below. Don't PayPal? You can send a check to Temira @ PO Box 841 in Hood River. Thank you for your support, and thank you for trusting my forecast. You guys mean the world to me.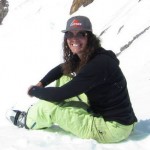 ---
Mt. Hood Snow Forecast – 5000′

4a-8a
8a-12p
12p-4p
4p-8p
8p-4a
Today
Tomorrow
The next day
Mt. Hood Snow
Things are looking mighty interesting up on Mt. Hood over the next 5 days or so. Today just starts off cloudy, which isn't very interesting. The free air freezing level (FAF) will be 11,000 early. As a weather system hits this afternoon, the snow level will drop to 8000′, falling to 6500′ overnight and 3500′ Thursday morning as the sky clears. Depending on the exact path of this system, we'll see .3-.8" rain, followed by a trace of snow Thursday morning. Wind will be light this morning, rising to SW 20 this afternoon and SW 40 overnight.
Thursday morning looks clear with low clouds. A few snow flurries are possible during the day, as the snow level sits at 3500′ early and 4500′ in the afternoon. Wind will be WSW 30 early and SW 10 in the afternoon.
Friday starts off clear, becoming cloudy just after sunrise. Precip starts around 10am. The snow level will be 4500′ early, but this is a warm system, and the snow level will rise to 9000′ in the afternoon, dropping back to 5000′ late Friday night after the bulk of the moisture moves through. So, we'll see a couple inches of wet snow to start, followed by 1.5" rain, followed by the potential for 3-6" of snow at the tail end of this system. That's a big maybe on the snow. Widn will be SW 25 early, rising to SW 40 in the afternoon, swinging to W 30-40 after 10pm.
Saturday looks relatively dry. In the long-range forecast, models are currently showing (not promising), 1.5-2 feet of snow Sunday into Monday, followed by the potential for 4" of rain on Tuesday. Well, at least it's not a boring forecast!

Gorge Wind
It's still nuking down there in the western Gorge. Thanks to iWind/iKite, we know exactly how nuking: 53 at Rooster and 26 at Steven's Locks. Fueled by a gradient that stood at .30 at 6am, the nuking easterlies will continue all day. River water temp is 49 degrees.
East wind at 21-24 at Rooster start the day tomorrow, fading midday and returning at 15-18 in the afternoon. Expect light and variable wind on Friday, finally becoming west wind on Saturday and very strong west wind late Saturday night.

Gorge Weather
I canceled an appointment I had scheduled in Vancouver at 3pm today, which ensures that we won't actually see any freezing rain today. Expect temps in the low 20's this morning and upper 20's this afternoon as cloudy sky inhibits solar heating. You can disregard my reference to Murphy's Law in the opening sentence; the forecast is for freezing rain tonight, possibly starting as early as 4pm, but more likely starting around 10pm. Given the frigid pavement and the possibility for .2-.5" of moisture to fall in the western Gorge, this is not a night to be driving the Gorge.
It's quite tough to say what we'll see tomorrow. We need west wind to scour the cold air, and the models just aren't predicting that. So, expect temps in the upper 20's tomorrow morning with very icy roads and the low 30's in the afternoon under cloudy sky with a few scattered rain/freezing rain sprinkles possible. If you would like to see the sun tomorrow, you will likely have to head up or west, but then again, it's possible the inversion cloud will burn off. Unlikely, given the soggy atmosphere, but possible.
Friday morning also looks a bit troublesome (figures, since I have to drive to Vancouver). Temps will be in the low 30's early (flip a coin for above or below freezing), rising to the upper 30's (finally!) in the afternoon. Rain starts around 10am on Friday, becoming heavy for the rest of the day.
Expect a break in the rain between 4am and 4pm Saturday, followed by steady heavy rain for much of the time through Tuesday.

White Sprinter Van of the Day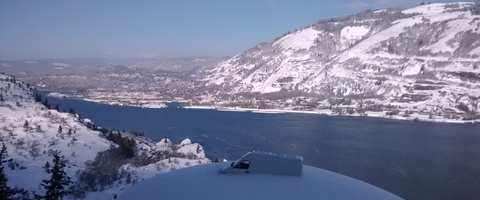 Road and Mountain Biking
It's a cold, dry morning in the Gorge, and if you are far more awesome than I am, you are out riding your road bike. And if you are that person, your name is either Manny Marquez or Brian Marcroft. Otherwise, you, like me, are contemplating riding your trainer in your living room. Take heart, folks: the weather will warm up soon, and the snow and ice will go away. Also, mark your calendar for Saturday. It's Kleeway work party #2. Meet at Family Man at 10am. Bring shovels and stuff or just show up ready to toss sticks.


The Clymb: free membership. Cheap gear.
Temira approves. Click to join.
Upcoming Events
It is Wednesday night. Tonight you can play ping pong at the Hood River Armory at 5:30. You can go running (in the freezing rain) with the Columbia Gorge Running Club at the track in Stevenson at 6pm. You can also do Aikido at Trinity Arts Studio on Belmont at 5:30pm. Tomorrow and Friday you can go shopping at the Kerrits friends and family sale at their warehouse in Bingen. The sale runs from 2-6pm on Thursday and 10am-7pm on Friday. Location is 154 E Bingen Point. On Friday night, Columbia Center for the Arts hosts the (women's) ski movie, Pretty Faces and the (poor decision maker's) ski movie, A Dozen More Turns.
Have an awesome day today!
Temira