Random Morning Thoughts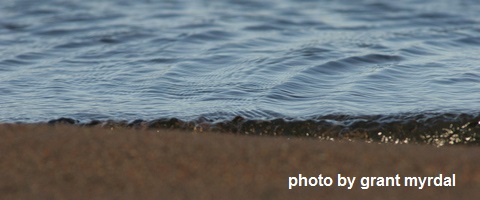 It was a dark and smoky morning in the Gorge, and the ripples on the river reflected the dullness of the sky. Salmon from the biggest run since 1938 swarmed and circled under boats at the mouth of the White Salmon, free from Condit Dam's confinement. Bald Eagles floated in the still air, watching for fish foolish enough to approach the surface of the Columbia. And somewhere in the Gorge, the elusive Snowy Owl, tired from a night of hunting mice, moles and rats, took refuge in nest high in a tree infested with pine beetles.

Thank you for using this forecast!
Please donate to support it!
Thank you to everyone for using this forecast. Does it save you time, gas money, or help you find more wind, powder, or just plain fun stuff to do? Please consider making a donation to keep it going! Use it here for free or make a donation and get on the mailing list for wind for the summer and Mt. Hood snow in the winter. It's not $99/year. Not $50/year. No, just $12.34 or more gets you on the list for 12 months. Do it via PayPal/CC by clicking on my happy photo below. Don't PayPal? You can send a check to Temira @ PO Box 841 in Hood River. Thank you for your support, and thank you for trusting my forecast. You guys mean the world to me.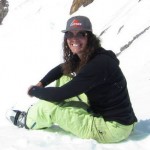 ---
Gorge Wind
Today brings light west wind at less than 10 mph for much of the day, picking up to W 8-12 early afternoon from Stevenson to Hood River. There is a chance we'll see 15-18+ in the evening from Stevenson to Hood River, but there's also a chance that won't happen until after dark. We'll see a short-lived burst of westerlies in the mid-twenties overnight as a weather system moves through.
Tomorrow starts with lots of low clouds in the western Gorge with westerlies at 8-12 there and 13-16 east of the cloud line, likely east of Bingen, but maybe east of Mosier. The westerlies will pick up to gusty 14-17 from Stevenson to Mosier mid-afternoon with gusty 23-26 east of Mosier.
Friday sees high pressure start building inland, giving us W 10-13 to start from Hood River to Mosier, probably holding in that range all day and filling in at Stevenson. As of right now, we're looking at easterlies at 25-29 on Saturday and 15-18 on Sunday, but that's long-range forecasting and will likely change.
Out on the coast, today looks excellent for surfing. Expect light and variable (LTV) wind with swell at W 7@15 and SW 3@18. Thursday also looks like a LTV day with W 4@11 and SW 3@16. The north wind returns for a day on Friday (north/central/south): 5-10/15-20/25-30+, SW 3@12 and NW 3@10.

Today's Gorge Wind – these are ranges for the average speed, not a predicted wind range. =)

Your favorite beach
Dawn
Patrol
9am-
11:30a
11:30a-
3pm
3pm-
dusk
Rooster's Rocks
bare
it
all,
baby!
Steven's Locks
0-5
8-11
15-18
22-25
Hatchery/White Salmon Sandbar (minus a few for Hood River)
15-18
18-22
21-24
18-22
Doug's, Lyle, Rowena
10-13
15-18
23-26
23-26
Rufus, etc.
light
5-10
15-18
23-26
Roosevelt, etc.
light
5-10
10-13
13-16
Temira's sail: 35-40: 2.9 / 30-35: 3.2 / 26-30: 3.5
23-26: 4.0 / 20-23: 4.5 less than 20: something bigger!
Tonia's kite: 35-40: 4m / 30-35: 4-6m / 26-30: 5-7m
23-26: 7-9m / 20-23: 8-10 / 15-20: 10-12 / 10-15: 13-15.
Gorge Weather
The sky is dark and dreary this morning as high clouds from an offshore low combine with smoke from the 36 Pit wildfire (human-caused) near Estacada. Expect plenty of high clouds today, followed by some lower clouds later as a low pressure system moves into southern Oregon. Temps will be in the upper 50's early and low 80's this afternoon with relatively high relative humidity. There's a slight chance of a colorful sunset – it'll probably be too cloudy, so call it 4%, and a chance of showers overnight tonight, call that 7%.
A colorful sunrise is likely tomorrow – 63% – under partly cloudy sky. Temps will be in the upper 50's early and mid 70's in the afternoon. The sunset will likely come under clear sky as high pressure builds in. Expect sunshine Friday-Sunday as high pressure builds back over the Northwest. Temps will be in the upper 50's Friday morning and upper 70's Friday afternoon.

White Sprinter Van of the Day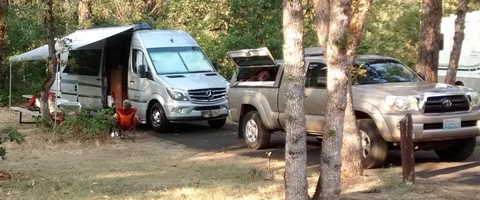 Road and Mountain Biking
There are a few showers and sprinkles on the radar image this morning, but nothing heavy enough to make a difference in the dust on the bike trails. So put on some good tires and go shred some sloppy corners, and pray for rain tonight. Today will be a fantastic day for road biking, with light west wind pretty much all day, followed by a light west breeze in the evening.


The Clymb: free membership. Cheap gear.
Temira approves. Click to join.
River Levels / Fish Counts/Cheezburger Update
The John Day Dam is reading 68-74kcfs. The Dalles Dam is putting out 75kcfs. The White Salmon is at 1.75′. There is a new nearly river-wide log on the Middle White Salmon just after the cave rapid. According to Cheezburger, it's actually a huge tree with 20′ high branches. There is also a river-wide log about 150 yards below Cave Wave on the Lower White Salmon. Cheezburger and his friends did a raft race down part of the White Salmon the other day. They ran from Triple Drop to Top Drop, including BZ Falls. Cheezeburger's team got 2nd. The Columbia River is 68 degrees. The fish counts were not up when I looked this morning, but I am sure there are lots of fish coming over the dam. I recommend you go to the fish place at Windance and get some.

Hood River Adventures – Bike Shuttles, Fishing Trips & More…
Hood River Adventures is a local company owned by Drew Scharns, master guide specializing in fishing tours, mountain bike shuttles, and well as brewery and winery tours. Biologists predict this is going to be the biggest salmon run since 1938. Get some of it: Spend a day with Drew on the Columbia fishing for salmon, steelhead, and sturgeon or try fly fishing on the Klickitat. Feeling active? Head to the trails for shuttle laps with end-of-day car retrieval. Want to taste the local libations? Take a brewery or winery tour with HRA: no more arguments over who's going to be the designated driver – that's Drew's job! Fish counts are way up. Call Drew if you want to go: 541-400-1216

Events – email me if I've missed any outdoor-related events
Coming up this evening, there's free Tai Chi at Wilson Park in Hood River, the women's Post n' Pinot mountain bike ride at Dirty Fingers, and a group paddle on the White Salmon (Lower or Middle or maybe Lower-Lower), all at 5:30. There's a track workout in Stevenson at 6, and there's sailboat racing at the Hood River Marina.
Looking ahead to Saturday, Lyle hosts the Northwest Homesteading Fair and Maupin hosts the ride-row-run relay. Hood River's skate park has the annual Grominator Skate Contest on Sunday. Swing by to watch some amazing skating by the 15 and under crowd.
Also on Sunday, Gorge Owned has a Sense of Place lecture on the White Salmon. If you're curious about the changes to the river since Condit Dam was removed, this is a great way to check it out. Visit GorgeOwned's website for more information. I believe the trip is $50, comes with a knowledgeable guide who will talk about the dam removal, and runs from Northwestern [lake-no-more] Park to the Columbia River.
Have an awesome day today!
Temira