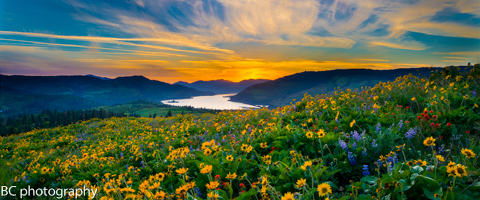 Random Morning Thoughts
I've been having this interesting philosophical email discussion over the last week or so. I just finished reading an email that mentioned judging other people. We do it all the time, often in ways so subtle we don't notice. It comes up a lot, I find, when I have a different point of view from someone. "Oh," I think, "They just don't understand x or y or whatever – they'll see it my way once I explain it better." And I continue to make points without trying to understand my conversation partner's point of view.
It's funny to watch myself do that, because I'm trained in Intentional Peer Support, where the point to to just understand, not change, the worldview of another person, even if they are completely delusional. It's still their point of view and their reality, and therefore completely valid. The point of IPS is to ask questions and go for complete understanding, not to change someone.
That was a good reminder I got this morning, and I thought I'd share it. If you find yourself trying to change someone's point of view, see if you can change your approach and just try and completely understand their point of view. You might find you have more in common than you think.

Thank you for using this forecast!
Click on my photo to support it with a donation.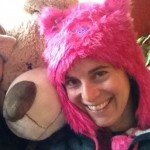 Thank you for using this forecast. Does it save you time, gas money, or help you find more wind, powder, or just plain fun stuff to do? Please make a donation to keep it going! Use it here for free or get on the mailing list for wind for the summer and Mt. Hood snow in the winter. Just click on my photo to donate. The email isn't $99/year. Not $50/year. No, just $12.34 or more gets you on the list for 12 months, and sometimes there are cool prizes. Donate via PayPal/CC by clicking on my happy photo below. Don't PayPal? You can send a check to Temira @ PO Box 841 in Hood River. Thank you for your support, and thank you for trusting my forecast. You guys mean the world to me.
---
Mt. Hood Snow Forecast – 5000′

4a-8a
8a-12p
12p-4p
4p-8p
8p-4a
Today
Tomorrow
The day after
Mt. Hood Snow – snow at 5000', wind at treeline
The MHM Snowsports Services pray for snow party last night seems to have helped with today's forecast. There's not any more snow in the forecast, but at least there's less rain. Expect a cloudy start today with a few showers in the morning and heavier rain after 1pm. The snow level today will be around 10,000′ during the day, dropping to 6500′ after 10pm. Expect .9"-1.3" of rain, mainly after 4pm. Wind today will be in the SW 30-40 range pretty much all day.
Tomorrow looks interesting, as a strong low pressure system moves north just off the Oregon coast. The snow level will be 6500′ early, rising to 8000′ or more midday and falling to 5000′ after 10pm. It's possible we'll see a period of 50 degree temps at 5000′ with this system. Impressive for this time of year. Most of the moisture will stay west and south of Mt. Hood, for .2-.6" rain before the snow level drops. After the snow level drops, another .1-.2" water value (WV) falls, for 1-2" of snow. Wind tomorrow will start at S 25, rise to SW 65 by 4pm, and drop back to SW 30 overnight. Rainbows are likely.
Expect a few flurries during the day on Friday as the bulk of the day's rain stays to the east of Mt. Hood. The snow level will be 4500-5000′ with the wind at W 10 early and WNW 20 in the afternoon. Saturday looks mostly sunny and cool, with the free air freezing level around 3500′ and light W wind.
The next system arrives Sunday night or Monday morning, and it looks 1) weak, 2) warm, and 3) not very wet.

Gorge Wind
For the first time in many, many days, it is NOT nuking at Rooster Rock. Easterlies are in the mid twenties this morning at both Steven's Locks and Rooster, driven by an E .13 gradient. The easterlies will fade today, becoming briefly westerly overnight.
Tomorrow starts with light wind, quickly ramping up to E 30-50, briefly, as a deep low pressure system slides northward along the coast. After the system passes, we'll see the Gorge go to light wind. In the afternoon, expect light westerlies in the western Gorge with potentially sailable/kiteable SW wind at 25-35 from Arlington eastward. This wind direction will likely not give us much from Stevenson to Maryhill. Expect westerlies at 15-18 or a touch less on Friday from Stevenson to Arlington as high pressure builds off the coast.

Gorge Weather
Today starts off with just a few showers possible under cloudy sky. We'll see a mostly cloudy day, with rain starting around 4pm. Temps will be in the mid 40's all day. Rainbow chances are 23%. Tomorrow sees high overcast or partly cloudy sky with occasional showers. Temps will be in the mid 40's early and the low 50's in the afternoon. Rainbow chances are 89%. Friday looks partly cloudy with high overcast sky likely. A few showers are possible, but look unlikely at this point. Temps will be in the low 40's early and the upper 40's in the afternoon. Rainbow chances are 17%.

White Sprinter Van of the Day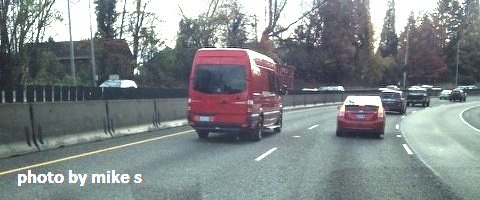 Road and Mountain Biking
I suspect it's rather muddy everywhere, but at least the roads are no longer icy. If you don't have plans yet for Saturday, make plans to come work on Mitchell Ridge. Carpool up to the Seven Streams Staging Area for a 10am work party start. Bring trailbuilding tools, shovels and five gallon buckets. The weather looks dry and cool on Saturday, so it should be a perfect day for digging!


The Clymb: free membership. Cheap gear.
Temira approves. Click to join.
Upcoming Events
It is Wednesday. The ping pong people are having their last night of the year (they resume early in January), with a potluck at the Hood River Armory. 5:30pm. There's Kayak Polo at the Hood River Pool tonight at 8pm. There's Aikido at Trinity on Belmont at 5:30. You can watch a Nordic ski movie (this is a fundraiser for the HRVHS Nordic team) at 2nd Wind at 7pm. Speaking of 2nd Wind, they are throwing a Pray for Snow party on the Hood River Spit starting at 6pm on Friday. The party shifts to the River City around 9pm for ski movies.
Have an awesome day today!
Temira