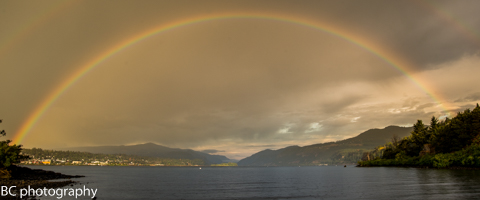 Well, it's about time we get to talk about snow. And as with everything this winter, the details just aren't clear, even 24 hours out. Tomorrow's weather system is actually several weather systems meshing together, and that's making the timing and precip amounts both difficult to predict and varied across the different weather models. Anyway, basic takeaway: it's going to snow. Continued below the chart…
Mt. Hood Snow Forecast – 5000′

4a-8a
8a-12p
12p-4p
4p-8p
8p-4a
Today
3500'–>3000'
Tomorrow
5500'–>5000'
The day after
4000'–>2000'
Expect a sunny start on Mt. Hood today with clouds moving in quickly with just a few flurries possible during the day and real snowfall starting around 7pm. The free air freezing level will be 3500′ early and 3000′ in the afternoon, rising to a 5500′ snow level briefly by Thursday morning. We'll see .1-.2" water value (WV) tonight for an inch or so of new snow. Wind today will be NW 15 early, rising to NW 25 in the afternoon.
Tomorrow starts off with light snowfall (with a slight chance of some rain mixed in). Flurries continue all day with somewhat heavier snowfall overnight. The snow level will be 5500′ early, dropping to 4500-5000′ by 7am and holding for the rest of the day. We'll see .2" WV by 4pm, for 1-2" of snow, followed by .4" WV after 4pm, for 3-4" of snow. Wind on Thursday will be NW 25 for much of the day, dropping to NW 20 in the afternoon.
Friday brings steady light snow flurries. The snow level will be 4000′ early, dropping to 2000′ by mid-morning. We'll see .3" WV during the day for 3" of new snow, ending by 7pm. Wind will be W 20 early, becoming light and variable midday, and going to N 10 in the afternoon as colder, drier air pushes in.
Total snowfall out of all these systems will be 7-10" or so. Saturday and Sunday look sunny, with strong NE wind on Saturday and lighter wind on Sunday. Next snow comes in Monday.

Thank you for using this forecast!
Click on my photo to support it with a donation.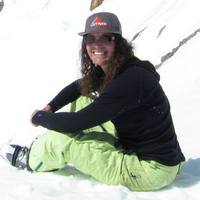 Thank you for using this forecast. Does it save you time, gas money, or help you find more wind, powder, or just plain fun stuff to do? Please make a donation to keep it going! Use it here for free or get on the mailing list for wind for the summer and Mt. Hood snow in the winter. Just click on my photo to donate. The email isn't $99/year. Not $50/year. No, just $12.34 or more gets you on the list for 12 months, and sometimes there are cool prizes. Donate via PayPal/CC by clicking on my happy photo below. Don't PayPal? You can send a check to Temira @ PO Box 841 in Hood River. Thank you for your support, and thank you for trusting my forecast. You guys mean the world to me.
---
Gorge Wind
Yesterday was kinda an interesting wind day. I had to run out to Mosier to throw chemicals in a hot tub. When I left Hood River, it was pretty glassy at the sandbar. Bingen and Mosier, however, were blowing in the mid-twenties. The gusts were so strong and unpredictable in Mosier that I was blown all over the road. When I got back to Hood River, there still wasn't any wind there. Go figure.
Anyway, we have a W .10 gradient this morning and pre-dawn wind in the teens, and the Windiest Winter Ever continues. Expect westerlies to pick up to gusty 22-25 today from Swell to Maryhill as a weather system approaches. Steven's Locks will probably join the fun for a short period too.
Tomorrow starts with very light westerlies and picks up to W 10-13ish in the afternoon from Steven's Locks to Doug's. Expect light and variable (LTV) wind on Friday morning, turning to E 10-15 as an upper low slides through the coast range and metro area.

Random Morning Thoughts
Clearly I need a day off. I sent the first round of today's forecast out with yesterday's random morning thoughts. I don't want to subject ya'll to that kind of sad messaging two days in a row. And now I feel the pressure to perform and come up with something good to say. That's hard, because that kind of pressure seems to kick on the logical, not-creative left brain, at least for me.
Speaking of right-brain/left-brain, do you ever play with disconnecting from your left brain? As a writer, I find it useful. I imagine the scene I want to write about, and feel into the emotions and colors and scents. I let them envelop me. From those sensations, I try and create words. It's funny – I misspell a lot when I'm doing that, because my right brain seems to think in sounds, not correct spellings.
Anyway, if you're a creative type, play with that sometime. If you're not a creative type, play with that sometime, and you might experience some surprising creativity. That is all. And much happier than yesterday's thoughts.

Gorge Weather Forecast
It's clear on the mountain this morning, but it's cloudy in the Gorge. You're thinking Nothing, aren't you? Well guess what? It's not Nothing – it's the Marine Layer!!! What, why aren't you excited? I am. Anyway, expect low clouds and sunbreaks this morning with high clouds this afternoon. Temps will be in the upper 40's early and the low 50's in the afternoon. No rainbows.
We'll see a few sprinkles late tonight followed by a partly to mostly cloudy day with a few sprinkles on Thursday. Temps will be in the low 40's early and the low 50's in the afternoon. Rainbow chances are 84%.
Friday also looks showery, but much cloudier. Temps will be in the low 40's early and low 50's in the afternoon. Rainbow chances are 14% on Friday due to extensive cloud cover. If you live above 1500′, you may see some snow Friday afternoon or evening. Saturday and Sunday will likely be clear, with temps in the 20's Saturday night. Models are hinting at a bit of an Arctic blast middle of next week. No precip with that blast… yet…

White Sprinter Van of the Day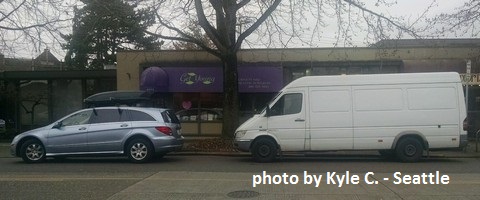 Road and Mountain Biking
I received several reports that both Post and Whoopdee were hammered by freeze-thaw over the last few days, so maybe today is not the day to ride those trails. Or if you do ride Post, start at Family Man and only ride trails under the trees, because they generally don't freeze-thaw. The road biking today will have gusty west wind. Same tomorrow. But more importantly, the snow level drops to 2000′ Friday afternoon, so you can kiss Vista Ridge and Lost Lake goodbye.


The Clymb: free membership. Cheap gear.
Temira approves. Click to join.
Upcoming Events
It's Wednesday. Regular Wednesday events include Aikido at Trinity in Hood River at 5:30pm, ping pong at the armory in Hood River at 5:30pm, and Kayak Polo at the Hood River pool at 8pm. There's a special event tonight: The Hood River County Recreational Trails Committee meeting. If you want to have a voice in what happens on trails on County land, this is the place to do it.
Coming up Thursday, there's community yoga at Flow at 8am, community yoga at Yoga Samadhi at 6:30pm, and Ranger Jimmy T's avalanche awareness clinic (free) at Dog River at 6:30pm.
Have an awesome day today!
Temira