Random Morning Thoughts
I've always wanted a huge teddy bear. I mean forever. For years and years. This week I finally bought one. His name is (not Big Ears) Bear, and he's five feet tall and five feet around. If he were a human, you'd call him chubby, but since he's a bear, you'd call him cuddly. He's a great back support when I'm reading, and he's great to curl up with in bed. Well, kinda great. He takes up more space than I do. He's also fun to look at. Every time I notice the five foot bear in my living room, I laugh. He's also good for hugs. And hugs with soft things are important.
Harry Harlow
demonstrated that in his studies of monkey babies with surrogate mothers made of cloth or wire. Speaking of hugs, next time you hug someone, do it twice, first the way you'd normally do it. Then switch sides and hug your friend again. Notice the difference. Smile. And go put your snow tires on, okay?
Thank you for using this forecast!
Please donate to support it!
Thank you to everyone for using this forecast. Does it save you time, gas money, or help you find more wind, powder, or just plain fun stuff to do? Please consider making a donation to keep it going! Use it here for free or make a donation and get on the mailing list for wind for the summer and Mt. Hood snow in the winter. It's not $99/year. Not $50/year. No, just $12.34 or more gets you on the list for 12 months. Do it via PayPal/CC by clicking on my happy photo below. Don't PayPal? You can send a check to Temira @ PO Box 841 in Hood River. Thank you for your support, and thank you for trusting my forecast. You guys mean the world to me.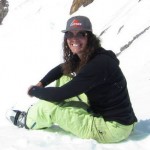 ---
Mt. Hood Snow Forecast – 5000′

4a-8a
8a-12p
12p-4p
4p-8p
8p-4a
Today
Tomorrow
The next day
Mt. Hood Snow
This is one of the most difficult Mt. Hood forecasts ever. So much depends on the depth of the cold pool and the northward progress of this system.
Let's start with today, because it's easy: clear, cold and sunny on Mt. Hood, with temps in the single digits to low teens. East wind at 30mph. Clouds move in late tonight.
By 4am tomorrow, or 7am at the latest, it'll be snowing, with the snow level at the surface. The sounding model shows temps above Mt. Hood staying below freezing for the entirety of this system, but the 850mb (5000') model shows temps between 2 and 6 degrees. With 2" water value coming in between 4am and 4pm, the temp is going to make a huge difference. My best guess is that we'll see 8-12" of very dense, heavy snow. Then we'll see a switch to freezing rain after 7pm, for .5" of ice. However, it's entirely possible, depending on the northward progress of this storm, that we'll see 12-18" of snow. I think the first scenario is more likely. Expect variable wind tomorrow: easterly at lower elevations and westerly 25-35 at higher elevations.
The precip should be done by Friday morning (unless this system decides to stall), for sunshine and temps in the 20's on Mt. Hood. The free air freezing level, once again, will be at the surface, although it may rise to 500' during the day. Wind on Friday will be NW 10-20 up high and E 10 down low. Expect clear and cold weather on Saturday, followed by above freezing temps on Sunday, possibly as warm as the upper 40's (while Hood River will be below freezing).
Gorge Wind
I couldn't decide which part of the forecast to save for last today. I always save the best for last. I know it's a fun one when 50+mph wind on the river is the boring part of the forecast. Expect easterlies at 40-60 today at Rooster with 35-40 at Steven's Locks. As I was writing this forecast this morning, it was blowing 50mph (thanks, iWindsurf) at Rooster and 34 degrees. That gives us a wind chill of 17.2. Kudos to Trudy and friends for windsurfing yesterday. I have to drive by Rooster today, and I'm considering it, but brr…
Expect easterlies at 40-50 at Rooster tomorrow morning combined with blowing snow for a near-certain I-84 closure. Easterlies will drop off to 30-35 in the afternoon. On Saturday, expect east wind at 30-35+. On Sunday, 35-45. On Monday, 30-40. Fun!
Gorge Weather
I don't know what's more difficult today, the Gorge weather forecast or the Mt. Hood snow forecast. The sounding model (a predictor of temps at various elevations) is not showing the air above Hood River climbing above freezing at any point, but I'm not buying that, given the fact that 5000' temps with this system are predicted by the 850mb model to be 2-6 degrees. Here's the problem: this system is going to move north and then drop back to the south. If it goes far enough north, we get warmer air. If not, we get colder air. Warmer air = freezing rain. Colder air = snow. And the northward progress is also going to determine the amount of snow we get. Disclaimers done. Read on.
So, let's start with what we know: it's going to be cold and sunny today, with temps in the mid 20's early and the low 30's this afternoon. Expect strong east wind in Hood River again today.
Temps drop to the low 20's tonight, for a frigid start to Thursday's Snowpocalypse. Temps will only rise into the upper 20's on Thursday. We'll see .5"-1" water value (WV) between 4am and 7pm, heaviest between 10am and 2pm. That's plenty of water for 6-10" of snow. It's possible we'll see even more water value (2" is predicted for Hood), in which case we could get even more snow. But if the system moves further north, we could see a switch to freezing rain. Most likely scenario? 6-10" of snow, followed by .25" freezing rain Thursday night into Friday morning.
The precip should end by Friday morning (unless this system makes it 100 miles further north than predicted), leaving us with high potential for an inversion cloud above our heads. Temps on Friday will be in the upper 20's early and the low to mid 30's in the afternoon. If temps rise above freezing on Friday (unlikely given the east wind), they won't stay there long: we'll be back in the 20's, or even the teens, Friday night.
Saturday and Sunday look sub-freezing and dry. With warmer air aloft (in the 40's at Meadows on Sunday), we'll probably see an inversion cloud. If we do, head up in elevation for sun.
White Sprinter Van of the Day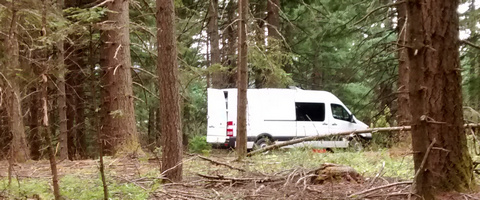 Road and Mountain Biking
I went for a jog in Post yesterday afternoon, and there were already some areas of freeze-thaw. With temps in the 20's last night, Syncline and Whoopdee will both be susceptible to damage today. I recommend Buck Creek / Nestor or riding up from Family Man (the clearcut on Seven Streams will be a mess). Or you could get in your last road ride of the season before HRC throws gravel on the roads!


The Clymb: free membership. Cheap gear.
Temira approves. Click to join.
It's cold out, and you still want to ride your bike, don't you? Me too. Bikes are fun! But cold weather makes for cold hands. What's a cyclist to do? Get some Bar Mitts! These neoprene handlebar covers keep your hands way, way warmer than the outside air. This isn't hype. This is Temira's personal testimonial. I begged these guys to let me advertise for them, because I have the coldest hands on the planet. Not anymore. Bar Mitts. Making it possible for me (and you) to have happy hands all winter long.
Events – email me if I've missed any outdoor-related events
The most important upcoming event, of course, is Snow-Ice-Pocalypse 2014 II (part one was last January, remember, the day after the Seahawks victory parade in Seattle). Other than that, you can play ping pong at the Hood River Armory tonight at 5:30. There's a track workout in Stevenson at 6pm. There's aikido (not free, but awesome) at Trinity on Belmont and 18th at 5:30pm. After that there will be aikido people drinking sake and eating soup at Kaze.
Have an awesome day today!
Temira