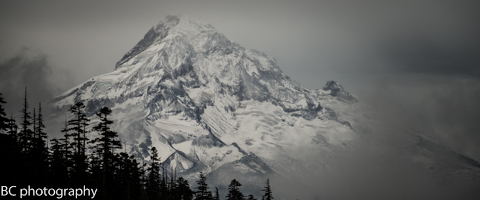 It's still snowing on Mt. Hood this morning, and Mother Nature cooperated with the high-end amounts of yesterday's forecast, dropping 8" of new snow at Meadows and nearly a foot at T-Line. Expect continued orographic showers during the day today with some sunbreaks midday, followed by heavier snow showers and a chance of thunder this afternoon. The snow level will be around 2000′ this morning and 3500′ this afternoon. Expect .1-.2" water value during the day, for 1-3" of new, followed by another .1-.2" WV tonight, for 1-2" more. Wind will be NW 25 early, fading to WNW 15 this afternoon. Continued after the chart…
Mt. Hood Snow Forecast – 5000′

4a-8a
8a-12p
12p-4p
4p-8p
8p-4a
Today
2000'–>3500'
Tomorrow
1500'–>4000'
The day after
2500'–>5000'
Tomorrow looks clear and sunny early with high clouds in the afternoon. The free air freezing level (FAF) will be 1000′-1500′ early and 3500′-4000′ in the afternoon. Wind will be NW 15 in the morning and W 10 or less in the afternoon.
Friday starts out clear. High clouds move in midday and snow starts after 5pm. The snow level will be 2500′ early, 5000′ in the afternoon, and then will fall to 2000′ by Saturday morning. We'll see .2-.3" WV overnight, for 2-3" of new snow. Wind will be SW 20 all day.
The weekend looks to bring alternating snow flurries and sunshine with the snow level under 4000′.

Donate and keep the forecast going!
(contribute to Temira's grad school, bike repair and coffee fund)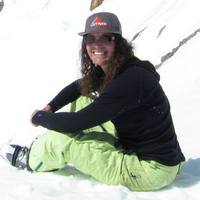 Thank you for using this forecast. Does it save you time, gas money, or help you have more fun in your life? Make a donation! Get your forecast here for free or donate and get on the mailing list for year-round wind forecasts and ski season snow forecasts. Just click on my photo to donate via PayPal or credit card. The email isn't $99/year. Not $50/year. No, just $12.34 or more gets you on the list for 12 months, and sometimes there are cool prizes. Don't PayPal? Send a check to Temira @ PO Box 841 in Hood River. Thank you for your support, and thank you for trusting my forecast.
---
Gorge Wind
It looks like the eastern Gorge was big n' burly yesterday, with 30+ for periods of time. I raise my cup of coffee to all of you who made it out on the water. Today will have leftovers for those of you who couldn't make yesterday's session. Gradients were at .06 (pdx-dls) and .07 (dls-psc) this morning. Given that, you can expect W 13-16 from Mosier to Arlington this morning, picking up to gusty 13-16 from Steven's Locks to Mosier this afternoon with 22-25 from Lyle to Maryhill, maybe a touch more, as high pressure builds off the coast. That said, the atmosphere will be unstable this afternoon, meaning we could see thunderstorms or just-plain-instability that shuts the wind down or makes it super gusty.
Tomorrow starts with W 10-13 through much of the Gorge, picking up to 15-18 in the afternoon from Swell to Doug's. Friday starts off light and variable and picks up to gusty W 13-126 in the afternoon as a weather system approaches.

Random Morning Thoughts
Today is April Fools' day. This isn't a day I like very much, because many of the actions taken by people on this day are intended to humiliate and shame the recipient of the action. Just the name of the day indicates that it's a day when people judge one another and take power over one another. I tricked you, therefore you are a fool and lower than I am.
I do like jokes, don't get me wrong. And some people find a way to turn April Fools' day into a day of kind kidding. Timberline Lodge, for example, has done a fabulous job with this over the last few years. Last year they said they were being forced to return the ski resort to 1930's status. Less lifts, lodging, and amenities. The year before, they said they were offering heli-skiing to the top of Hood. Not only did they say these things, but they added all sorts of detailed plans, forms, and information to the T-Line website.
I laughed and laughed. That kind of prank is amusing – it's just intended to entertain, not hurt. So here's my point: if you're going to play pranks today, make sure they are kind. Because if you share humor with people, you increase the world's happiness. When you joke with intent to take power over or to shame, you make the world a less happy place. Do good pranks today.

Gorge Weather Forecast
I just stepped outside my house to check the weather. It's partly to mostly cloudy, I think, and not raining. So, today will be partly cloudy early with increasing clouds and showers and a chance of thunder n' hail this afternoon. Temps will be in the low 40's early and the mid 50's this afternoon. Moderate west wind. 94% chance of rainbows.
Tomorrow will likely start off with the Nothing, progressing to partly cloudy sky midday and high clouds in the afternoon. Temps will be in the upper 30's to low 40's early and the mid 50's in the afternoon. It's possible that Parkdale will see temps right around freezing tomorrow morning, as they'll be above the clouds with more radiational cooling. Anyway… expect light wind and no rainbows.
Friday starts off clear. High clouds move in midday and showers start up late in the afternoon. Temps will be in the upper 30's early and the low 60's in the afternoon. Light wind. 24% chance of rainbows. Cool, showery weather continues through the weekend.

White Sprinter Van of the Day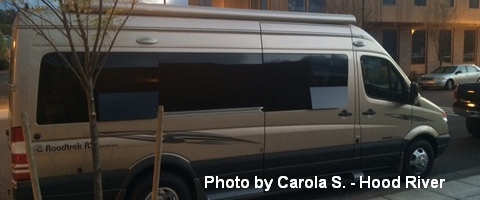 Road and Mountain Biking
Post is too muddy to ride. Whoopdee is closed today. We had snow on the hills around Parkdale yesterday and 8" at 5000′, meaning the higher elevation trails might be off the list for a week or so. In the meantime, Syncline, Nestor, Gorge 400, Hospital (no dogs due to cows) and Columbia Hills are there for you. As for road biking, we've probably lost the highest roads for a couple of days. And… Friday looks like your best day, with sunshine and light wind in the morning.


The Clymb: free membership. Cheap gear.
Temira approves. Click to join.
Upcoming Events
Today is Wednesday. There's ping pong at the Hood River Armory at 5:30pm (most likely) and there's Aikido at Trinity in Hood River at 5:30pm. Coming up tomorrow, there's community yoga at 8am at Flow and there's community yoga at 6:30pm at Yoga Samadhi. Speaking of, I went to the meditation there last night. The monks come down from Trout Lake and lead a 40 minute or so meditation. It was lovely, and there were at least 25 people there. There's another group meditation at Trinity on Sunday evenings. And… if you feel like doing an all-day meditation or a meditation retreat, the Mt. Adams Zen Center offers them for an affordable price.
Have an awesome day today!
Temira