Please support this forecast by clicking on the photo of the forecaster!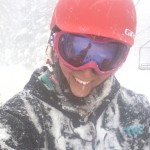 Your forecaster. Click on her to donate. Thank you!
Thank you for using this forecast. Please tell your friends about it! And if you or your friends think this service is awesome/useful/saves you gas money/makes your life more fun, make a donation by clicking on my photo above. Is more fun worth $50/year? $20/year? Donate what it's worth to you (and thank you!), but $12 minimum gets you on the email list (with occasional giveaways) for a year. Thank you for your support, and have fun today!
Random Morning Thoughts
I'm still filled with bliss from THE BEST DIRT EVER last night in Post Canyon. Gonna get me some more of that s**t today!
Mt. Hood Snow Forecast
Today looks clear. The freezing level will be 5500′ early, 6500′ in the afternoon and 7000′ overnight. Wind will be N 10 early, light and variable midday, and NW 10-20 overnight.
A couple of weather systems move in Thursday – a warm front early and a cold front overnight, so expect a cloudy start. The snow level will be 6500′ early, rising to 7000′ in the afternoon, and eventually falling to 6500′ around 2am Friday and 4000′ during the day Friday. Starting by 11am Thursday, and continuing until Friday morning, it'll be rainy. Expect 1-2" of rain, becoming heavy after 5pm. Wind will be SW 20 for much of the day, increasing to W 40 after midnight.
Friday starts with some orographic snow flurries, but there probably won't be all that much accumulation, as most of the precip will come in before the snow level drops. Maybe an inch or two of snow will fall at 5000′ before the sky clears, but then we may see some orographic snow showers, good for another inch or two, during the day Friday.
Snowfall rates increase after 5am on Saturday morning as a low pressure system moves above us, bringing 3-6" of new during the day. The snow level will be around 4000′ with W wind in the 20's. The one problem with this setup is a chance of thunder and lightning. That would certainly make life interesting at Meadows and T-Line on Saturday.
Today's Gorge Wind

Your favorite beach
Dawn
Patrol
9am-
11:30a
11:30a-
3pm
3pm-
dusk
Steven's Locks
13-16
10-13
5-10
5-10
Hatch (subtract a few mph for Event Site)
13-16
10-13
5-10
5-10
Doug's / Rowena / Lyle
13-16
10-13
5-10
5-10
Maryhill / Rufus / The Wall
13-16
10-13
5-10
5-10
Arlington / Roosevelt
13-16
10-13
5-10
5-10
Gorge Wind
I went windsurfing yesterday. Yep. I sure did. And now I have a question for you: Did you happen to kite or windsurf at Rufus or The Wall yesterday? The river level was 305,000cfs, and I'm wondering how the current was out there. Was it really strong? And also, were there waves or was it choppy? I'm trying to put together a guide for the good river levels in that section of river because nobody likes to drive to find too much current. So shoot me an email if you have an answer.
In wind news today, what you see now is what you'll get: 13-16 early through much of the Gorge, fading to 5-10 (10-13 if we're lucky) by midday as a low pressure system moves into place off the Oregon coast.
Thursday starts out light. As a cold front moves in late in the day, we'll see a short-lived and rather useless burst of west wind. As that front and associated low move inland Thursday night, and high pressure builds off the California coast, westerlies increase, leaving us with relatively steady and widespread 23-26 on Friday, most likely east of The Dalles, but possibly including Lyle. At this point, it doesn't look windy on the weekend, but that could change.
Gorge Weather
Today looks like a lovely spring day. It'll be sunny with temps in the upper 40's early and mid 60s this afternoon. Light west wind today. High clouds move in tonight, giving us a cloudy start Thursday.
Temps on Thursday will be in the mid 40's early and upper 50's to low 60's in the afternoon. We may or may not see a few light sprinkles during the day, but heavier rain will move in after noon, and tomorrow afternoon and evening will be very wet. If you're well east of Hood River, you may see rainbows tomorrow, but I suspect Hood River will just be cloudy.
Friday brings a better chances for rainbows in the wake of the system's passage. Expect a few showers in the morning (with rainbows) and partly cloudy sky in the afternoon. Temps will be in the upper 40's early and the mid 50's in the afternoon with moderate west wind.
Road and Mountain Biking
I rode in Post Canyon yesterday evening, and it was the BEST DIRT EVER. No, really. I'm going back today in the hope that it's still perfect. In 44 Road news, there are 20 trees down and patches of snow on the 8-Mile climb. There are 8 trees down on the Knebal descent, but no snow. No report for the Knebal climb.
In road biking news, today will be lovely, with the already light wind dropping as the day goes on. Tomorrow looks like good road biking early, assuming the rain holds off until the afternoon, as forecast.
Tonight is the all-levels women's Post n' Pinot ride at Dirty Fingers at 5:30. Tomorrow night is the scary fast Post n' Pint. If you complete these rides (either or, or both), you will be given a free drink afterwards.
The Clymb: free membership. Cheap gear. Temira approves. Click to join.
River Levels
The Hood's at 5.0′, the Klickitat's at 2450 cfs, the White Salmon is at 4'ish.
Events – email me if I've missed any outdoor-related events
Coming up tonight, there's Karma Yoga, by donation or free, at Flow at 4. Then there's the women's Post and Pinot mountain bike ride at Dirty Fingers at 5:30. There's ping pong at the Hood River armory at 6:30pm, and there's sailboat racing at the Hood River Marina.
Coming up Saturday, there's the Master Gardners' annual spring plant sale at the OSU extension office from 9 to 1. Also on Saturday, there's Lila May's Tutu Trot, 3k,5k and 10k at the Twin Tunnels west trailhead at 9, raising money for the three-year-old ballerina's cancer treatment.
Have an awesome day today!
Temira