Please support this forecast by clicking on the photo of the forecaster!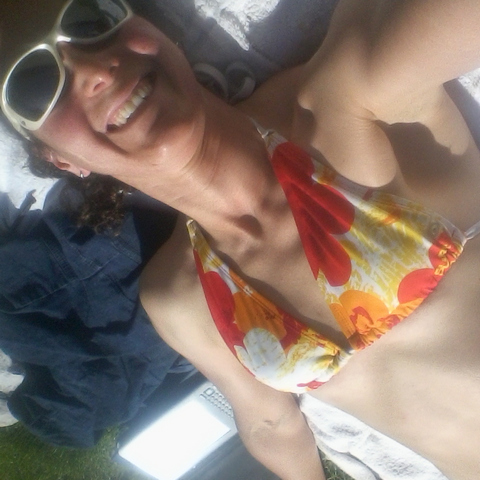 Your forecaster. Click on her to donate. Thank you!
Thank you for using this forecast. Please tell your friends about it! And if you or your friends think this service is awesome/useful/saves you gas money/makes your life more fun, make a donation by clicking on my photo above. Is more fun worth $50/year? $20/year? Donate what it's worth to you (and thank you!), but $12 minimum gets you on the email list (with occasional giveaways) for a year. Thank you for your support, and have fun today!
Random Morning Thoughts
If you remember, Monday was "The Last Powder Day of the Season III". Well, yesterday was "The First Tanning Day of the Season."
The Hood 2 River Relay is a one-day event on May 31st. This fun and all-inclusive event is designed for almost any level of skill and fitness, yet competitive enough for the hardcore athlete where participants compete in teams, pairs, or individuals to race from the high slopes of Mt. Hood down to the mighty Columbia River. There will be six Legs that consist of; Alpine ski, nordic ski, mountain bike, road bike, road run, boating (kayak/canoe/SUP) and a 500 meter sprint to the finish line after boating. Open to individuals and teams. Visit their website for more information. And Pole-Pedal-Paddle, eat your heart out. You got nothin' on the Hood 2 River!
Today's Gorge Wind

Your favorite beach
Dawn
Patrol
9am-
11:30a
11:30a-
3pm
3pm-
dusk
Rooster Rock
E 35-45
E 35-45
E 24-28
E 22-25
Steven's Locks
E 20-24
E 26-30
E 24-28
E 20-24
Hood River Eastward
E 5-10
E 7-11
E 10-13
E 7-11
Mt. Hood Snow Forecast
We're going to need to retitle this the "Mt. Hood Sun Forecast" if this keeps up. We'll see sun the next three days. The freezing level will be 13,000 today with light and variable wind. The freezing level will be 14,000 tomorrow with S wind at 15 early becoming SW 20 in the afternoon. Friday also looks sunny with the freezing level at 12,000 early and 11,000′ in the afternoon. Wind will be SW 20 becoming SW 30. The weekend looks cloudy, possibly showery, and more likely snowy on Mt. Hood.
Gorge Wind
OK, people. The Columbia is 50 degrees. You have no excuse not to be windsurfing, kiting, and SUPing. Your only potential excuse is the same as mine – you've been working on all the windy days.
It's another east wind day, with the hey-isn't-this-summer-where's-the-westerlies-easterlies? hitting the low 30's near Stevenson and the low 40's near Rooster Rock. Tomorrow starts with 30-35 at Rooster and a bit less at Stevenson, becoming nearly calm in the afternoon. We'll see a switch to west wind on Friday, with 10-15 near Hood River in the morning, picking up to the mid 20's in the afternoon. The setup on Friday is a combination of good pieces and detrimental pieces, and I think we're going to see the strongest wind at Stevenson. It'll blow in other areas, but expect relatively gusty conditions.
Gorge Weather
No rainbows until the weekend. Sorry. Today starts off cool, in the low 40's. Temps rise to the mid-70's in the afternoon with moderate east wind even near Hood River and The Dalles. Tomorrow looks sunny with temps in the upper 40's early and upper 70's in the afternoon with light wind. Friday starts with temps in the upper 50's, rising to the upper 60's in the afternoon with increasing westerlies during the day.
Road and Mountain Biking
There's a Tack Alert issued for Post Canyon right now. The dirt doesn't get any better. I'm sure you'll find good dirt on Dog River, Whoopdee and Surveyor's too. It's going to be pretty windy on the roads this afternoon, as easterlies spread through the whole Gorge, but tomorrow looks stellar on the pavement, as the wind backs off. If you're road riding Friday, do it early before afternoon westerlies make your return from The Dalles a tough haul.
The Clymb: free membership. Cheap gear. Temira approves. Click to join.
River Levels
The Hood is at 5.0′, the Klickitat is at 2180cfs, and the White Salmon is somewhere in the 4's, but I have no idea because Wet Planet still hasn't updated their FB page. Last reading was 4.9′.
Events – email me if I've missed any outdoor-related events
There's big news in women's bike world tonight. Skylight Theatre is showing the women's bike racing film "Half the Road" tonight at 6:15pm and 8:45pm. Also tonight, Dirty Fingers has a free, women's-only bike repair clinic at, oh, 7:30 or so. Call the shop for the exact time. And before the clinic, there's the all-levels women's Post n' Pinot bike ride. Nobody gets dropped. Everyone has fun. And the dirt will be perfect.
Also tonight, there's sailboat racing at the Hood River Marina, ping pong at the armory at 6:30 ($5), Karma Yoga at Flow (free or by donation) at 4pm, and and and… oh, I guess that's it.
Coming up this weekend, Water's Edge in The Dalles has a 10k/duathlon/half marathon. It's the Dog River Super D bike race on (duh) the Dog River Trail. And it's the Oregon Trail Rally rally car race, with a Fan Party Block Party at Double Mountain on Saturday night starting at 7:30. Yes, I will be at that one for sure! Good times. Good times.
Have an awesome day today!
Temira