Please support this forecast by clicking on the photo of the forecaster!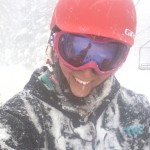 Your forecaster. Click on her to donate. Thank you!
Thank you for using this forecast. Please tell your friends about it! And if you or your friends think this service is awesome/useful/saves you gas money/makes your life more fun, make a donation by clicking on my photo above. Is more fun worth $50/year? $20/year? Donate what it's worth to you (and thank you!), but $12 minimum gets you on the email list (with occasional giveaways) for a year. Thank you for your support, and have fun today!
Random Morning Thoughts
Yesterday I found and ate my first four black morels of the year. I love black morels. I love them more than any other mushroom, except for the truffle, but I don't have the ability to find truffles. Someday when I am an old lady living on a small farm, I will have a truffle dog or a truffle pig, and I'll spend my days in the woods hunting the elusive black truffle. I will eat truffle risotto night after night, and I'll serve it aside steaks from the cattle I raised on my little farm. I'm hungry now.
Mt. Hood Snow Forecast – 5000′

4a-8a
8a-12p
12p-4p
4p-8p
8p-4a
Wednesday
Thursday
Friday
Mt. Hood Snow Forecast
It's a lovely morning on Mt. Hood: mostly clear with a few clouds. It will stay a lovely, sunny day today. We'll see the freezing level around 4000′ today with W wind at 20-25 early and 15-20 in the afternoon. The powerful spring sun will probably raise temps above the freezing level predictions.
Thursday starts off clear, but high clouds move in by 11am and snowfall starts around 5pm. The snow level will be around 4500 when the precip hits, and will drop to 2000′-2500′ overnight. We'll see .3-.5" water value (WV) overnight, for 3-5" of new snow. Wind will be SW 20 early, rising to SW 30 in the afternoon and SW 40 overnight.
Friday morning brings orographic snow flurries. Those continue for much of the day (although I wouldn't be surprised to see a bluebird hour or two), followed by heavier snowfall after 8pm. The snow level will be 2500′ early and 3000′ in the afternoon and evening. We'll see .2-.4" WV during the day, for 2-4" of new snow, followed by another .5-.7" WV overnight, for 5-7" more. Wind will be W 30 early, falling to W 20 overnight.
Saturday morning starts with snow flurries, but warmer, wetter weather moves in after 5pm. As of right now, 5000′ temps look to rise to 2-4° Saturday night with 1" of water value, so at this point, it looks rainy Saturday night through midday Sunday. But that's a ways out. Anyway, from this long-range view, Saturday looks much better than Sunday on the mountain.
Gorge Wind
We're still not in an awesome setup for wind, but we'll have some wind today with the early gradients at .07 and .05. We'll see low teens this morning through the whole Gorge, picking up to gusty 13-16 in the western Gorge and gusty 23-26 east of Mosier, probably strongest at Maryhill. The current should be ok for Maryhill – the flow is 254,000cfs. But I'd love some feedback on that if anyone goes. Thursday starts with light east wind and switches to light west wind. Friday gets the remnants of wind from a passing weather system: W 13-15 in the morning and W 23-26 in the eastern Gorge in the afternoon.
Gorge Weather
I'm so excited about the beginning of next week that I'm having trouble focusing on today. OMG 70 degrees. Anyway, today starts out in the mid-40's, rising to the mid-50's in the afternoon with partly cloudy sky and moderate west wind. Thursday starts in the mid-30's, rising to the mid-50's with increasing clouds during the day and sprinkles after 5pm. Light wind. Friday looks showery with rainbows. Temps will be in the low 40's early and low 50's in the afternoon. Moderate west wind. Saturday looks cool and showery with rainbows and Sunday looks cool and showery with rainbows, becoming warmer and rainier. And Monday and Tuesday… sunny. 70.
Road and Mountain Biking
I went jogging in Post Canyon yesterday, and it was a muddy mess. Horrendous. The guy from Ohio who was riding yesterday created a lot of deep, muddy tracks in the trail. If he's reading this, I'd like to encourage him to show up for every single work party this year to make up for the damage he caused. So, let's not ride Post today! I betcha Syncline is great and Whoopdee is muddy.
I bet the roads are going to be awesome, if you can stand a bit of wind. I'm going to ride to Parkdale for the least windy ride possible on a day like today. Tomorrow brings light wind and nice biking weather. Friday looks a bit windy and rainy. The beginning of next week looks 70 degrees. I'm going to ride my bike to Vancouver. Does anyone know the best way to do this?
The Clymb: free membership. Cheap gear. Temira approves. Click to join.
Events – email me if I've missed any outdoor-related events
Coming up this evening, there's Karma Yoga (free or by donation) at Flow at 4pm. There's also ping pong at the Hood River armory at 6:30pm ($5). Tonight at Columbia Center for the Arts, come for a "Sense of Place" lecture: Writer and river guide Vince Welch will give a lecture on Oregon native and legendary boatman Amos Burg. Thought to be the last person to run all the major western rivers before dams made such voyages difficult or impossible, Burg was also the first to pilot a canoe down the Columbia and Snake rivers and the first to row an inflatable raft down the Green and Colorado rivers through Grand Canyon. That's so cool. I wish I'd seen the Columbia before it was dammed. Actually, I wish I'd kayaked it. Amazing.
Have an awesome day today!
Temira