Please support this forecast by clicking on the photo of the forecaster!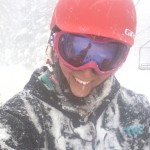 Your forecaster. Click on her to donate. Thank you!
Thank you for using this forecast. Please tell your friends about it! And if you or your friends think this service is awesome/useful/saves you gas money/makes your life more fun, make a donation by clicking on my photo above. Is more fun worth $50/year? $20/year? Donate what it's worth to you (and thank you!), but $12 minimum gets you on the email list (with occasional giveaways) for a year. Thank you for your support, and have fun today!
Random Morning Thoughts
This is the section of the forecast that takes the longest. It took me a few minutes today, but I came up with something: I've been feeding my right brain a diet of poetry-writing, story telling, ukulele learning, and concentrated listening. It likes this diet, and it growing like the watercress in my garden. I just hope the birds don't come and eat my right brain like they ate my first batch of watercress.
Mt. Hood Snow Forecast – 5000′

4a-8a
8a-12p
12p-4p
4p-8p
8p-4a
Wednesday
Thursday
Friday
Mt. Hood Snow Forecast
I'd like to apologize to everyone for Thursday's weather on Mt. Hood. You see, I took last Sunday off to do a mediation (not a meditation, a mediation – I meditate every day, and unfortunately only mediate rarely) and am working tomorrow instead. It's going to rain, pour, maybe, and that's my fault.
Anyway, today's starting off cloudy on Mt. Hood. We will see snowflakes early, switching to mist or very, very wet snowflakes later on. But not much – only .1" water value (WV). The snow level will be 4000′ early, 6000′ around 2pm, 6500′ at 5pm and 7000′ at 8pm. Wind will be NW 20 early, SW 15 midday and W 15 overnight.
Thursday, as I said, looks rainy, possibly becoming snowy late in the day or overnight. The snow level will be 8000′ early, 7000′ around 2pm, 6500′ at 5pm, 6000′ around 8pm, and 5000′ around 2am Friday. We'll see .4-.6" WV between 5am and 5pm. That'll be rain. Then we'll see another .4-.6" WV overnight. That's mostly going to fall as rain, but we might get 1-3" of snow if we're really, really lucky. Wind will be SW 15-20 in the morning, SW 30 in the afternoon and WSW 35 late in the evening.
By Friday morning, the sky will either be clear, or there will be just a few leftover orographic snow flurries. No accumulation Friday. The freezing level will be 3000′ early, 5000′ midday and 8000′ overnight. Saturday looks clear early and cloudy in the afternoon with the freezing level around 8000′ and SW wind in the 30-40 range. A weak weather system will likely clip Mt. Hood either late Saturday or early Sunday.
Gorge Wind
With a warm front moving through today, the wind will be light: gusty, up-and-down 13-15 at best. Tomorrow starts off light, picking up to W 10-15 in the afternoon. Friday looks windier, as we sit in building high pressure after the passage of a weather system. Expect 23-26 east of Mosier with gusty 13-16 in the western Gorge.
Gorge Weather
It's a grey, gray start this morning, and there's drizzle headed this way as a system sags south. Expect light drizzle today, possible all day long, but not amounting to much. Temps will be in the upper 40's early and upper 50's late with light west wind.
Thursday looks rainy. Temps will be in the mid 40's early and low 50's late with light west wind. Friday starts off partly cloudy, becoming clear with temps in the mid-40's early and low 50's late with moderate wind.
Road and Mountain Biking
This upcoming rain is just what our mountain bike trails need. Sure, they're in decent shape, but a bit of drizzle will tamp down the developing dust and ball bearings. Plus it will make for excellent digging
conditions. With Post open top to bottom, I'd like to offer a gentle reminder: Uphill traffic does have the right of way, so if you're bombing downhill, remember to stop and let the panting climbers, runners, and everyone else pass.
River Levels
The Hood is at 4.7′, the Klickitat is at 2210 cfs, and the White Salmon is at 4′.
The Clymb: free membership. Cheap gear. Temira approves. Click to join.
Events – email me if I've missed any outdoor-related events
Tonight we have Karma Yoga (free/by donation) at 4pm at Flow. There's a Port of HR meeting about park potential for Nichols Boat Basin at 5:30pm at the Port building. There's a track workout with the Hood River Running Club folks at the high school at 5:30pm. There's sailboat racing at the Hood River Marina at 6ish, and there's ping pong at the armory at 6:30pm.
Thursday is the Post n' Pint shop mountain bike ride (weather and trail conditions permitting) at 5:30 and rugby (they don't care about weather) at Henkle Middle School at 3:30. On Friday evening at 7pm, come to Hood River Middle School for the local screening of award-winning film "DamNation" about dams and dam removal, including Condit Dam on the White Salmon. This should be a great film, and I'm going to recommend it.
Saturday is the Gorge Short Track mountain bike race at Cascade Locks' EasyCLIMB trail. I rode in the Thursday night series last year, and it was pretty much awesome. If you have Saturday free (sadly, I'm working), I'd highly recommend doing the race. You can get more information here. Also at EasyCLIMB on Saturday, the DimWits (the trail builders) are having a campout and night ride. Also on busy Saturday, Riverkeeper has a cleanup at Mayer Park on Saturday from 10am to 2pm. If you're interested in participating, shoot them an email at volunteer@columbiariverkeeper.org
Have an awesome day today!
Temira