Please support this forecast by clicking on the photo of the forecaster!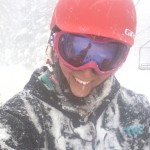 Your forecaster. Click on her to donate. Thank you!
Thank you for using this forecast. Please tell your friends about it! And if you or your friends think this service is awesome/useful/saves you gas money/makes your life more fun, make a donation by clicking on my photo above. Is more fun worth $50/year? $20/year? Donate what it's worth to you (and thank you!), but $12 minimum gets you on the email list (with occasional giveaways) for a year. Thank you for your support, and have fun today!
Interesting Local Opportunity
The Hood River Sister City Committee is immediately seeking candidates for a unique position that places a Hood River County resident in Japan for one year starting this summer. The Coordinator of International Relations position comes with a competitive salary and benefits package and living arrangements in Tsuruta, Japan, Hood River's longtime sister city. The CIR works at the Tsuruta town office and is responsible for helping with exchange activities, maintaining communications between cities and teaching basic English to the townspeople. For more information or to get an application, contact Sister City President Niko Yasui at nyasui@hoodriver.k12.or.us or call 541-490-2876. You can also contact me, Temira, if you have more questions about what the position involves.
Random Morning Thoughts
Part of the reason I keep the price of the forecast subscription so low and leave it free on my website is that I find great joy in expressing myself through words. I also find great joy in helping other people pick out the best days to do the things they love. It doesn't seem right that I get paid to do this.
That said, it frustrates me when people attack my choice of words. I understand that not everyone appreciates the occasional F-bomb, but I do. And I understand that some of you are offended by such language, but I ask you to turn a compassionate eye on my choice of words and not judge or attempt to punish me for how I express myself. I am who I am, and I write this forecast out of love for all of you and out of a drive to help all of you have more fun. If you must judge and retaliate and attempt to change people, rather than simply accept people with compassion, I ask that you do so against folks who act out of anger and violence, not against me.
Mt. Hood Snow Forecast – 5000′

4a-8a
8a-12p
12p-4p
4p-8p
8p-4a
Wednesday
Thursday
Friday
Mt. Hood Snow Forecast
Geez it gets hard to forecast this time of year when the March sun sends the temps way over the model predictions. Models are predicting a 2000′ freezing level this morning, but temps are above freezing at 8000′. I suspect that the incoming cold front this afternoon will be cold enough for the snow level to drop to 4000′ or so, and with .1-.2" water value, that'll give us an inch or two of new snow between 5pm and midnight or so. So, call it a sunny start, becoming cloudy midday with flurries after 2pm. Wind today will be W 20 early, W 30 early afternoon and W 40 overnight.
Thursday looks partly cloudy, becoming cloudy in the afternoon, with the free air freezing level at 3500′, although the March sun is probably going to warm it up above freezing in the afternoon. We may see a few flurries overnight as a system passes to the south. No accumulation. Wind Thursday will be W 20 early, NW 25 mid-morning, and W 35-40 in the afternon and evening, fading by Friday morning.
Friday looks clear and sunny. The free air freezing level will be 1000′ early, rising to 6000′ in the afternoon with light east wind down low and light west wind up high. Saturday looks sunny and warm.
Gorge Wind
We're starting off with a weak westerly gradient today, but as a front moves through and high pressure builds off the coast, we'll see the westerlies pick up to 28-32 east of The Dalles, maybe at the Lyle stretch too. Western Gorge wind will be less, in the low to mid teens. Tomorrow brings westerlies at 15-18 in the eastern Gorge and 10-13 in the western Gorge. Expect east wind at 23-26 on Friday.
Out on the coast, Friday should be pretty much (insert bad word) epic with 25-30mph from north to south and a 7′ swell at 13 seconds. Saturday brings 20-25 at the north and central coast with a 6′ swell. So get out of town and enjoy a little surf – the air and water will likely be warmer out there than it is out here (link to current coastal water temps would be much appreciated).
Gorge Weather
Today is starting off with a bit of an inversion cloud. That will burn off, already is, actually, and be replaced by incoming high clouds mid-morning and then low clouds from a cold front this afternoon. Expect light showers (made of water, mind you, not photons) after 5pm. Or maybe after 2pm. At that point, we should see some rainbows coupled with increasing west wind. Temps today will be in the upper 30's early and upper 40's late.
Tomorrow looks partly cloudy, becoming sunny, becoming high overcast or partly cloudy again late with light west wind. Temps will be in the upper 30's early and low 50's in the afternoon. On Friday, expect a clear and sunny day with frost in the morning with temps in the upper 20's to low 30's. Saturday repeats the Friday pattern.
Road and Mountain Biking
The weather this morning looks rather innocuous, doesn't it? Well, just you wait. As a cold front moves in this afternoon, we'll see the wind pick up and some showers fall, making for unpleasant road conditions. The rain shouldn't really be enough to mess up the bike trails. Whoopdee was in great shape yesterday, for the most part, with a little freeze-thaw up high. Not sure what's happening in Post. I'm sure Syncline is lovely and covered in wildflowers.
The Clymb: free membership. Cheap gear. Temira approves. Click to join.
Events – email me if I've missed any outdoor-related events
There's Karma Yoga by donation tonight at Flow at 4pm. There's ping pong at the Hood River Armory at 6:30. Coming up tomorrow night, Columbia Center for the Arts hosts the Trail Running Film Festival. Doors at 5pm. Films start at 6pm. Tickets $15.
Have an awesome day today!
Temira