Please support this forecast by clicking on the photo of the forecaster!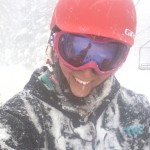 Your forecaster. Click on her to donate. Thank you!
Thank you for using this forecast. Please tell your friends about it! And if you or your friends think this service is awesome/useful/saves you gas money/makes your life more fun, make a donation by clicking on my photo above. Is more fun worth $50/year? $20/year? Donate what it's worth to you (and thank you!), but $12 minimum gets you on the email list (with occasional giveaways) for a year. Thank you for your support, and have fun today!
Random Morning Thoughts
I want to thank all of my incredible Meadows coworkers for being such kind and thoughtful people. I'm truly touched by your actions. Thank you. You mean the world to me.
Cool Local Business – Please Support It
The Best Western Plus Hood River Inn has great ski and stay packages for Mt. Hood, starting at $209 for a one-day ski & ride package for two people. Multi-day ski packages are crazy good deals. Save yourself the snowy, stressful drive home and stay in the Hood! For all you visitors and locals, show this add and Buy one entrée, get second entrée HALF PRICE for lunch or dinner, Sunday-Thursday through February 28th. And don't forget about the awesome M-F 4-6pm Happy Hour and Tuesday $12 Prime Rib!
Mt. Hood Snow Forecast – 5000′

4a-8a
8a-12p
12p-4p
4p-8p
8p-4a
Wednesday
Thursday
Friday
Mt. Hood Snow Forecast
I'm so much more interested in the possibilities for sea-level chaos early next week right now… That said, here's your Mt. Hood forecast: We'll see partly to mostly cloudy conditions today with a chance of sprinkles early, becoming more drizzle-prone after 1pm, and especially more drizzly after 10pm. The warm bubble will hover between 4000′ and 9000′ this morning, with the lower elevations warming early afternoon, for a snow level of 8000′ at 1pm, dropping to 6500′ around 1am. We'll see .2" water value (WV) overnight for mostly-rainy, maybe-mixed-with-snow-or-sleet weather after 1am. Wind will be S 20ish today and SE 15 in the evening.
Thursday starts off grey and wet. Whether it'll be wet and white or wet and transparent, I'm not sure. But the snow level will be somewhere between 5500′ and 6000′ all day, with temps at 5000′ between 2C and 4C. I dunno… I'll go with rain tomorrow, just to be ornery. Expect .5" WV rain (mixed with bits of frozen stuff) between 4am and 4pm for little to no accumulation at 5000′. Then expect another .4" WV or so overnight for little to no accumulation. Wind will be W 10 early becoming W 20 midday and WNW 25 overnight.
The snow level falls to 5000′ by Friday morning, crashing to 1000′ as cold air moves in from the NE. Flurries will fall in the morning, for maybe and inch or two of new snow if we're lucky, followed by clearing overnight. Or… depending on a multitude of factors, we may see a bit heavier east-wind driven orographic snow. This is one of those situations where really weird stuff can happen. Anyway, wind will be NW 10 early becoming E 10+ midday as the cold air moves in.
I've got my fingers crossed for some east-wind snowfall, because otherwise the incoming cold air is going to turn Mt. Hood into a skating rink for the weekend, and nobody likes that. So you cross your fingers too, okay?
Saturday is looking like it'll have some mid-level clouds with a chance of snow, but the bigger news is the cold air: Temps will be in the single digits on Mt. Hood Saturday with NW wind in the 20-25 range. Brrr. On Sunday, if the GFS model is correct, temps will be near zero on Mt. Hood, meaning you're going to freeze your ass off without a down jacket, hand-warmers, and a facemask.
Gorge Wind
Once again, it's nuking. I just returned to writing this forecast after a quick Google search for "Crown Point wind sensor". The only one I found was reading 9mph, and I know that's not correct. Anyone have a better one? Rooster Rock was reading avg39g58 at 6am. That's windy. The wind will fade a bit this afternoon, to 35-45. Tomorrow starts with E 30-35, dropping to 10-15. Friday starts off light, but as cold air moves in from the NE (the Kokanee Cold Snap), we'll see east wind pick up across the entire Gorge area. Nuking easterlies return on Saturday.
Gorge Weather
Ready, set, go. Get all your outdoor stuff done before Friday evening, because we're going back into Mother Nature's freezer. Plan to make large pots of soup and stock this weekend, because you'll be able to cool them down outside. There's something really amusing to me about using the Great Outdoors as a refrigerator or freezer.
But hang on. I'm getting ahead of myself. Today looks partly cloudy with occasional sprinkles and possible rainbows. We'll see temps in the mid-30's early and mid 40's this afternoon with an easterly breeze. Tomorrow sees temps in the mid to upper 30's will all-day and all-night sprinkles. A chance of rainbows will persist all day. Wind will be light in the central Gorge.
Friday starts off mostly clear with temps in the upper 30's to low 40's. Sometime during the day, cold air will push in from the east, creating east wind and dropping temps. By Saturday morning, models predict temps in the teens in the Gorge. And on Sunday morning, the GFS is even more dire, predicting temps in the single digits. Figures. I have this weekend off, my only weekend the whole winter, and it's going to be butt-ass cold.
Now, on to the interesting stuff. Models are all over the place (as usual) with how this cold snap will end. If the GFS is correct, we'll stay frigid in the Gorge (that's like "Sleepless in Seattle", only different) through Wednesday. As a couple of warm and wet systems slide over us on Tuesday and Wednesday, we'll get snow, freezing rain, or sleet. I like this idea, and I like speculating about it, but it's really too early to make a solid prediction. I do have to say, though, that I LOVE the look of the GFS for Tuesday morning. Lots of precip and lots of cold air. Fun!!!
Road and Mountain Biking
Yesterday's weather wasn't conducive to riding road bikes. Roads were wet. The air was cold. A gusty east wind was blowing. Sleet was falling from the sky. I rode for 2 hours anyway, and it was lovely, despite the fear that I'd climb high enough to find icy roads. I didn't. Moral of the story: There's no bad weather, just bad clothing.
The Clymb: free membership. Cheap gear. Temira approves. Click to join.
Events – email me if I've missed any outdoor-related events
There is Karma Yoga (free or by donation) at 4pm at Flow tonight and there's ping pong ($5) at the Hood River Armory 6:30pm-8:30pm.
Have an awesome day today!
Temira