Random Morning Thoughts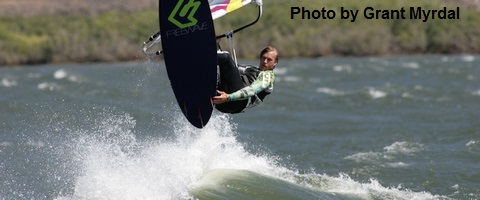 I was at a meeting with two Mt. Hood Meadows directors yesterday. We were discussing changes and improvements to my department for the '14-'15 season. We had a long and serious discussion, and then at 5:06pm, the HR Director announced she had to leave. Her last words to the Guest Services Director as she was walking away were, "Are you going into Portland tomorrow to pick up the Sprinter Van?" No, I'm serious. She really said that. I nearly spit my ice water all over the table.

Thank you for your donations during the Summer 2014 Pledge Drive!!!
Thanks to all of you for your support over the last month. You guys have shown me an incredible amount of support and love and appreciation, and I'm humbled and grateful, and my bikes will stay repaired for the rest of the year. And I'll stay caffeinated and able to forecast almost every day. You guys rock. New to this forecast? Use it here for free or make a donation and get on the mailing list for wind for the summer and Mt. Hood snow in the winter. It's not $99/year. Not $50/year. No, just $12.34 or more gets you on the list for 12 months. Do it via PayPal/CC by clicking on my photo. Don't PayPal? You can send a check to Temira @ PO Box 841 in Hood River. Thank you for your support, and thank you for trusting my forecast. You guys mean the world to me.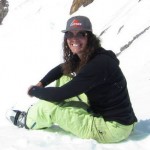 ---
Gorge Wind
This morning's 6am gradient was tremendous: .16 (pdx-dls) and .07 (dls-psc) and .32 (EPH-dls). Well, that last isn't tremendous, but the first two suggest you'll be sailing anywhere you like today. Expect a quick rise to 26-30 by 11am from Swell City to Mosier. By early afternoon, expect 28-32 from Lyle to Rufus with 24-28 at Arlington and Steven's Locks. One thing to keep in mind: there's a weak cold front approaching the coast this afternoon, and that could shut down the wind near Hood River late morning, or at least make it much weaker and gustier than gradients indicate.
That front swings through overnight, leaving Portland buried in marine clouds. Expect westerlies at 23-26+ for Dawn Patrol on Wednesday with a quick rise to 28-32 from Swell to Rufus. Arlington gets 24-28 tomorrow afternoon and Stevenson is a bit up in the air due to a question on how far the marine clouds will reach.
Thursday still looks windy, but an upper low approaching the coast will knock the wind back a bit. Expect 21-24 early and gusty 24-27 in the afternoon.

Today's Gorge Wind – these are ranges for the average speed, not a predicted wind range. =)

Your favorite beach
Dawn
Patrol
9am-
11:30a
11:30a-
3pm
3pm-
dusk
Rooster's Rocks
you have
better
things
to do!
Steven's Locks
light
8-11
15-18
23-26
Hatchery/White Salmon Sandbar (minus a few for Hood River)
18-22
26-30
26-30
22-26
Doug's, etc.
15-18
20-24
28-32
28-32
Rufus, etc.
15-18
20-24
28-32
28-32
Roosevelt, etc.
light
10-15
21-24
24-28
Temira's sail: 35-40: 2.9 / 30-35: 3.2 / 26-30: 3.5
23-26: 4.0 / 20-23: 4.5 less than 20: something bigger!
Tonia's kite: 35-40: 4m / 30-35: 4-6m / 26-30: 5-7m
23-26: 7-9m / 20-23: 8-10 / 15-20: 10-12 / 10-15: 13-15.
Advertising Worth Reading
Stoked Roasters on the Hood River Waterfront

Stoked Roasters is all about premium coffee to kick start your day in a positive way. Our roasts are packed with good vibes by awesome people who love to be outside as much as you. So go ahead and send it… We got your back from down at the Hood River Waterfront. Meet the day and be STOKED!
Gorge Weather
Ah. Finally. The humidity's down. At 6:30am, it was 66 degrees and 55% humidity, way better than yesterday's 70 degrees and 77%. We'll see temps rise to the mid 80's this afternoon with maybe some high clouds later from an approaching weak front. Leave your windows open tonight, because temps will be in the upper 50's tomorrow with highs in the upper 70's. Thursday starts with temps in the upper 50's, rising to the upper 70's in the afternoon with increasing high clouds later in the day.

White Sprinter Van of the Day with Rainbow Chair of the day.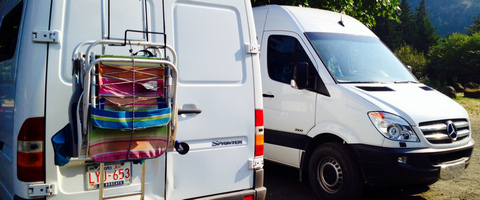 Road and Mountain Biking
Ummmm… Everything is open? And it's going to be mighty windy today for road biking, but at least it will be less muggy and less hot! I rode past Dad's little jar again yesterday.


The Clymb: free membership. Cheap gear.
Temira approves. Click to join.
River Levels / Cheezburger update
The White Salmon is at 2.2′. Please be very careful if you run it, as there is a riverwide log about 150 yards below Cave Wave. Cheezburger, DD, Tucker and I are celebrating together with sushi tonight! The John Day dam is putting out 113-150kcfs and The Dalles dam is reading 132kcfs. Columbia river temp is 70 degrees at The Dalles Dam.
Events – email me if I've missed any outdoor-related events
Today's Tuesday, and that means you can play pickup touch rugby at the Hood River Marina at 5:30, you can join the Hood River Tri club for triathlon practice at 6:15 at Rowena Park, or 6pm if you're a beginner, and there's a downriver kayak race on the Whtie Salmon, meeting at Husum at 6;30. If that's all too sporty, head to the Ruins at Springhouse for outdoor music starting at 5pm.
Coming up this weekend, it's the Wildside relay downwind race for surfskis and outriggers, the blowout race is happening for windsurfers and kiters, and the Double Damned downwinder is Saturday for sailboats. There's also windsurf racing at the Evnet Site on Saturday and the Bridge of the Gods run in Cascade Locks on Sunday.
Have an awesome day today!
Temira