The best snow forecast for Mt. Hood. The best wind forecast for the Gorge.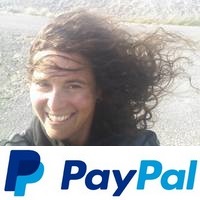 Thank you for using this forecast. Like it? Find it useful? Support it (and me!) by sending some cash my way. What's it cost to support me and get the email version? Not $99 a year. Nope. Not $49. Just $19.99 or more gets you a year. People are added to this list on Thursday and Sunday. My day job is crisis mental health, and I don't have time on other days. Thanks for your patience! Click below to contribute. Thank you!!
Credit card payments use this button
Click here to use your PayPal
Venmo: @theGorgeismyGym
Snail Mail: PO Box 841, Hood River, Oregon 97031
(note: I am not a non-profit entity. The only way to accept credit cards with a user-defined amount is to use the 'donate' button. Thanks for understanding!)

Auto-renewing subscription. New! Awesome!
The Forecast
Today's Gorge Wind – these are ranges for the average speed, not a predicted wind range. =)

Your favorite beach
Dawn
Patrol
9am-
11:30a
11:30a-
3pm
3pm-
dusk
Rooster Rock
clouds
and
cold
buns
Steven's Locks
12-15
12-15
18-22
18-22
Swell-Hood River
12-15
13-16
18-22
18-22
Lyle to Doug's
12-15
13-16
18-22
18-22
Rufus, etc.
12-15
12-15
5-10
LTV
Roosevelt & Arlington
12-15
12-15
5-10
LTV
Gorge Wind Forecast
Westerlies stick around today, take a break tomorrow, and return for Thursday and Friday. Best chance for a very strong day: Thursday, although it'll be gusty. Today's early setup includes an exiting cold front and offshore high pressure. For all practical purposes, today will be a stable weather day. With morning gradients at .08 and .04 and offshore high pressure at 1029mb, the wind will stick around. Morning post-frontal westerlies blow at 12-15 or so all the way from Stevenson to Arlington. Skip the eastern Gorge; the wind will fade east of The Dalles today. Give the weather a couple hours to warm up, and you'll find 18-22 from Stevenson to The Dalles. River flow is 217kcfs, river temp is 53F, and high temp forecast is 72F.
Wednesday sees an offshore low combine with a heat low in the Willamette Valley and high pressure over Canada. Widespread easterlies make a surprise appearance. The day starts with 20-25 at Rooster and 15-20 at Stevenson with light wind elsewhere. Afternoon: 20-25 form Rooster to Viento with gusty 15-25 from Hood River to Arlington. High temp: 78F.
Looking at Thursday, we see a cold front headed this way. Add that to the desert warmth, high pressure off the Cali Coast, and a low along the Idaho border, and you've a recipe for very strong, gusty westerlies. Morning wind will be in the 20-24 range form Stevenson to Hood River with slightly more eastward to Biggs. Afternoon wind rises to 30-40 from The Dalles to Rufus with 27-31 from Arlington Threemile. Western Gorge: rainy with gusty 12-15. High temp: 65F. Westerlies in the upper 20's are forecast on Friday, but that's a long ways out and could change. Enjoy!
Coast, Jones, Sauvie's
On vacation until the end of snowsports season. Will return soon.
Mt. Hood Weather forecast
Clear sky sticks around on Tuesday with the freezing level rising from 5000′ in the morning to 10,000′ later. Wind: NW 15-20 early, WNW 10-15 later, SE 10 overnight. Wednesday starts clear and ends with high clouds. The freezing level will be 10,000′ to 12,000′ for the 24 hour period. Wind: SE 10 in the morning, E 20-25 in the afternoon, and SSW 15 overnight. Thursday brings a trace of mixed precip in the afternoon followed by snow overnight. Models are far from agreeing on the amounts. Call it 2-5" overnight. The freezing level falls from 11,000′ in the morning to 5500′ in the afternoon and 2500′ overnight. Up to 5" of additional snow is forecast for Friday with the snow level around 3000′.
Note on wind speeds. Different wind directions are experienced in different ways on Mt. Hood. For example, west wind at 50mph will hit the slopes and exposed ridges at W 50. SW 50 may hit the ridges at SW 50, but will likely only be SW 20 below tree line. Hence the ranges for wind. Depends where you are on the mountain. Hopefully that helps clarify.
Hood River Weather Forecast
Partly cloudy sky this morning turns perfectly clear later. Temps will be in the low 50's early and low 70's later. Moderate westerlies. No rainbows. Wednesday starts clear and may end with high clouds. Temps will be in the mid 40's early and upper 70's later. Moderate easterlies. No rainbows. Thursday starts with high clouds and ends with lower clouds and drizzle. Temps will be near 50 early and in the mid 60's later. Strong westerlies. 47% chance of rainbows.
Looking for a complete Columbia Gorge forecast? Looking for more humor in your weather? Obscenities? You're looking for my TATAS: Temira's Awesome Travel Advisory Service on Facebook.
Cycling
Cows are out on Hospital Hill. No parking at the corral. No dogs on the trails. No exceptions. Please respect the wishes of the landowners – they let us use their land, and in return, we respect their rules! Post Canyon: clear of snow to the top of Eldorado, perhaps to top of 140. New Whoopdee: open. Other news: Mountain View Cycles women's ride is every Thursday, bottom of Post at 5:30pm. Dirty Fingers has Sunday gravel rides. Contact the shops for details.
Sprinter Van of the Week!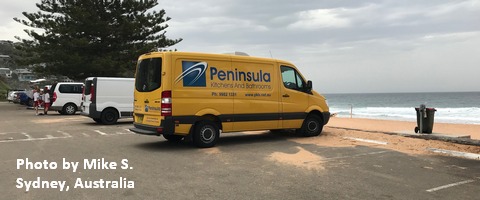 Click here for the Sprinter Van map of the world!!!
Local Events
Not much happening thanks to the pandemic… Have an awesome day!