Random Morning Thoughts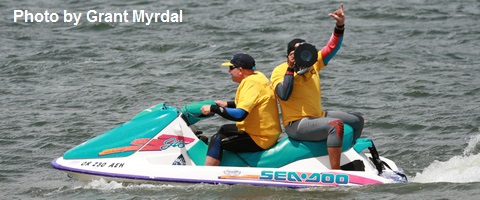 Someone sent me a heartbreaking photo yesterday. It was of the destruction in Cabo from Hurricane Odile. What a sad day for Mexico. I spent 15 minutes on The Google this morning trying to find a good donation link to share with you folks, but I was unable to find one. So I'm not running this photo, which includes the Saddest White Sprinter Van Ever. I am hoping that one of you can find a valid link to donate to the Odile relief effort, so I can run both the link and the photo, which might just encourage a few folks to donate. My thoughts are with the folks in Mexico today.

Thank you for using this forecast!
Please donate to support it!
Thank you to everyone for using this forecast. Does it save you time, gas money, or help you find more wind, powder, or just plain fun stuff to do? Please consider making a donation to keep it going! Use it here for free or make a donation and get on the mailing list for wind for the summer and Mt. Hood snow in the winter. It's not $99/year. Not $50/year. No, just $12.34 or more gets you on the list for 12 months. Do it via PayPal/CC by clicking on my happy photo below. Don't PayPal? You can send a check to Temira @ PO Box 841 in Hood River. Thank you for your support, and thank you for trusting my forecast. You guys mean the world to me.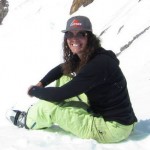 ---
Gorge Wind
If you look out the window this morning, you'll notice something different. I'm talking about the wind direction. With a 7am gradient of W .08 and more forecast for later, we're looking at a nice westerly day for your wind sporting. This is not an ideal setup – we're plagued by an offshore upper level low, but it's going to be windy enough to play today, if a bit gusty.
Expect 15-18 this morning from Swell to Mosier, picking up to gusty 21-24 midday from Stevenson to Doug's, and then picking up a bit more to 23-26 from Lyle to Rufus this afternoon.
Wednesday starts with less than 10mph, picking up to W 13-16 from Stevenson to Mosier, maybe Lyle-Doug's too, mid afternoon. As a shortwave approaches the Cascades late in the afternoon or early in the evening, we'll see a short-lived burst of 20-something wind. However, it may happen after dark. Or it may not. And you'll have to move fast to catch it.
Thursday starts with westerlies at 5-10 and picks up to 23-26 from Mosier to Rufus, maybe Arlington too, mid-afternoon. The western Gorge will likely see lighter wind, at 15-18 from Stevenson to Bingen.
Looks like we'll see high pressure rebuild inland on the weekend for east wind.
Out on the coast, it's just not windy enough for wind sports, with S 5-10 today, light SE tomorrow and light S on Thursday. There are waves. Today: W 4@15, SW 3@19. Tomorrow: W 5@13, SW 3@18. Thursday: W 4@11, SW 4@8.

Today's Gorge Wind – these are ranges for the average speed, not a predicted wind range. =)

Your favorite beach
Dawn
Patrol
9am-
11:30a
11:30a-
3pm
3pm-
dusk
Rooster's Rocks
bare
it
all,
baby!
Steven's Locks
0-5
8-11
15-18
22-25
Hatchery/White Salmon Sandbar (minus a few for Hood River)
15-18
18-22
21-24
18-22
Doug's, Lyle, Rowena
10-13
15-18
23-26
23-26
Rufus, etc.
light
5-10
15-18
23-26
Roosevelt, etc.
light
5-10
10-13
13-16
Temira's sail: 35-40: 2.9 / 30-35: 3.2 / 26-30: 3.5
23-26: 4.0 / 20-23: 4.5 less than 20: something bigger!
Tonia's kite: 35-40: 4m / 30-35: 4-6m / 26-30: 5-7m
23-26: 7-9m / 20-23: 8-10 / 15-20: 10-12 / 10-15: 13-15.
Gorge Weather
We're still struggling with some smoke from the Estacada fire, and will probably continue to see smoke through the day. Temps will be in the low 60's early and the low 80's this afternoon with a few clouds in the afternoon from instability over the Cascades. Tomorrow starts with some marine clouds in the western Gorge and finishes with some mid and high level clouds from an afternoon weather system. Temps will be in the mid 50's early and low 80's in the afternoon. Expect some clouds on Thursday as a low pressure system moves east. Rain looks pretty unlikely, but there is a tiny chance, so call it a 1% chance of rainbows and a 87% chance of colorful sunrise/sunset on Thursday. Temps will be in the upper 50's early and the mid 70's in the afternoon.

White Sprinter Van of the Day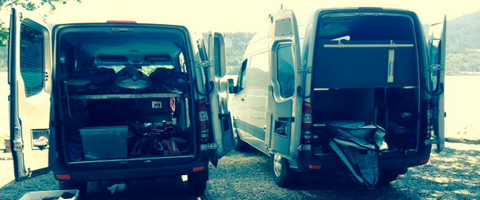 Road and Mountain Biking
It's that time of year in the Gifford Pinchot. The chanterelles are coming out, and you should be riding your bike with a knife, a bag and a paintbrush. Last night I made tuna casserole with chanterelles my friend Viggers picked and salmon that the guys at Windance gave me. It was pretty decadent tuna casserole. I have no idea what that has to do with biking. Anyway, if you want to go road biking today, head up, not east, because the west wind will kick in stronger and stronger as the day goes on, making your return journey tough.


The Clymb: free membership. Cheap gear.
Temira approves. Click to join.
River Levels / Fish Counts/Cheezburger Update
The John Day Dam is reading 61-72kcfs. The Dalles Dam is putting out 89kcfs. The White Salmon is at 1.75′. There is a new nearly river-wide log on the Middle White Salmon just after the cave rapid. According to Cheezburger, it's actually a huge tree with 40′ high branches. So, there is a huge tree just below Cave Rapid on the MWS. There is also a river-wide log about 150 yards below Cave Wave on the Lower White Salmon. The Columbia River is 68 degrees. There were 31,700 Chinook, 11,800 Coho and 3800 Steelhead over Bonneville on Sunday.

Hood River Adventures – Bike Shuttles, Fishing Trips & More…
Hood River Adventures is a local company owned by Drew Scharns, master guide specializing in fishing tours, mountain bike shuttles, and well as brewery and winery tours. Biologists predict this is going to be the biggest salmon run since 1938. Get some of it: Spend a day with Drew on the Columbia fishing for salmon, steelhead, and sturgeon or try fly fishing on the Klickitat. Feeling active? Head to the trails for shuttle laps with end-of-day car retrieval. Want to taste the local libations? Take a brewery or winery tour with HRA: no more arguments over who's going to be the designated driver – that's Drew's job! Fish counts are way up. Call Drew if you want to go: 541-400-1216

Events – email me if I've missed any outdoor-related events
Tonight's the last Ruins Tuesday music night of the season, and Tony Smiley will be playing. Get there by 7, and there's no cover. Also tonight, there's pickup rugby at the Hood River Marina at 5:30, a downriver race on the White Salmon at 6, and triathlon practice at Mayer Park at 6:15.
Coming up this weekend, you can learn about gardening and beekeeping and solar and homesteading related stuff at the Northwest Homesteading Fair in Lyle on Saturday. Then on Sunday, Hood River hosts the Gorge Kids Triathlon, open to all kids from kindergarten through 5th Grade.
On Sunday, Gorge Owned opens their Sense of Place lecture series with a rafting trip down the free-flowing lower-lower white Salmon, starting at what used to be Northwestern Lake and continuing down the Columbia. Guides will talk about the removal of Condit Dam and the return of the salmon. Go to Gorgeowned's website for more information.
Have an awesome day today!
Temira