Interesting – Call for Speakers
Interesting is simple: an afternoon or evening of 20 different people each talking for 3-minutes about something they love/hate/do/did/know/care about/obsess over. It's like TED talks, only quicker, quirkier, and just plain more fun! Past topics include: "Why Kale will save us", "Why I drink my own urine", "Living with the knowledge of your impending death", and "Gone with the Wind in 3 minutes". November 15th. Mosier School. If you're interested in speaking, we want you. Here's the form to apply. Application deadline is September 22nd.

Random Morning Thoughts
I hope all of you had a wonderful day on the river yesterday. It looked quite windy as I was driving back from Moro. I may not have sailed yesterday, but my friends Craig and Al showed me an incredible road. Sure, it doesn't have shoulders, but I'm now totally obsessed with riding it. It's called Fulton Canyon Road, and it runs between Celilo-ish and Moro. 20.1 miles through rolling wheat fields with view of Mt. Hood and Mt. Adams and the good state of Washington. And you know how this works: if you can see Washington, you know all about inter-state relations. Anyway… Fulton Canyon. Not as purely awesome as Allen Canyon in Ridgefield, WA, but still a 10/10 for beauty.

Thank you for using this forecast!
Please donate to support it!
Thank you to everyone for using this forecast. Does it save you time, gas money, or help you find more wind, powder, or just plain fun stuff to do? Please consider making a donation to keep it going! Use it here for free or make a donation and get on the mailing list for wind for the summer and Mt. Hood snow in the winter. It's not $99/year. Not $50/year. No, just $12.34 or more gets you on the list for 12 months. Do it via PayPal/CC by clicking on my happy photo below. Don't PayPal? You can send a check to Temira @ PO Box 841 in Hood River. Thank you for your support, and thank you for trusting my forecast. You guys mean the world to me.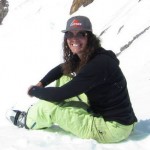 ---
Gorge Wind
Voting for the CGWA awards is now open. You can vote once per day.
While you are out playing wind-Johnny or SUP-Betty today, watch out for fishermen. There will be a bazillion of them, as there were 67,000 Fall Chinook over Bonneville both yesterday and the day before. This is an insane number of fish, and is apparently the most since 1938. And the fish are delicious – I got some from Doug at the fish stand at Windance the other day, and it was yummy, yummy, yummy. I am so off topic right now… anyway, if you want to watch the fish, go to the fish watching place at Bonneville and check it out. Take the kids. It'll be fun!
If you are looking for photos from yesterday, Grant was shooting at Rufus. Click here for his website.
At 7am, there were decent gradients across the region: .08 (pdx-dls) and .08 (dls-psc). Wind speeds were in the 15-18 range. Models are saying we'll see 17-21 this morning from Swell east to Arlington and we'll probably see a period of 23-27 at Maryhill before the wind fades. By late morning, high pressure building inland will shut down the wind east of The Dalles and clear the clouds from Stevenson. As that happens, expect 17-21 from Stevenson to Mosier. Now, I'm tacking on a little extra today, because I like the gradients, and I like the amount of cloud coverage. However, the models think we'll only see 15-18, so I guess you shouldn't be surprised if the wind doesn't make it above that range.
Tomorrow starts off light and finishes with light east wind.
Thursday brings easterlies at 30-35, maybe 35-40 at Rooster and 28-32 at Steven's Locks. East wind doesn't usually hold all day, but the models are suggesting these easterlies will make it into the afternoon, no problem. Friday brings about 5mph less in the east wind department, fading in the afternoon.
Out on the coast, we have some waves. And some wind. (north/central/south). Today: light/10-15/30-40, NW 3-4@7. Tomorrow: 10-15/20-25/35-40, W 4-5@14. Thursday: 5-10/10-15/10-15, W 5@13.

Today's Gorge Wind – these are ranges for the average speed, not a predicted wind range. =)

Your favorite beach
Dawn
Patrol
9am-
11:30a
11:30a-
3pm
3pm-
dusk
Rooster's Rocks
try
skinny
dipping
today
Steven's Locks
5-10
10-13
15-18
15-18
Hatchery/White Salmon Sandbar (minus a few for Hood River)
15-18
15-18
17-21
17-21
Doug's, Lyle, Rowena
15-18
15-18
15-18
15-18
Rufus, etc.
23-27
23-27
15-18
10-13
Roosevelt, etc.
17-21
15-18
10-13
10-13
Temira's sail: 35-40: 2.9 / 30-35: 3.2 / 26-30: 3.5
23-26: 4.0 / 20-23: 4.5 less than 20: something bigger!
Tonia's kite: 35-40: 4m / 30-35: 4-6m / 26-30: 5-7m
23-26: 7-9m / 20-23: 8-10 / 15-20: 10-12 / 10-15: 13-15.
Advertising Worth Reading
Good Medicine Tea Lounge

The Good Medicine Lounge is bringing the world's premium tea to the Gorge. The Tea House focus is on organic, bio-dynamic, sustainable, and grower direct teas from all flavor categories and all tea growing regions. Tea drinkers can relax in a restored craftsman living room while enjoying a light food menu and sampling from the large inventory of classic teas, flavored teas, blends, and tisanes. Loose leaf tea is also available in bulk purchases with a variety of pots, mugs, and infusers available to help consumers steep at home. The Good Medicine Lounge: 1029 May Street. 7am-3pm, Monday-Friday.
Gorge Weather
It's partly cloudy this morning, and the sunrise made nice colors on the marine clouds. We'll see the sky clear today as high pressure builds in. Temps will be in the low 60's early and mid 70's this afternoon. Tomorrow looks sunny with temps in the low 50's early and upper 70's in the afternoon. Thursday looks sunny with temps in the upper 40's early and mid 70's in the afternoon.

White Sprinter Van of the Day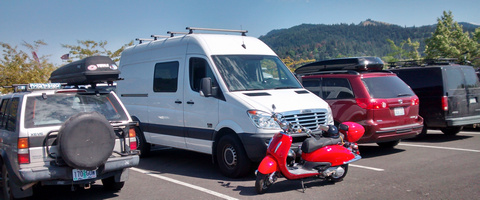 Road and Mountain Biking
Yes, the trails are still there. They are still closed to motorized use. Hospital Hill and Whoopdee are still closed, as we are still in fire season, and they will remain closed until fire season is over. The road biking will be good again today, and will be beyond spectacular tomorrow.


The Clymb: free membership. Cheap gear.
Temira approves. Click to join.
River Levels / Cheezburger update
The John Day Dam is reading 69-90kcfs. The Dalles Dam is putting out 76kcfs. The White Salmon is at 1.75′. If you plan on running the White Salmon yourself, remember that there is a riverwide log about 150 yards below Cave Wave. The Columbia River is 72 degrees.

Events – email me if I've missed any outdoor-related events
Coming up this evening, it's the penultimate Ruins Tuesday at Springhouse. Come by for live music outside. Get there by 7 and it's all-ages and free. It's $3 and 21 and over after 7pm.
There's pickup rugby tonight at the Hood River Marina at 5:30, there's a downriver race on the White Salmon, meeting at Husum at 6:30. There's a running workout meeting at Shortt Supply at 6:30, and there's triathlon practice at Mayer Park at 6:15.
Tomorrow night's busy, with Tai Chi, ping pong, sailboat races, a running workout in Stevenson, a group whitewater paddle on the White Salmon, and the women's Post n' Pinot Mountain bike ride at Dirty Fingers.
If you're already thinking about Saturday and Sunday, here's your list of events for the weekend: Hood River hosts the DoubleCross Cyclocross Race. Mosier has their 100 year celebration both days. There's a cleanup on the headwaters of the Salmon River at Timberline at 9:30 on Saturday, and on Saturday evening, it's the BowieFinger Dirty Fingers David Bowie 8th year anniversary party, with a David Bowie cover band. Don't ask me to explain it. Just show up for a good time.
Have an awesome day today!
Temira