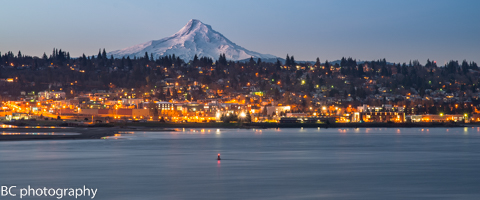 I was thinking about the snow forecast a bit yesterday and feeling like it was done for the season (don't worry – it's not), so I explored that idea a little further. Normally I quit forecasting for Mt. Hood in mid-May. This weather feels like mid-May. But it's March. MARCH, I tell you. Some part of me is rebelling in horror from this endless warm, dry, sunny, spring weather in winter. Some part of me worried that we have arrived in our future. However, I have no evidence for that, so I'm just going to hope that next year brings a better semblance of winter. And in the meantime, I guess I'll keep forecasting for a while. The mountains are still open (kinda), and there's snow in the Friday night forecast. Continued below the chart…
Mt. Hood Snow Forecast – 5000′

4a-8a
8a-12p
12p-4p
4p-8p
8p-4a
Today
5500'–>4500'
Tomorrow
3500'–>7000'
The day after
9000'
Expect a mostly cloudy day today with flurries possible after noon and in the evening with the sky clearing overnight. Total accumulation will be less than 1". The snow level will be around 5500′ early and 4500′ this afternoon and evening. Wind will be SW 10 early and W 20 in the afternoon.
Tomorrow looks clear and sunny. The free air freezing level (FAF) will be 3500′ early and 7000′ in the afternoon. Wind will be W 10 early and NW 15 in the afternoon. Expect either thin high clouds or sunshine on Thursday (depending on the approaching low pressure system). The FAF will be 9000′ and the wind will be SW 20-25.
At this point, it looks like we'll see precipitation Friday after 2pm. It appears that it will come in as rain and switch to snow, for 3-6" of new. Then we'll have snow flurries on Saturday. The not-so-detailed 12k 850mb model suggests the wind on Saturday morning will be NW 30, dropping to W 20 in the afternoon, a tidbit likely of interest to Meadows, as they are constructing an Awesome Park on Cascade and hoping to run that lift that day. Of course, this is a long ways out to be forecasting, but you now have the general picture.

Click on my photo to donate and support this forecast.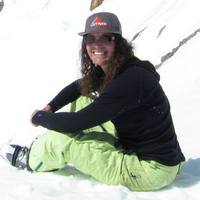 Thank you for using this forecast. Does it save you time, gas money, or help you find more wind, powder, or just plain fun stuff to do? Please make a donation to keep it going! Use it here for free or get on the mailing list for wind for the summer and Mt. Hood snow in the winter. Just click on my photo to donate. The email isn't $99/year. Not $50/year. No, just $12.34 or more gets you on the list for 12 months, and sometimes there are cool prizes. Donate via PayPal/CC by clicking on my happy photo below. Don't PayPal? You can send a check to Temira @ PO Box 841 in Hood River. Thank you for your support, and thank you for trusting my forecast. You guys mean the world to me.
---
Gorge Wind
There's an itty-bitty east gradient through the Gorge this morning, just .03, giving us easterlies at 10-15 at Rooster. Our east gradient will switch to west this afternoon as a weak weather system swings through. You can expect gusty 13-16 from Steven's Locks to Hood River with gusty 22-26 from Lyle to Maryhill. Arlington will likely see 13-16 late in the day. Tomorrow looks like W 5-10 for much of the day with the possibility for W 10-13 in the afternoon. Thursday looks light and variable.

Random Morning Thoughts
Last Saturday night, I stood up and gave a talk that can be summarized as "This happened, it was wrong, and I speak this truth in public." So often we are silent about things that are wrong: physical abuse of anyone, sexual assault, lack of love in families, oppression of the less fortunate or people we perceive as "other".
Speaking up is terrifying. Trust me on this one. When we speak up, we break the rules of our society, our family, or our community. We fear being cast out, shunned. We fear being alone.
But if we do not speak up, our silence endorses bad behavior on the part of others. Don't like what you're seeing? Find your voice. Take action. Change the world for the better. In our silence, we are complicit in the actions we see and do not like. Stand up against violence in whatever form it takes in your world. Your voice is your power. Use it.
(don't forget that you're supposed to be writing down something you love about yourself each day this month and putting that nice thought in a mason jar for later…)

Gorge Weather Forecast
My morning weather check today was lovely: it was still and quiet outside my house with a blanket of high clouds. I felt calm. I wanted to stay outside. But if I stayed outside, there would be no forecast, and then we'd have no weather. And since we all like weather (or not), I returned to my desk. Expect a mostly cloudy day today with a very slight chance of sprinkles this afternoon. Temps will be in the mid 40's early and the upper 50's in the afternoon.
Expect a partly cloudy start to Wednesday with clear sky in the afternoon. Temps will be in the mid 40's early and the mid 60's in the afternoon. We will likely see high overcast sky and filtered sun on Thursday with temps in the low 40's early and the upper 60's in the afternoon. Nice. We'll see some rain Friday night into Saturday with very high rainbow chances on Saturday morning.

White Sprinter Van of the Day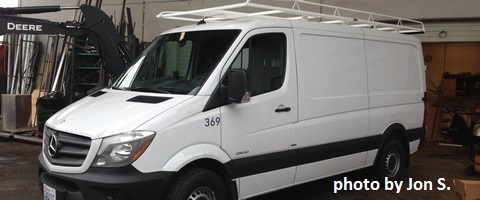 Road and Mountain Biking
I wasn't around yesterday to test the trails for you, so I have no information. When I have no information and I suspect mud, I recommend the following steps: don't ride 12 bridges (the section of trail from the bottom of Post to Seven Streams staging area), and don't ride Whoopdee. Syncline, I'm sure, is perfect. If you are a road biker, your best bet will be an early ride, because the westerlies will pick up this afternoon. Tomorrow looks sunny with light west wind, and Thursday looks like the pick of the week with no wind and temps nearing 70.


The Clymb: free membership. Cheap gear.
Temira approves. Click to join.
Upcoming Events
It's Tuesday. Flow Yoga has community yoga (free or by donation) at 8am today. There's pickup rugby at 5pm at the May Street fields, and there's a trail run in Post Canyon at 6:15pm. There's also $12 Prime Rib at Cebu. There's ping pong at the armory at 5:30, and there's Aikido at Trinity at 5:30. Coming up Friday, there's a "Save the Baby Trees" work party on the Kleeway at 10am. Meet at Family Man. On Saturday, Dirty Fingers is having a sale, and they'll have pizza. They're showing the Milan San Remo bike race on Sunday.
Have an awesome day today!
Temira