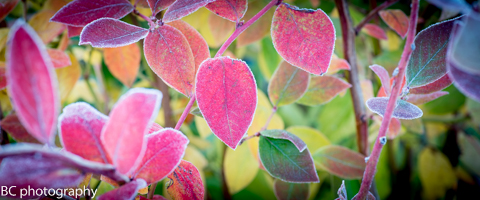 I hope all of you got out on the water yesterday. I heard it was pretty fun. I was there with you in spirit. Today won't be as windy as yesterday, but you'll still be able to get on the water if you do a little driving. The western Gorge, from Stevenson to Hood River, and possibly Mosier too, will remain under the low clouds today, with up-and-down 10-14 for much of the day. East of the low clouds, we'll see upper teens this morning, rising to gusty 21-25 from Mosier to Arlington after 2pm. The Columbia is at 164kcfs at The Dalles this morning, and the river water temp is 54 degrees. Continued after the chart.
Today's Gorge Wind – these are ranges for the average speed, not a predicted wind range. =)

Your favorite beach
Dawn
Patrol
9am-
11:30a
11:30a-
3pm
3pm-
dusk
Rooster's Rocks
tan
in the bare
if you
dare
Steven's Locks
5-10
5-10
10-13
10-13
Hatchery/White Salmon Sandbar (minus a few for Hood River)
10-14
10-14
10-14
10-14
Doug's, Lyle, Rowena
5-10
10-14
18-22+
21-24
Rufus, etc.
16-20
13-16
18-22+
21-24
Roosevelt, etc.
16-20
13-16
18-22+
21-24
Temira's sail: 35-40: 2.9 / 30-35: 3.2 / 26-30: 3.5
23-26: 4.0 / 20-23: 4.5 less than 20: something bigger!
Tonia's kite: 35-40: 4m / 30-35: 4-6m / 26-30: 5-7m
23-26: 7-9m / 20-23: 8-10 / 15-20: 10-12 / 10-15: 13-15.
Gorge Wind forecast, continued…
Tomorrow starts with clouds in the western Gorge as an upper level low sits over the Northwest. Expect a very gusty day with westerlies at 10-13 in the morning and 17-21 in the afternoon, strongest from Hood River to The Dalles. That pesky upper level low continues to hassle us on Thursday, with upper flow turning easterly and surface flow remaining westerly. Expect gusty 10-13 all day, strongest near Hood River.

Donate and keep the forecast going!
(contribute to Temira's grad school, bike repair and coffee fund)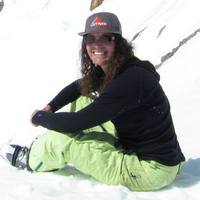 Thank you for using this forecast. Does it save you time, gas money, or help you have more fun in your life? Make a donation! Get your forecast here for free or donate and get on the mailing list for year-round wind forecasts and ski season snow forecasts. Just click on my photo to donate via PayPal or credit card. The email isn't $99/year. Not $50/year. No, just $12.34 or more gets you on the list for 12 months, and sometimes there are cool prizes. Don't PayPal? Send a check to Temira @ PO Box 841 in Hood River. Thank you for your support, and thank you for trusting my forecast.
---
Mt. Hood Snow Forecast
Nothing to say here today.

Random Morning Thoughts
I've been thinking a lot about loss lately. I'm working through a big loss, and so are a couple of other important people in my life. We humans are wired to connect with other people through our neural circuits. And when the connection with another person is cut, our nervous systems react by sending us emotional pain signals. I'm not sure there's much we can do about that other than surround ourselves with friends, do nice things for ourselves, and wait for time to pass.
But this raises a question for me: what is emotional healing? When we have a physical wound (like the huge gash in my foot right now), the skin heals back together and reforms, leaving a scar. But what does it mean to heal emotionally? What is the process by which our level of sadness and grief diminishes? Maybe the neuroscientists have the answer to that. Or maybe we can all think about it ourselves, and thus understand ourselves better. The only thing I know for sure is that fighting the sadness of loss only makes it worse, and only makes the wound take longer to heal.
Resistance is futile. =)

Gorge Weather Forecast
I was having a tough time sitting still to write the forecast this morning. Why? Because I had to keep checking on the rainbow to the west of my house. In the winter and early spring, the rainbows are right in front of my bay window. This time of year, as the rain line shifts west, the rainbows aren't visible unless I get out of my chair. Anyway, expect a partly cloudy day today with occasional sprinkles. Temps will be in the upper 40's early and the low 60's in the afternoon. Moderate wind. 100% chance of rainbows.
Tomorrow also looks partly cloudy with scattered showers, especially in the afternoon as the atmosphere destabilizes and a possibility of thunder materializes. Temps will be in the mid 40's early and the low 60's in the afternoon. Light to moderate wind. 99% chance of rainbows.
Thursday looks partly cloudy, possibly becoming clear in the afternoon, possibly having high clouds from an exiting low pressure system. Temps will be in the low 40's early and the low 70's in the afternoon. Light wind. No rainbows.

White Sprinter Van of the Day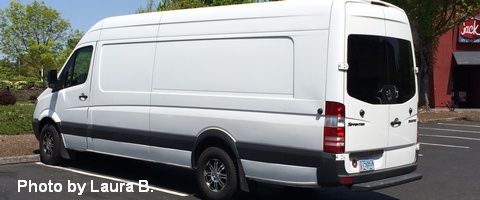 Road and Mountain Biking
I was in Wyeth yesterday and went for a ride on the Gorge 400. The dirt was in perfect shape, and the sun was shining through the trees, highlighting the moss and ferns and old-growth fir and the Calypso orchids. I don't know why more people don't ride this trail. It's beautiful, and it's beginner-friendly. Anyway, there's a lot of good dirt out there right now, and judging by the sprinkles (and rainbow) outside my window, the westernmost trails (Falls Creek, Lewis River, Plains of Abraham) are getting a refresh. Speaking of western trails, there's a fundraiser shuttle day at Cold Creek on May 30th. Mark your calendar for that, if that's your thing.


The Clymb: free membership. Cheap gear.
Temira approves. Click to join.
Upcoming Events
Today's events, happening weekly on Tuesday, include free community power vinyasa yoga – that's the hard kind – at Flow in Hood River at 8am. There's pickup rugby at 5 tonight at the Hood River Marina fields. There's free yoga at the Mosier Senior Center at 7, and there's a trail run at 6:15 in Post Canyon with the columbia Gorge Triathlon Club. Tonight's also meditation night at Yoga Samadhi with the monks from Pacific Hermitage. 6:30pm. Free or by donation.
Tomorrow night's the women's post n' pinot mountain bike ride at 5:30 at Dirty Fingers, Sailboat racing at the Hood River Marina, and ping pong at the Hood River Armory at 5:30.
If you're thinking about the weekend, think about joining Lila May's Tutu Trot at the Twin Tunnels at 9 on saturday. Goldendale has the bikefest all day Saturday, and the master gardener's plant sale is also coming up on Saturday at the OSU Extension office in Hood River.
Have an awesome day today!
Temira