Random Morning Thoughts

I'm taking a class in The Dalles this week, and that means I'm in a classroom from 9am-5pm every day. I'm feeling rather tortured by the constriction of my playtime. Yesterday, in an attempt to combat my lassitude from sitting indoors, I went for a jog. But it's flat as a pancake in the part of The Dalles where this class is taking place, so I turned my jog into freerunning, and had a fun time. A lot of people looked at me like I was crazy. I smiled at them and continued swinging on stop signs and jumping on rocks. If you are in The Dalles and would like to go for a jog in the pouring rain tomorrow, please message me. Today I'm going for a bike ride at lunch. Lunch. Pshaw. Who needs food?

Thank you for using this forecast!
Please donate to support it!
Thank you to everyone for using this forecast. Does it save you time, gas money, or help you find more wind, powder, or just plain fun stuff to do? Please consider making a donation to keep it going! Use it here for free or make a donation and get on the mailing list for wind for the summer and Mt. Hood snow in the winter. It's not $99/year. Not $50/year. No, just $12.34 or more gets you on the list for 12 months. Do it via PayPal/CC by clicking on my happy photo below. Don't PayPal? You can send a check to Temira @ PO Box 841 in Hood River. Thank you for your support, and thank you for trusting my forecast. You guys mean the world to me.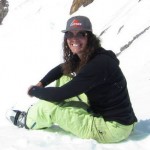 ---
Gorge Wind
We're continuing to see an open door to Pacific weather systems, and that does not leave us with a good setup for either east wind or west wind through the Gorge. Expect light westerlies this morning, maybe bumping up to 13-16 briefly after noon and before 5pm, when the skies will open up. Tomorrow starts with light wind and stays that way in the central Gorge. Strong gradients in the desert might give us a period of up-and-down, gusty 23-26 at the far east beach (Arlington, Threemile, Boardman) tomorrow afternoon. Expect westerlies at 8-11 on Thursday.
Looking ahead to the weekend, so far out that the models aren't reliable at all (they get less reliable the more "stuff" is happening, and there's a lot of "stuff" happening), it's looking like a monster low will move eastward across the state (I think it's the remains of Hurricane Ana), giving us a big shot of west wind east of … Mosier? The Dalles? Maryhill? Somewhere out east will be windy on Saturday if this actually comes to pass.
Out on the coast, you will see this: Today, S 40-50+, combined 14@14. Tomorrow: S 40-50, combined 17@12. Thursday, SW 20-25, W 10@12, W 6@8.

Today's Gorge Wind – these are ranges for the average speed, not a predicted wind range. =)

Your favorite beach
Dawn
Patrol
9am-
11:30a
11:30a-
3pm
3pm-
dusk
Rooster's Rocks
naked
outdoor
rain
shower
Steven's Locks
W 0-10
W 5-10
W 13-16
W 0-5
Hatchery/White Salmon Sandbar (minus a few for Hood River)
W 0-10
W 5-10
W 13-16
W 0-5
Doug's, Lyle, Rowena
W 0-10
W 5-10
W 13-16
W 0-5
Rufus, etc.
LTV
LTV
LTV
LTV
Roosevelt, etc.
LTV
LTV
LTV
LTV
Temira's sail: 35-40: 2.9 / 30-35: 3.2 / 26-30: 3.5
23-26: 4.0 / 20-23: 4.5 less than 20: something bigger!
Tonia's kite: 35-40: 4m / 30-35: 4-6m / 26-30: 5-7m
23-26: 7-9m / 20-23: 8-10 / 15-20: 10-12 / 10-15: 13-15.
Gorge Weather
I just went outside to check the weather, because the radar image was showing echoes. It wasn't raining, but I was glad I was wearing pyjamas and slippers, because it was chilly. Expect a cloudy day today with intermittent showers topped with heavy rain starting sometime between 2pm and 6pm and continuing overnight. We're going to see more than an inch from this system, most likely. The mountains will see 3-6". Temps today will be in the low 50's early and low 60's this afternoon. The snow level will be 5500′ early and 8000′ in the afternoon, holding overnight. Rainbow chances are minimal today, given the cloud cover: 18%.
Wednesday starts off cloudy with pouring rain, becoming showery with sunbreaks in the afternoon. Temps will be in the upper 40's early and upper 50's in the afternoon with the snow level around 8000′ all day. Rainbow chances are 98% tomorrow afternoon.
Thursday looks showery with sunbreaks. Temps will be in the low 50's early and the low 60's in the afternoon. The snow level will be 8000′ early, falling to 5500′ overnight. Rainbow chances are 94%.

White Sprinter Van of the Day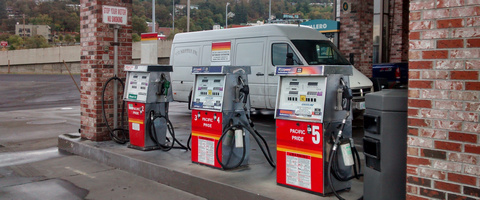 Road and Mountain Biking
I was in The Dalles all day yesterday, and it was raining there, which leads me to believe it was raining in Hood River, which leads me to believe that Post is quite wet, but maybe one of you can confirm or deny that. As always, Syncline handles the rain well, and Whoopdee gets less rain than Post, and the 44 Road Trails have better-draining dirt than any trails in the valley. I wish there was some epic riding in The Dalles…
Road riders, do not forget the Travel Advisory Process open house at 5:30-7:30 at the Parkdale Ranger Station on Wednesday. If you want Vista Ridge to stay paved, please be there. And if you'd like to help rally the troops to write letters (I won't ask more than 2 hours per week of you), please contact me.


The Clymb: free membership. Cheap gear.
Temira approves. Click to join.
River Levels / Fish Counts/Cheezburger Update
The John Day Dam is reading 66-73kcfs. The Dalles Dam is putting out 91kcfs. There are two river-wide logs on the White Salmon: one just below Cave Rapid on the Middle and one below Cave Wave on the Lower. The White Salmon is around 1.7′. The Hood is at 3.4′, so not high enough yet. Yesterday's fish counts were 462 Chinook, 1819 Coho and 171 Steelhead. Columbia River temp is 64 degrees.

Events – email me if I've missed any outdoor-related events
This week contains Acupuncture and Oriental Medicine Day, and Cascade Acupuncture has free mini acupuncture sessions all week long to celebrate. You do have to make an appointment. Today is the HRATS BOD meeting at the Hood River Fire Station at 5:30. Tomorrow is the Travel Advisory Process meeting at the Parkdale Ranger Station (5:30-7:30) to give input on keeping Vista Ridge paved. Also tomorrow, Columbia Center for the Arts hosts world-renowned mushroom photographer Taylor Lockwood (7:30, $5).
Tonight is Tuesday, and that means you can play pickup rugby at the Hood River Marina at 5:30 and you can eat $12 Prime Rib at Cebu from 5pm-9pm.
Coming up on Saturday, it's the American Meteorological Society's winter weather conference at OMSI, where a bunch of experts read tea leaves and consult genies in order to provide a long-range forecast for this winter. If you want my forecast, I can tell you that it's El Nino, which means that anything at all can happen. As you've noticed we're already following the predicted El Nino trend of warm and dry (NOT – just wait until this afternoon, when we'll blow this month's average rainfall out of the water, so to speak). The Hood River Saddle Club has a rummage sale next Saturday to raise money for the new equestrian/hiker only trail they are building. Finally, the Hood River Running Club has a wedding-themed fun run in Post on Saturday at 8:30, starting from Family Man. And then Saturday afternoon is a costume-karaoke fundraiser at Dirty Fingers, raising money for the new Seven Streams descending trail, the Kleeway.
Have an awesome day today!
Temira