Random Morning Thoughts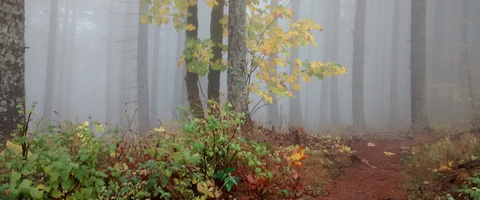 I had an interesting conversation with a friend of mine the other day about difficult conversations. Some people try and have these over text, because it's easier than doing it in person. Some people try to have those conversations in person, because they think it's the right thing to do. In this case, my friend was trying to have her first difficult conversation with a certain person, and was having trouble making it happen in person because it was just too hard. And she didn't want to set a precedent of having those conversations over text. She felt stuck.
I said to her, "Would it be difficult to have a conversation in person about how you don't want to have difficult conversations over text?" "No," she replied. "Well," I said, "what about having that first conversation over text, or at least starting the conversation that way, and then having an in-person conversation about how you don't want that to set a precedent?"
Anyway, I guess my point is that it would be nice if we could have all our conversations face-to-face. But it's just too hard sometimes. We might be scared, we might be too drained from other things that are going on, or there might be another good reason to skip the F2F. But if we're transparent, things will work out okay. Hey, we can even send a text like this: "Hey, I don't want to set a precedent for having hard talks over text, but I'm feeling really scared to say this in person, so… (insert information you want to share). Now that I've raised the subject, can we talk in person about it?"
If anyone would like to talk more about this in person, I'll be at my office from 9-5 today. =)

Thank you for using this forecast!
Please donate to support it!
Thank you to everyone for using this forecast. Does it save you time, gas money, or help you find more wind, powder, or just plain fun stuff to do? Please consider making a donation to keep it going! Use it here for free or make a donation and get on the mailing list for wind for the summer and Mt. Hood snow in the winter. It's not $99/year. Not $50/year. No, just $12.34 or more gets you on the list for 12 months. Do it via PayPal/CC by clicking on my happy photo below. Don't PayPal? You can send a check to Temira @ PO Box 841 in Hood River. Thank you for your support, and thank you for trusting my forecast. You guys mean the world to me.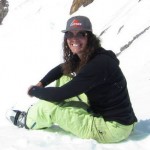 ---
Mt. Hood Snow Forecast – 5000′

4a-8a
8a-12p
12p-4p
4p-8p
8p-4a
Today
Tomorrow
The next day
Mt. Hood Snow
The last couple of days were enough for the ski resorts to send out photos of picnic tables and patio furniture. No, seriously. Take a look at the Meadows FB feed over the last couple of years. The most popular photo ever was a photo of the picnic tables (taken by yours truly, but who cares?).
Today brings a showery day to Mt. Hood with the snow level hovering around 9000′. We'll see a total of about 1" of rain between this morning and tomorrow morning on the hill. Wind today will be SW 30-40 pretty much all day and all night.
Tomorrow starts off partly cloudy on Mt. Hood, and stays that way for much of the day, maybe even becoming totally sunny for a while. Eventually, we'll see high clouds move in. The free air freezing level (FAF) will be around 7000′ early and 8500′ in the afternoon with WSW wind at 20-30 early and SSW wind at 10-20 in the afternoon. Rain will start after midnight, likely around 2am.
Thursday starts with rain and ends with rain, but it's hard to tell how much we'll see. As of this morning, the models show the heaviest rain passing just to the north and west of Mt. Hood, but a shift in the storm track of just 50 miles could shift rain amounts by a LOT. So, let's call it rainy with the snow level around 9000′. Wind will be SSW 15-25 early and SSW 30-40 in the afternoon.
As the cold front swings through overnight, the snow level will drop to 5000′-5500′ by Thursday morning. Unfortunately, most of the moisture will be gone at that point, so we'll likely see just 1-2" of snow during the day Friday, at most. The weather looks to stay cool on Saturday before warming up with the next weather system later in the weekend or early next week.
Gorge Wind
There's more east wind this morning than I predicted yesterday, so hurry up and run to Rooster where you'll find 24-28 this morning. Expect 20-24 at Steven's Locks mid-morning and 24-28 at Rooster, fading to glassy by 2pm at the latest. Tomorrow starts off with some leftover west wind at 15-18, followed by glassy conditions after noon. On Thursday, expect light easterlies in the morning and light westerlies late in the day.
Gorge Weather
We're going to see a showery day in the Gorge today, and you know what that means: RAINBOWS! Expect temps in the upper 40's early and mid 50's in the afternoon with a 87% chance of rainbows. Tomorrow starts off partly cloudy with a chance of a few showers. Temps will be in the upper 40's in the morning and the low 60's in the afternoon with a 37% chance of rainbows in the morning and no rainbows in the afternoon. Expect a rainy day on Thursday with temps in the low 50's early and upper 50's in the afternoon. I think it will be too cloudy for rainbows on Thursday, so call it just a 9% chance. Rainbows look nearly certain on Friday.

White Sprinter Van of the Day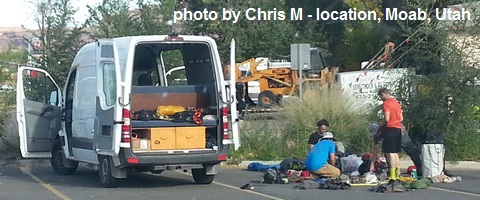 Road and Mountain Biking
I went out to Syncline yesterday, and the dirt was so perfect that I set PR's without trying. I recommend riding there today. I heard it was snowy but rideable on 8-mile and Knebal (thanks Kim R.). If there's a couple inches on those trails, High Prairie, Boulder Lakes and Gunsight are definitely out for now, at least until more rain arrives to melt the snow.
If you want to road ride, head to The Dalles at any point today for a better chance of dry weather, or do it anywhere tomorrow afternoon after the morning westerlies dissipate.


The Clymb: free membership. Cheap gear.
Temira approves. Click to join.
Events – email me if I've missed any outdoor-related events
It is Tuesday. That means you can play pickup rugby at the Hood River Marina at 5:30 and eat $12 Prime Rib at Cebu from 5pm to 9pm. The Columbia Gorge Tri Club is having a headlamp trail run this evening. Meet at the bottom of Post Canyon Road at 6:15 for a 5 mile joggy-joggy at whatever pace suits you.
Have an awesome day today!
Temira