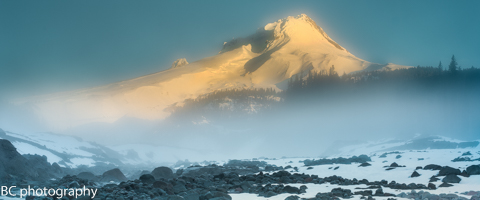 There's a very solid marine layer in the western Gorge and Willamette Valley to start the day, along with a .12 gradient from Portland to The Dalles. That's a very good start. The only fly in our ointment today is a small amount of instability in the atmosphere in the afternoon; that has the potential to decrease wind quality later in the day. In the meantime… we'll see the strongest wind today focused from Swell to The Dalles, with the existing morning westerlies fading east of those locations. Continued after the chart.
Today's Gorge Wind – these are ranges for the average speed, not a predicted wind range. =)

Your favorite beach
Dawn
Patrol
9am-
11:30a
11:30a-
3pm
3pm-
dusk
Rooster's Rocks
tan in
the bare
if you
dare
Steven's Locks
5-10
5-10
10-13
21-24
Hatchery/White Salmon Sandbar (minus a few for Hood River)
16-19
21-24
24-27
21-24
Doug's, Lyle, Rowena
10-15
16-19
21-24
24-27
Rufus, etc.
12-15
5-10
LTV
LTV
Roosevelt, etc.
12-15
5-10
LTV
LTV
Gorge Wind forecast, continued…
Expect 16-19 right off the bat at Swell (with 10-15 elsewhere), slowly and steadily rising to 22-25 by midday and 24-27 this afternoon. You can expect Mosier to join the fun this morning too, and the Rowena stretch of the river to pick up to 24-27 this afternoon. For those of you hoping for Stevenson, it's a tough call with this much marine air in place. The best thing to do today is watch the satellite picture and the webcams for Stevenson and hope for clear sky. If that happens, you'll find 21-24 there this afternoon.


Donate and keep the forecasts coming
See below for details.
When I looked at the long-range models yesterday, they showed 24-28 every day this week. What a difference a day can make… expect the strongest wind tomorrow to be near Swell early and Doug's late, with 15-18 for Dawn Patrol and 19-23 in the afternoon. Stevenson may end up the windiest, steadiest spot tomorrow, given the overall setup. And, we may suffer the effects of a weak weather system in the afternoon removing the 2 from the 10's digit spot and leaving us with gusty teen-strength weather.
That weather system moves on through late Wednesday, leaving us with a more stable setup Thursday. Expect 10-13 early and 24-27 in the afternoon. Friday still looks stronger, with 26-30 possible.

Support the forecast!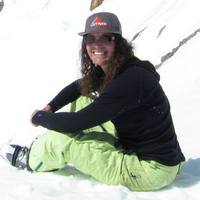 Thank you for using this forecast. Does it save you time, gas money, or help you have more fun in your life? Make a donation! Get your forecast here for free or donate and get on the mailing list for year-round wind forecasts and ski season snow forecasts. Just click on my photo to donate via PayPal or credit card. The email isn't $99/year. Not $50/year. No, just $12.34 or more gets you on the list for 12 months, and sometimes there are cool prizes. Don't PayPal? Send a check to Temira @ PO Box 841 in Hood River. Thank you for your support, and thank you for trusting my forecast.
---
Mt. Hood Snow Forecast
Nothing to say here today.

Random Morning Thoughts
I've been thinking a lot about neural networks lately. Our thoughts and our beliefs are just neural patterns in our brains. The longer they've been there, the more beaten-in they are, like caribou migration paths pounded into the tundra by millions of feet over tens of thousands of years.
Those old roads are sticky, and it's difficult to change them. Nearly impossible without help. But it's possible to hold the old neural network in your mind and also hold a new, desired belief or a positive feeling at the same time. When you do that, the two will link. And if you concentrate on the new one, especially if you do it in the presence of someone who cares deeply about you, the new, better belief, will become stronger.
That's backed up by hard scientific evidence, by the way. It's not just woo-woo talk. Our longstanding beliefs are hard-wired, and we can change them. Play with it – take some disparaging belief about yourself and hold the thought of someone loving you in your mind (and your body) at the same time. Do this for 30 seconds a day. You'll be amazed what changes you can create. Have a nice day, and have fun playing with that. (And if you want to read more, try Buddha's Brain)

Gorge Weather Forecast
It's mostly clear this morning with a deep, dark, dense marine layer in the western Gorge. Expect mostly clear weather near Hood River today with a few extra cumulus clouds in the afternoon. Temps will be in the upper 50's early and the low 70's in the afternoon. Moderate to strong wind. No rainbows.
Tomorrow also looks mostly clear to start, with a slight chance of thunderstorms in the afternoon as a weak weather system moves through. Temps will be in the low 50's early and the upper 70's in the afternoon. Moderate wind, 1% chance of rainbows.
Thursday looks mostly clear. Temps will be in the mid 50's early and the low 70's in the afternoon. Moderate wind, no rainbows. You have my permission to extend this forecast through the weekend.

White Sprinter Van of the Day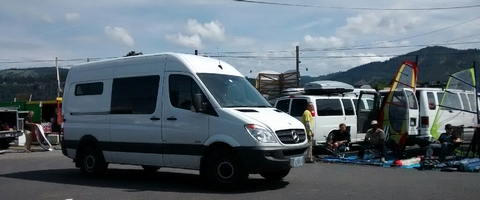 Road and Mountain Biking
I went for a bike ride in Post Canyon yesterday, and it was halfway perfect and halfway just a little bit dry. The Kleeway was open, and it was dry-but-awesome. And if you're tired of riding Post, the only other trail not open is Gunsight. Road bikers, it's going to be a bit on the windy side for the next several days, but if the atmosphere remains stable, you'll find less windy, even windless, conditions in the upper valleys.


The Clymb: free membership. Cheap gear.
Temira approves. Click to join.
Upcoming Events
In events today, there's the Geek Lunch happening at China Gorge restaurant at noon. Come hear former Hood River mayor Arthur Babitz give a talk on how those little ball bearings form in the soil in Post Canyon, as well as how we can use the biking, running, and everything tracking app called Strava to promote local recreation.
Today's other weekly events include a community yoga class at Flow at 8am, pickup touch rugby at 5pm at the Hood River Marina, and community yoga at 7pm at the Mosier Senior Center. The Columbia Gorge Tri Club has triathlon practice at Mayer Park at 6pm tonight.
Coming up tomorrow night, there's the Post N' Pinot women's mountain bike ride, for gals of all levels, leaving Dirty Fingers at 5:30. There's Ping pong at the Hood River armory at 5:30, and sailboat racing at the Hood River Marina. On Saturday, the Dirty Harlots have a fundraiser car wash at Dirty Fingers and there's a Kite-only swap meet at Windance in the evening.
Have an awesome day today!
Temira