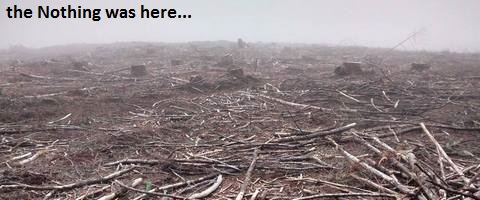 Random Morning Thoughts
I was driving up to Post Canyon yesterday feeling pretty bummed out. Losing someone's always hard, and on top of that, I have what feels like a bottomless pile of complex tasks to complete in a short period of time. I felt myself trying to fight off my misery, and then I remembered that doesn't help. When we ignore our pain, it just gets bigger. So, I turned to it and said, "Hello. Just how big are you?" I was overwhelmed by sadness. It was as big as the Nothing (nothing can escape the Nothing, so my feelings couldn't outsize it). It was horrible.
Horrible for about 60 seconds. And then it was gone, and the only darkness that remained was the darkness of the no-sun sky. Okay, maybe not totally gone, but I felt a lot better after I stopped fighting and just let the feelings pass on through. It's hard to remember to do that, isn't it? Give it a shot the next time you're trying not to feel miserable. Embrace the misery. Welcome it. Say "hi". You might just be surprised how much better you feel. Now for f's sake… can we please have some sun here in the valley?

Thank you for using this forecast!
Click on my photo to support it with a donation.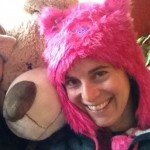 Thank you for using this forecast. Does it save you time, gas money, or help you find more wind, powder, or just plain fun stuff to do? Please make a donation to keep it going! Use it here for free or get on the mailing list for wind for the summer and Mt. Hood snow in the winter. Just click on my photo to donate. The email isn't $99/year. Not $50/year. No, just $12.34 or more gets you on the list for 12 months, and sometimes there are cool prizes. Donate via PayPal/CC by clicking on my happy photo below. Don't PayPal? You can send a check to Temira @ PO Box 841 in Hood River. Thank you for your support, and thank you for trusting my forecast. You guys mean the world to me.
---
Mt. Hood Snow Forecast – 5000′

4a-8a
8a-12p
12p-4p
4p-8p
8p-4a
Today
Tomorrow
The day after
Mt. Hood Snow
Today is starting out clear on Mt. Hood, but we should see overcast sky by mid morning. Sprinkles kick in sometime between 1pm and 4pm, becoming steadier mist or drizzle after 10pm. It's hard to say exactly how much moisture Mt. Hood will receive; that depends on the exact final location of a narrow band of moisture. Call it .1-.5". I know. Not very specific. Complicating the picture more is the fact that the snow level will be at 10,000′ this morning, 8000′ when the sprinkles start and 5500′ after 10pm. That leaves us with a chance of an inch or two of snow if everything lines up just right. I wouldn't count on it, but it's possible. Rain at base elevations is more likely. Wind today will be SW 25 for much of the day and W 15 tonight.
Wednesday morning brings steady light precipitation. The snow level will be 5500′ during the day, rising to 6000′ in the afternoon. Let's call it wet snow or snow mixed with rain during the day for .1-.2" water value, and maybe an inch of new, if we're really lucky. No accumulation overnight. Wind tomorrow will be W 10 early and SW 10 in the afternoon.
Thursday starts off with low and mid clouds and the potential for a little mist due to the mountain being in the clouds. The sky will clear by mid afternoon. The snow level will be 6000′ early and 6500′ in the afternoon with light and variable wind all day. Expect sunshine and light wind on Friday with the freezing level around 8000′.

Gorge Wind
It's not nuking in the Gorge this morning. As a matter of fact, it's barely blowing at all, and there's no gradient. We'll see the westerlies pick up today, likely to 11-14 from Steven's Locks to Mosier and 22-25 in the Lyle section of the river with 13-16 further east. Strongest wind will be late afternoon. Tomorrow looks light and variable and Thursday brings east wind at 25-30. Keep an eye on the coast for Saturday – looks like we might see a one day shot of Central/South coast northerly wind.

Gorge Weather
I knew the Nothing would be around this morning, and I considered staying inside. But like a good little weather girl, I went outside and looked up. Yep. Nothing. Expect the Nothing to dissolve today as high clouds move in. We may see a few sprinkles after 1pm. As for tonight's weather, well, it depends on where exactly the narrow band of moisture ends up. Likely, it will stay west of us, for just a few Gorge sprinkles tonight. Temps will be in the upper 30's early and the low 50's this afternoon. Rainbows are highly unlikely.
Tomorrow looks cloudy and sprinkly pretty much all day. Temps will be in the low 40's early and the low 50's in the afternoon. Rainbow chances are 61%. Expect solid Nothing on Thursday with temps in the low 40's early and the upper 40's in the afternoon. Nothing continues on Friday, but it looks likely we'll see some sun late in the day.

White Sprinter Van of the Day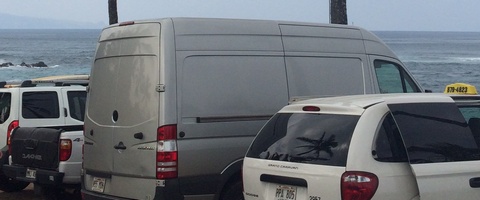 Road and Mountain Biking
I went jogging in Post Canyon up by Family Man yesterday, and the dirt was pretty good up there. The mountain bikers I saw said it was really muddy down low. Moral of the story? Park at Family Man and ride the upper sections of Post. No Whoopdee report. Oak Ridge is in great shape (and above the inversion), with 6-7 trees down. No report on Kitchen Sink. Syncline, of course, is fine. Nestor likely is too. Surveyor's has a buttload of trees down. Sandy, I'm sure, is great.


The Clymb: free membership. Cheap gear.
Temira approves. Click to join.
Upcoming Events
If you need something to do tonight, there's $12 Prime Rib at Cebu, Two-for-Tuesday at Sixth Street, a trail run at 6:15pm at Post (bring a headlamp), and community yoga at 5pm at the Mosier Senior Center. If you would like to go to Paco's memorial service, it's at Anderson's Tribute Center at 6pm tomorrow night. Also tomorrow night, there's ping pong at the Hood River Armory ($5) at 5:30pm and kayak polo at the Hood River pool at 8pm.
Have an awesome day today!
Temira