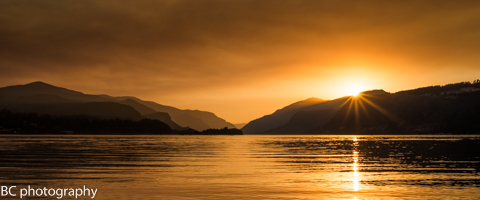 Random Morning Thoughts
Garlic. I don't know what all the fuss is about. It's fun to grow in my garden and even more fun to harvest, but I don't understand people's obsession with putting raw garlic into everything. I just don't find it delicious. And what I find really annoying about raw garlic (especially the raw garlic that was in food I ate last night) is that it's still on my tongue this morning ruining the flavor of my delicious cup of coffee. As for the large bowl of garlic bulbs sitting on my counter… They were fun to grow. They're fun to slice up into a huge vat of chicken soup or a pan of bacon intended for Carbonara. But raw garlic? No way.

Thank you for using this forecast!
Please donate to support it!
Thank you to everyone for using this forecast. Does it save you time, gas money, or help you find more wind, powder, or just plain fun stuff to do? Please consider making a donation to keep it going! Use it here for free or make a donation and get on the mailing list for wind for the summer and Mt. Hood snow in the winter. It's not $99/year. Not $50/year. No, just $12.34 or more gets you on the list for 12 months. Do it via PayPal/CC by clicking on my happy photo below. Don't PayPal? You can send a check to Temira @ PO Box 841 in Hood River. Thank you for your support, and thank you for trusting my forecast. You guys mean the world to me.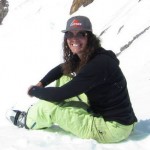 ---
Mt. Hood Snow Forecast – 5000′

4a-8a
8a-12p
12p-4p
4p-8p
8p-4a
Today
Tomorrow
Thanskgiving
Mt. Hood Snow
It was a dark and stormy and wet and windy night on Mt. Hood last night, where 2" of rain fell and the biggest wind gust hit 106 on the Magic Mile. I'm sure Bill and Brian and Laura and Miles and the rest of the gang are thrilled by that piece of trivia. Anyway, the wet and windy and wild weather will continue today.
The snow level will be around 10,000 today on Mt. Hood with rain showers mixed with a few sunbreaks, for a very good chance of rainbows. The rain will taper off overnight. Expect .6-.8" of rain 4am-4pm, followed by another .1-.3" overnight. Wind today will be W 50-60.
Tomorrow will start off partly cloudy or clear, with clouds moving in late in the day. The snow level will be 12,000 early, dropping to 8000′ around 10pm. Expect .2-.4" of rain overnight. Widn on Wednesday will be W 35-45 early, becoming SW 25-35 midday and picking up a little to SW 35-45 overnight.
Thursday looks showery with sunbreaks, for a rainbow-filled day on Mt. Hood. The snow level will be 8000′ all day and all night. Precipitation accumulation will be minimal. Wind will be SW 35-45.
I'm not a big fan of long-range forecasting. Models just don't do well more than 72 hours out, but I feel like talking about what's there. At this point, it still looks rainy on Friday, with the snow level at 6500-7000′. Light rain will fall in the morning, followed by heavier rain overnight, for 1" or more of rainfall.
Things get really interesting on Saturday morning as the cold front swings through from the north, bringing colder air. Usually we'll see most of the moisture fall as rain with this setup, but models are predicting the cold front to stall over region bordered by Mt. Hood and Mt. Adams. We could either see torrential downpour or dumping snow on Saturday. Maybe even both. El Nino = El Interesante!

Gorge Wind
It was quite windy at 5am: 31mph at Swell City (thanks, iWindsurf) with a .12 (pdx-dls) gradient plus another .04 out east. Models suggest 28-32 this morning from Swell to Doug's, fading a bit in the afternoon and filling in at 24-28 east of the low cloud line, possibly east of Lyle, and likely east of The Dalles. Tomorrow starts with light westerlies, but those quickly fade, leaving us with light and variable wind. Thursday starts off light, and then we'll see W 22-25 east of, I don't know, east of Mosier, maybe? Not sure yet, but you will be able to kite or windsurf on Thanksgiving if you want. River water temp is 46 degrees. Dropping fast…

Gorge Weather
Things are starting to look mighty interesting in the long range forecast. And you are probably aware that I use that word in the Chinese curse sense, as in, "May you live in interesting times."
Expect a warm and tropical day today, with temps in the upper 50's and continual (not continuous) rain showers. 99% chance of rainbows. Photos of them, especially photos that contain Sprinter Vans AND rainbows, are always appreciated!
Wednesday probably starts off with some low inversion clouds, but it's possible the overnight westerlies will save us from that fate, leaving us with a sunny morning, followed by high clouds in the evening and a few rain showers overnight. Temps will be in the mid 40's early and the mid 50's in the afternoon.
Expect a partly cloudy day on Thursday with a few showers. Temps will be in the low 40's early and the low 50's in the afternoon. Friday looks rainy.
The Interesting begins on Saturday morning, as sub-freezing air flows into the Gorge from the east. Now, remember, we are forecasting a long ways out here, and models tend to change over time, but this is what they currently show. Cold air filters in and sticks around through early Monday morning. There's the potential for snow or freezing rain early Saturday morning, flurries during the day on Sunday, and freezing rain or snow on Monday morning before temps warm up. Details will have to wait until we get closer, but if you haven't put your snow tires on yet, now would be a good time.

White Sprinter Van of the Day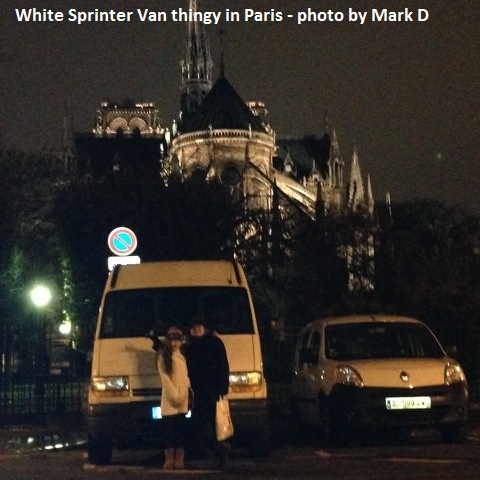 Road and Mountain Biking
I got a report yesterday from DVZ that the riding was good at Columbia Hills State Park. I also got a report from Yotam that Syncline was in pretty good shape too. It's probably going to be too windy to ride either of those spots today, but they are sounding like good options other than the wind. Post is muddy, and I have no reports on Whoopdee, Kitchen Sink, or Nestor. In road biking news, the street sweeper was cruising around Hood River removing at least some of the gravel yesterday, and you'll always find gravel-free roads east of The Dalles at the Petersburg School Loop.


The Clymb: free membership. Cheap gear.
Temira approves. Click to join.
Riverside / Cebu Thanksgiving Dinner!!! Yummy!!!
Enjoy Thanksgiving dinner at Riverside so you can play hard on Thanksgiving Day! Delicious plated dinners served from 11:30 am to 9 pm. Menu includes Thanksgiving Turkey dinner with all the trimmings, Prime Rib, Columbia King Salmon or Vegetarian Thanksgiving, with appropriate side dishes. (Gluten-free or other dietary restrictions always happily accommodated!) Reservations are recommended. Call 541-386-4410 or visit www.riversidehoodriver.com for the complete menu. Happy Thanksgiving!
Upcoming Events
Tonight is Tuesday. You will find pickup touch rugby at the Hood River Marina at 5:30 and a headlamp trail run with the Tri Club meeting at the bottom of Post at 6:15. There's $12 Prime Rib at Cebu from 5-9pm. The ping pong people play at the Hood River armory Wednesday night at 5:30, and the jogger people have a 6pm interval track workout in Stevenson on Wednesday night. In case you didn't know, Thursday is Thanksgiving. Meadows is open Friday through Sunday this weekend, and Skibowl has tubing Thursday through Sunday with Cosmic Tubing on Friday and Saturday nights.
Have an awesome day today!
Temira