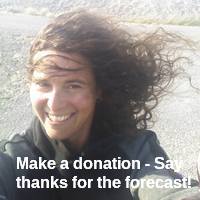 Get the email free through the end of January – try it out! Click here.

Thank you for using this forecast. I offer it freely so you can have more fun and plan your life. It does take significant time and energy to produce. If you find yourself using it often, or if you feel your life is enhanced by this information, please make a donation. I count on your support to pay my bills, and am deeply grateful to you for choosing to help support me. You can get this forecast via email by donation. The email subscription isn't $99/year. Not $50/year. Donating $12.34 or more gets you on the list for 12 months. Click on my photo to donate. Don't PayPal? Send a check to Temira @ PO Box 841 in Hood River. Thank you for your support and thank you for trusting my forecast.
Mt. Hood Snow Forecast – 5000′

4a-8a
8a-12p
12p-4p
4p-8p
8p-4a
Tuesday
2000′
Wednesday
1500′
Thursday
500′->8500′
---
Mt. Hood Snow Forecast

The amount of new snow on Mt. Hood this morning (Tuesday) is disappointing, and also surprising. I drove home from Portland last night in the POURING rain, and figured that was all ending up as snow. NOPE! Well, some snow is better than no snow at all! We'll have light snowfall the next couple of days, and then we'll see warmer weather and r**n Thursday night through Sunday, boo-hiss.
For Tuesday, expect orographic (terrain-enhanced) snowfall today and tonight. The snow level will be around 2000′. About .2" water value (WV) falls during the day, for 2-3" of snow. Another .2-.3" falls tonight, for 2-4". Wind will be W 40 during the day and W 30 in the evening and overnight.
Wednesday sees clouds and light snowfall. The snow level will be 1500′, dropping near the surface (in the Gorge, anyway), after midnight. A trace of snow falls during the day, and an inch or so falls overnight. Wind will be W 30 early, WNW 20 during the day, and W 20 after midnight.
Thursday starts out cloudy and cold with light snowfall. A break midday gives way to much warmer weather and rain in the afternoon and evening. The snow level will be less than 1000′ early. It will rise to 6000′ midday and 8500′ overnight. The forecast currently holds about 1/2" rain from 1pm on through Friday morning.
The ECMWF and GFS have come into agreement that the heaviest rain will stay north of us from Friday on through the weekend. That said, the weather will still be too warm to support snow; the freezing level will fluctuate between 6000′ and 9000′ for that three-day period. As of right now, the models suggest 1/2" rain on Friday. That's still quite a ways out, so let's not get too detailed about the rest of the weekend.

Random Morning Thoughts
Grad school, much like winter, is a time of life that can cause one to pack on a few pounds. Weight, of course, is a complicated subject influenced by cultural factors and media images. Changing one's weight is easier with understanding of how these factors contribute to desire for weight change (let's go with 'weight loss' to simplify things, but for the record, many people want to gain weight!)
Many people who make a resolution to lose weight do so in response to societal shaming (or worse, partner shaming). If you want to lose weight, working from a punishment model (shame, blame, self-criticism) is less likely to motivate you than a reward model. Instead, find self-affirming reasons to stick to your workout and nutrition regime (note that I'm not saying diet – this is about improving nutrition as well as cutting calories).
For example, you might say, "I'm going to drop 5lbs because I love the way my body feels climbing hills on a bike when I'm lighter." Or perhaps, "I love seeing the striations in my muscles." Or… "I feel hot when my pants sag." You'll have to find your own reasons, positive reasons, to stick with your plan. These are not reasons to make someone else happy. That's very important.
Pick a reason each morning, keep in in your head all day, and pull it out when you're tempted by Juanitas chips or the samples at Rosauers or a second or third beer. And one last thing – it's important to take it one day at a time. If you think about all the months you're going to spend monitoring food and exercise, you'll exhaust yourself. Good luck. May you be healthy. Have an awesome day.

Disclaimer required by my grad school program: I am not your therapist, but I am seeing clients at this time at Comprehensive Healthcare in White Salmon. In the meantime, I am your weather forecaster. Take everything I say with a grain of salt, and consult with your actual therapist about your mental health issues. One other thing: I plan to keep doing this forecast indefinitely. Forecasting and counseling are both deeply meaningful and nourishing to me.

Gorge Wind Forecast
We'll have gusty west wind today. It'll be up-and-down and unreliable in the 18-22 range from Stevenson to Arlington all day. Wednesday brings light west wind at 7-12 all day through the whole Gorge. On Thursday we have east wind at 15-20 in the morning and calm wind after noon.

Gorge Weather Forecast
It's partly cloudy out there and showery. That's the story all day. Temps in the mid 40's early and upper 40's later. West wind. 99% chance of rainbows. We'll have rain mixed with snow on Wednesday morning, showery. Temps in the mid 30's early and upper 40's later. Light westerlies. 84% chance of rainbows. Thursday looks cloudy with reain early, a break midday, and rain after noon. Temps will be in the mid 30's eraly and upper 40's later. East wind. 1% chance of rainbows.
For weather specifically directed at travel through the Gorge, please visit Temira's Awesome Travel Advisory Service on Facebook.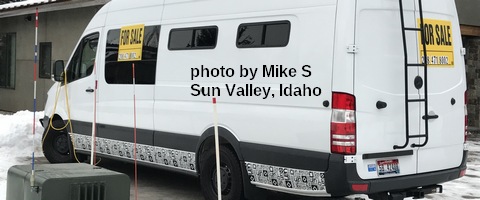 Road and Mountain Biking
Post Canyon is currently closed to all users to protect the trails from damage. Whoopdee is closed to bikes and horses for the same reason. Syncline remains mobbed. I'm not sure about the upper half of Nestor, but the Horse Camp section is in good shape with one tree down.

Upcoming Events
Coming up Tuesday, there's by-donation moving meditation at Trinity at 6:15. There's a free meditation/breathing class at Flow at 8am. There a free yoga class at Trinity Natural Medicine at noon. There are two evening by-donation events: a women's only (anyone identifying as "female") mobility, strength and self-defense class at First Light in Hood River at 6pm, and meditation with the Pacific Hermitage monks at 6:30 at Yoga Samadhi.

Click here for the full events calendar.
Have an awesome day today!
Temira