Random Morning Thoughts
This morning I woke up feeling lonely. And I thought to myself, "What do I need right now?" Since I'm pretty cooperative with myself, I answered. "I need attention," I said. "Hmm," I thought, "how do I get attention?" And then I had a bright idea. Rather than calling friend after friend and trying to get someone to go to coffee (and in the process becoming discouraged when people didn't answer or weren't available or had better things to do), I just posted on Facebook. "I need attention. Give me attention." Nothing like getting straight to the point and asking for what you need, right?
I find it really hard to get what I need when I'm stubborn, when beat myself up and try to pull myself up by my bootstraps (which are pretty hard to find on modern shoes). So I'm just gonna ask from now on. I wonder what would happen if we all did that? We might all be closer. I know I like helping my friends in times of need. I bet you do to. So try letting your friends help more. I bet they'll be stoked to step in and help you feel better.

Thank you for using this forecast!
Please donate to support it!
Thank you to everyone for using this forecast. Does it save you time, gas money, or help you find more wind, powder, or just plain fun stuff to do? Please consider making a donation to keep it going! Use it here for free or make a donation and get on the mailing list for wind for the summer and Mt. Hood snow in the winter. It's not $99/year. Not $50/year. No, just $12.34 or more gets you on the list for 12 months. Do it via PayPal/CC by clicking on my happy photo below. Don't PayPal? You can send a check to Temira @ PO Box 841 in Hood River. Thank you for your support, and thank you for trusting my forecast. You guys mean the world to me.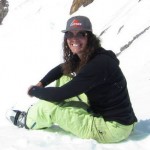 ---
Mt. Hood Snow Forecast – 5000′

4a-8a
8a-12p
12p-4p
4p-8p
8p-4a
Today
Tomorrow
The next day
Mt. Hood Snow
At this time I wrote this forecast this morning, it was 41 degrees warmer at the top of Mt. Hood Express than it was in Parkdale. That's nuts. It'll be clear and sunny on Mt. Hood today with the free air freezing level (FAF) at 12,000'. Temps will warm to the 40's from 5000' on up. Or maybe from a little higher on up. It's hard to predict the exact level of the inversion this afternoon. Suffice it to say it'll be warm on Mt. Hood. Wind today will be SW 10-15.
Tomorrow starts out partly cloudy or with high clouds. A pretty sunrise is likely. The FAF will be 10,000 early, with the snow level falling to 6500' in the evening and 5000' around 1am Friday. We'll see a few sprinkles during the day, followed by .1-.2" water value (WV) between 7pm Thursday and 4am Friday, for showers followed by a trace of snow. The sky will be partly cloudy to clear after 1am. Wind will be SW 10 early, SSW 20 in the evening and SW 30 after midnight.
Thursday looks dry and clear, with the FAF at 3500' early and 5000' in the afternoon, when some clouds move in. Wind will be W 25 in the morning and SW 15 in the afternoon.
Things get really interesting on Friday, assuming the models are correct. A very wet system brings 2-4" of water value to Mt. Hood. The snow level will initially be 5000', but will rise to 9000' for the bulk of the moisture. Wind with this system will be W 50, in other words, nuking. So that system looks rainy. There's another system right on the heels of that one on Saturday/Sunday. This next system contains 1-2"+ of water value with the snow level around 5000-6000'. This one could bring a lot of snow, so stay tuned.

Gorge Wind
It's another day of nuking east wind in the Gorge, and today we have a very impressive gradient to go along with the impressive wind speeds: E .30. At 7am, it was averaging 55 at Rooster and 27 at Steven's Locks, with a wind chill of 11 at Rooster. Expect nuking easterlies all day today.
Expect easterlies at 40-50 tomorrow. The east wind will fade tomorrow night. How much it will fade and by when is up for debate, because models do not handle these situations well. I suspect we'll still have light east wind on Thursday. But maybe we won't. Maybe we'll have light and variable wind. River water temp, by the way, is 50 degrees. Thanks, iWindsurf, for the numbers.

Gorge Weather
Somewhere between the Columbia and Parkdale is the top of the inversion cloud. If you'd like to see the sun this morning, you can drive up to Parkdale (where it's 3 degrees) and visit my friend Ellisa. Or perhaps you'd like to drive to 6400', where it's sunny and 44 degrees. Or perhaps you'll just wait in your warm bed until the inversion cloud burns off this afternoon. Expect temps today in the teens this morning and upper 20's to low 30's this afternoon.
Tomorrow will likely start with both an inversion cloudy and high clouds from an incoming weather system. Temps will be in the upper teens early and the low 30's in the afternoon. Predicted moisture amounts have dropped quite a bit since yesterday, but we're still looking at a few freezing rain sprinkles before 4pm, especially west of Hood River. Expect more freezing rain sprinkles after 7pm. Not a lot, but enough to make the roads slick. It's quite hard to tell when temps will climb above freezing, but due to the very cold road surfaces (especially on shady I-84), I'm going to err on the side of caution on this one and predict freezing rain.
Thursday will warm up above freezing at some point. Current model runs predict temps in the low 30's early and the low 40's in the afternoon with low clouds and dry weather. Friday and Saturday look very wet.

White Sprinter Van of the Day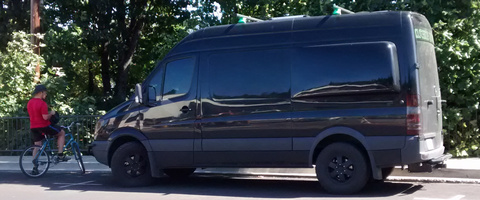 Road and Mountain Biking
Mike S. rode his bike trainer for 2 hours a couple of days ago. He deserves some sort of award for that. I'm starting to think we need a community bike trainer class. You know, we all get together with our trainers in front of a big screen and watch Sufferfest videos while we ride.


The Clymb: free membership. Cheap gear.
Temira approves. Click to join.
Upcoming Events
Tonight is Tuesday, and that means there's pickup rugby at the Hood River Marina at 5:30. There's a trail run with the Hood River Tri Club at 6:15pm at Post Canyon (bring a headlamp). There's $12 Prime Rib at Cebu from 5pm-9pm. Coming up tomorrow night, there's ping pong at the Hood River Armory at 5:30pm ($5), there's a track workout in Stevenson at 6pm, and there's Aikido at Trinity Arts Studio on Belmont. Coming up on Friday, Columbia Center for the Arts hosts two ski movies with two showings, 6pm and 8pm.
Have an awesome day today!
Temira