Random Morning Thoughts


I noticed that there are two events this weekend related to domestic violence: there's the annual Oak Street Pie Contest on Saturday, benefiting Helping Hands, serving women who have been victims of domestic violence. On Sunday, it's the Superhero Run in The Dalles, benefiting the Court Appointed Special Advocate program, serving children who are living in foster care due to neglect or abuse. A long time ago, I was one of these kids, and there were no such services available to me. Things would have turned out better had there been. So, please, support these great organizations by donating time, money, or just participating in these events. Thanks. =)

Thank you for using this forecast!
Please donate to support it!
Thank you to everyone for using this forecast. Does it save you time, gas money, or help you find more wind, powder, or just plain fun stuff to do? Please consider making a donation to keep it going! Use it here for free or make a donation and get on the mailing list for wind for the summer and Mt. Hood snow in the winter. It's not $99/year. Not $50/year. No, just $12.34 or more gets you on the list for 12 months. Do it via PayPal/CC by clicking on my happy photo below. Don't PayPal? You can send a check to Temira @ PO Box 841 in Hood River. Thank you for your support, and thank you for trusting my forecast. You guys mean the world to me.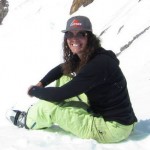 ---
Gorge Wind
This time of year is difficult for wind forecasters. The models don't match reality, and we're left scratching our heads and hoping for the best. Today is an easier setup to predict than yesterday was, and the sizable morning gradients help: .11 (pdx-dls) and .05 (dls-psc). With building high pressure off the coast and no weather systems predicted to move through, we'll have steadier wind today than yesterday. Expect 19-22 this morning from Mosier to Rufus, picking up to 24-28 by late morning from Swell to Rufus with less wind and gustier conditions under the clouds at Stevenson. The strongest, steadiest wind today will be early afternoon from Swell to Hood River and mid-afternoon from Lyle to Rufus. Your best bet is likely the Rowena corridor today.
Tomorrow starts with 10-13 from Swell to Mosier and slowly, ever so slowly, picks up to 16-19 in the afternoon from Stevenson to Mosier. Thursday looks light and variable early, becoming E 10-13 at Rooster/Stevenson in the afternoon.
Out on the coast, expect some wind too (north/central/south). Today: NW 5-10/N 5-10/N 25-30, W7@11. Tomorrow: light/15-20/30-35, NW 6@9. Thursday: 10-15/20-25/25-30, NW 4@9.

Today's Gorge Wind – these are ranges for the average speed, not a predicted wind range. =)

Your favorite beach
Dawn
Patrol
9am-
11:30a
11:30a-
3pm
3pm-
dusk
Rooster's Rocks
Still
looking:
anyone
know
a nudist
who'll
give
a talk?
Steven's Locks
5-10
5-10
12-15
15-18
Hatchery/White Salmon Sandbar (minus a few for Hood River)
19-22
24-28
24-28
22-25
Doug's, Lyle, Rowena
19-22
19-22
24-28
24-28
Rufus, etc.
19-22
19-22
24-28
24-28
Roosevelt, etc.
10-13
13-16
15-18
18-22
Temira's sail: 35-40: 2.9 / 30-35: 3.2 / 26-30: 3.5
23-26: 4.0 / 20-23: 4.5 less than 20: something bigger!
Tonia's kite: 35-40: 4m / 30-35: 4-6m / 26-30: 5-7m
23-26: 7-9m / 20-23: 8-10 / 15-20: 10-12 / 10-15: 13-15.
Gorge Weather
It's a partly cloudy morning here in the Gorge. Or maybe mostly clear is a better description. And it was rather dark as I was writing this report, due to the fact that I have a 7:30am meeting. That time currently sounds early, but after half of ski season has passed, it will sound late. Anyway, expect a mostly sunny day today. Temps will be in the upper 50's early and the low 60's this afternoon with a 23% chance of rainbows west of Hood River.
Tomorrow will be sunny with temps in the upper 40's early and upper 60's in the afternoon. Thursday sees temps in the mid 40's early and low 70's in the afternoon.

White Sprinter Van of the Day with Chef Stenn

Road and Mountain Biking
If you head to Falls Creek or Lewis River or Dry Creek, you are going to find perfect tacky dirt and some delicious mushrooms to take home for dinner. I suggest you take a class on mushroom hunting before you pick and eat mushrooms. Wildcraft is offering a mushroom hunting class. It's not free, but it could save you money and it could also save your life.


The Clymb: free membership. Cheap gear.
Temira approves. Click to join.
River Levels / Fish Counts/Cheezburger Update
The John Day Dam is reading 62kcfs. The Dalles Dam is putting out 64kcfs. There are two river-wide logs on the White Salmon: 1 just below Cave Rapid on the Middle and one below Cave Wave on the Lower. The White Salmon is at 1.6′, according to John L. I didn't talk to Cheezburger yesterday, but I am talking to his boss today. The fish counts were not up when I was writing this report, but you can check them yourself here if you like. The Columbia is 67 degrees.

Events – email me if I've missed any outdoor-related events
Today is Tuesday, and that means I have a meeting with my manager from Meadows this morning. Also today, from 10-3, there's a meeting of the Historic Columbia River Highway Advisory Council at the County Council Chambers (601 State, Hood River). There's pickup touch rugby this evening at 5:30 at the Hood River Marina, and there's $12 Prime Rib at Cebu from 5-9pm.
Coming up tomorrow night, Gorge Owned welcomes Langdon Cook, author of "The Mushrooom Hunters" at Columbia Center for the Arts at 7pm. Crossing my fingers I'll be back from Vancouver in time for this one. At this lecture and slideshow, you will learn about the hidden economy surrounding wild mushroom harvesters in the Pacific Northwest.
On Saturday at 10am, it's the annual pie contest at Shortt Supply, benefiting Helping Hands domestic violence shelter and women's services. If you'd like to enter the contest, bring a pie and the $10 entry fee. If you'd like to eat pie, bring a fork. Next Saturday, starting at 4pm, Cascade Locks is hosting International Take a Kid Mountain Biking day at the EasyCLIMB trail. There will be trail tours and a skills course and snacks provided by the Lumberyard, along with great raffles. Next Sunday is the Superhero run in The Dalles. Dress up you and your kids as your favorite superheros and come raise some money for CASA of the Gorge.
Have an awesome day today!
Temira