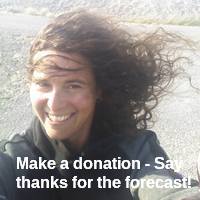 Get the email free through the end of January – try it out! Click here.

Thank you for using this forecast. I offer it freely so you can have more fun and plan your life. It does take significant time and energy to produce. If you find yourself using it often, or if you feel your life is enhanced by this information, please make a donation. I count on your support to pay my bills, and am deeply grateful to you for choosing to help support me. You can get this forecast via email by donation. The email subscription isn't $99/year. Not $50/year. Donating $12.34 or more gets you on the list for 12 months. Click on my photo to donate. Don't PayPal? Send a check to Temira @ PO Box 841 in Hood River. Thank you for your support and thank you for trusting my forecast.
Mt. Hood Snow Forecast – 5000′

4a-8a
8a-12p
12p-4p
4p-8p
8p-4a
Tuesday
0′->8000′->0′
Wednesday
0′->1500′->500′
Thursday
500′->1000′->500′
---
Mt. Hood Snow Forecast

It's Tuesday, and the Mt. Hood snow forecast is looking better than it has for a while. If things pan out, the snow will return to packed-powder groom, and life will be happy again. We'll even have some powder to ride!
For Tuesday, it'll just be sunny. High clouds move in overnight. Snow starts up after midnight. The free air freezing level will be zero feet in the morning, 8000′ in the afternoon, and 0-1000′ on Wednesday morning. No precip today. Pretty sunset is likely. Wind will be N 15 early, WSW 10 in the afternoon, building to W 45 after midnight.
Wednesday looks snowy, with a bit of disagreement in the models about how snowy. The snow level will be less than 1000′ early, 1500′ midday, and 500′ after midnight. The GFS has .7" water value during the day, for 7-9" of fluffy powder. Another inch or so falls overnight. The ECMWF predicts 3-6" of new snow. Wind will be W 45 early, NW 25 midday, and WNW 30 in the afternoon and evening.
Thrusday looks partly to mostly cloudy with orographic snowfall. The snow level will be 500′ in the morning, 1000′ in the afternoon, and 500′ after midnight. Just a couple inches of snow will fall. Widn will be NW 25ish all day. Friday's forecast contains additional light snowfall. The weekend forecast looks like storm skiing: very heavy snowfall and very strong wind both Saturday and Sunday. Saturday could be windy enough to shut down lifts. Sunday looks a bit less windy. We'll keep an eye on that, ok? Total snowfall for the weekend is two feet for the GFS and about a foot for the Euro. We also need to keep an eye on Portland and Gorge weather for Sunday…

Random Morning Thoughts
I have yet another very busy day, so I'll keep it quick. I was talking to my therapist yesterday about how I'm feeling stressed out by everything that's on my plate. "Well," she suggested, "what about putting off the 'get ripped' plan until later – that takes a lot of energy?"
I hadn't even thought of that, but she was right on. Being overly busy leads to stress. Some of you are arguing. Some of you are saying, "I function better when I'm really busy." It may feel that way, but it also leaves you susceptible to being overwhelmed when unexpected stressors come your way. So, it's helpful to have a plan in place to manage those. But I digress.
Everything we're involved in, each goal we're striving for, each relationship we're maintaining, each of those takes energy. We may not even realize how our goal-directed activity in various domains is increasing our stress load. Inviting someone else's perspective can help. So can stopping for a few minutes to look objectively at what we're doing. And if you feel like you can't stop to do this, that's information too. May you be healthy and strong. Have an awesome day.

Disclaimer required by my grad school program: I am not your therapist, but I am seeing clients at this time at Comprehensive Healthcare in White Salmon. In the meantime, I am your weather forecaster. Take everything I say with a grain of salt, and consult with your actual therapist about your mental health issues. One other thing: I plan to keep doing this forecast indefinitely. Forecasting and counseling are both deeply meaningful and nourishing to me.

Gorge Wind Forecast
For Tuesday, we'll have E 25-30 near Rooster Rock and E 20-25 near Stevenson. The wind will fade as the day goes on, going calm mid-afternoon and turning to light westerlies after 4pm. Wednesday starts with W 10-13 through the entire Gorge. As a front moves through and high pressure builds off the coast (1034mb – STRONG!), the wind will pick up to gusty 24-28+ from Mosier to Maryhill. The western Gorge will likely stay in the clouds for gusty, up-and-down 15-19.
Thursday sees high pressure build inland. The wind will be W 10-13 in the morning and possibly 15-19 in the afternoon, but it really depends on how far inland the high pressure pushes. Friday currently looks like W 15-18 east of Mosier. The long-range forecast often doesn't play out, but it's currently calling for 35-40 in the eastern Gorge on Saturday.

Gorge Weather Forecast
What an absoutely beautiful day it is! Sunshine. All day. Temps in the low 20's early (so glad I threw a blanket over my budding plum tree) and near 50 later. East wind until late in the day, then light west wind. No rainbows. Wednesday starts off cloudy with rain, wet snow, and rain mixed with snow. That mess turns to rain by late morning. Temps will be near freezing early and in the upper 40's later. Strong west wind in the afternoon. 99% chance of rainbows.
Thrusday looks cloudy all day. Temps will be in the mid 30′ early and mid 40's in the afternoon. Light to moderate westerlies. 74% chance of rainbows. Looking long range, there's a good chance of snow Sunday, very icy roads Monday, and 20-something degree weather for the first half of next week.
For weather specifically directed at travel through the Gorge, please visit Temira's Awesome Travel Advisory Service on Facebook.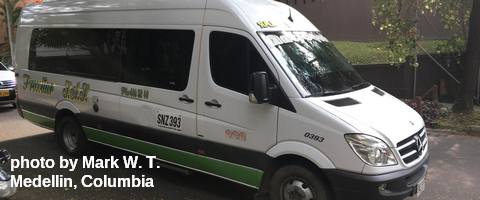 White Sprinter Van map of the world!!!
Road and Mountain Biking
With temps in the 20's last night, this is a reminder to avoid trails exposed to open air. That means Syncline and Post and Whoopdee (which is closed anyway). Here's the rule: if it was below freezing last night and will be above freezing or sunny today, do not ride trails exposed to open air. You will cover your bike in mud and damage the trails.

Upcoming Events
Coming up Tuesday, there's by-donation moving meditation at Trinity at 6:15. There's a free meditation/breathing class at Flow at 8am. There a free yoga class at Trinity Natural Medicine at noon. There are two evening by-donation events: a women's only (anyone identifying as "female") mobility, strength and self-defense class at First Light in Hood River at 6pm, and meditation with the Pacific Hermitage monks at 6:30 at Yoga Samadhi.

Click here for the full events calendar.
Have an awesome day today!
Temira