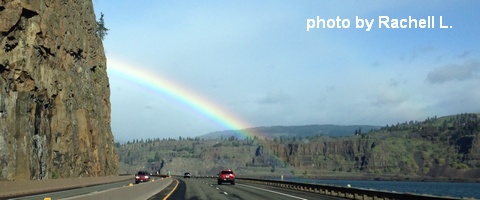 Mother Nature finally threw us skiers and snowboarders a bone over the last 24 to 48 hours, dropping somewhere around a foot of snow. With temps in the 20's today, the snow's going to be plenty light and fluffy for a good day. Just be really careful out there, because areas that were snow-free yesterday are going to look snowy today. Continued below the chart…
Mt. Hood Snow Forecast – 5000′

4a-8a
8a-12p
12p-4p
4p-8p
8p-4a
Today
1500'–>4000'
Tomorrow
5500'–>9500'
The day after
11,000'
The early morning snowfall and nuking wind will fade quickly today, leaving Mt. Hood under partly cloudy to clear sky by mid-morning with a few leftover flurries. High clouds move in during the afternoon, and precip starts up again after midnight. The snow level will be less than 2000′ this morning, 3000′ this afternoon, and 5000′ after midnight. We'll see maybe an inch or two more this morning, followed by a few flurries during the day and then light wet snow or mixed precip after midnight. Wind today will be NW 35+ this morning, NW 25 in the afternoon, and W 20 after midnight.
Tomorrow starts off cloudy with either wet snow or mixed precip. The snow level will be 5500′ early as warmer air arrives aloft. The snow level will rise to 7500′ by 2pm and 9500′ by 8pm. We'll see .3-.4" water value (WV) from 5am to 5pm, after which the precip band will likely stay north of the Columbia River. That said, much of what falls will either be mixed precip or showers, so if you want to ski or ride tomorrow, do it early. Wind tomorrow will be W 30 early, fading to W 25 in the afternoon and W 20 overnight.
Thursday looks high overcast with filtered sun. The free air freezing level will be around 11,000′ with 5000′ temps in the mid 40's early and the mid 50's in the afternoon. Wind will be W 15 early and SW 20 later. Friday looks very similar with a chance of sprinkles Friday night and Saturday morning.

Support the forecast – Donate!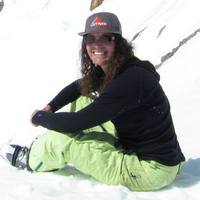 Thank you for using this forecast. Does it save you time, gas money, or help you have more fun in your life? Make a donation to keep it going! Use it here for free or get on the mailing list for wind for the summer and Mt. Hood snow in the winter. Just click on my photo to donate via PayPal or credit card. The email isn't $99/year. Not $50/year. No, just $12.34 or more gets you on the list for 12 months, and sometimes there are cool prizes.Don't PayPal? You can send a check to Temira @ PO Box 841 in Hood River. Thank you for your support, and thank you for trusting my forecast. You guys mean the world to me.
---
Gorge Wind
When I woke up this morning, we had monster west gradients: .17 (pdx-dls), .15 (dls-psc) .40 (n.bend-psc). Driving this is the eastward movement of a strong, compact surface low just to the south of the Columbia River. This is a bit of an unusual setup, one that I've only seen once before, but it seems to be a setup that does magical things at Arlington. That is the case today, with pre-dawn wind at 30-35 out in the desert.
We'll see the westerlies slowly fade today as that low moves east and out of our weather picture. Still, you'll find plenty of wind: 30+ this morning east of Doug's with gusty anything-goes from Steven's Locks to Mosier. As the sky clears, expect the wind to drop to W 13-16 from Steven's Lock's to Mosier with 20-23 at Doug's and 23-27 further east. By afternoon, we'll be down to 15-18 or less everywhere. Timing is everything, right?
Tomorrow starts off light and variable (LTV) with W 8-11 in the afternoon, possibly a touch more. Thursday looks light, with E 10 or less through the whole Gorge. If nothing changes between now and Friday, we'll see an epic Classic Gorge Setup by Friday afternoon with 30+ from Lyle to The Wall with the air temp at 70 degrees or more. Fingers crossed for my opening day!

Random Morning Thoughts
I've been thinking a lot about work environments lately, and it's interesting to me that the same things that make for a healthy relationship make for a supportive and healthy work environment. In our friendships, we appreciate positive feedback, clear and open communication, and consistency of behavior. This creates trust and warmth and loyalty between us and our friends and partners.
The same thing is true of workplaces. For example, studies show that to achieve the highest productivity levels, the ratio of positive to critical feedback needs to be 5 to 1 or better. When that ratio drops, workers slack by significant amounts. Some bright folks in the mental health world have realized this, and are working to create healthy service providers using the Sanctuary Model. It's a bit woo-woo for most corporate cultures, but it has some good points.
It just makes me wonder how we create better environments for the place many of us spend a third of our time, and half of our waking hours. Communication, consistency, and appreciation are good places to start. Let's face it: we may spend more time at work than we do with our families and friends. Why not work toward making the workplace at least as supportive as our outside-of-work spaces? What would it be like if work was a warm, supportive place filled with trusting relationship and shared goals?
(don't forget that you're supposed to be writing down something you love about yourself each day this month and putting that nice thought in a mason jar for later…)

Gorge Weather Forecast
As I was writing this forecast, it was still sprinkling at my home. The sprinkles will fade and turn to a partly cloudy day by mid-morning. Temps today will be in the low 40's early and the mid 50's in the afternoon. Strong west wind. 96% chance of rainbows.
Tomorrow brings high overcast sky and sprinkles through mid-afternoon, with the best chance for dry weather late in the day. Temps will be in the low 40's early and the mid 50's in the afternoon. Light wind. 18% chance of rainbows.
Thursday may bring high clouds and may be sunny. Or maybe it'll do both. Temps will be in the low 40's early and the low 70's in the afternoon. Light wind. No rainbows. Friday looks high overcast and warm with strong wind.

White Sprinter Van of the Day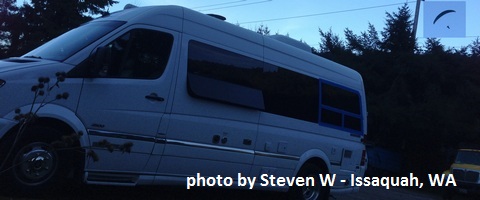 Road and Mountain Biking
The rain we had last night is going to be enough to take Post and Whoopdee out of the picture today. The wind will make Syncline and Columbia Hills unpleasant. That leaves you with Hospital, Gorge 400, Nestor and Kitchen Sink. As for road biking, it's going to be way too windy for fun today. Tomorrow looks showery and slightly windy. Thursday, however, looks EPIC: light wind all day, temps in the low 70's… yeah. Friday looks very windy, but it will be warm and dry. We have lost the high-elevation rides, both road and mountain, at least temporarily, due to snow levels below 2000′ this morning.


The Clymb: free membership. Cheap gear.
Temira approves. Click to join.
Upcoming Events
There's community yoga this morning at 8am at Flow. There's pickup touch rugby at the May Street ballfields at 5pm. There's $12 prime rib at Cebu tonight (and 241 pastas Monday-Thursday). Coming up this weekend, it's the Gorge Roubaix bike race and the Wheatfield half-marthon out in The Dalles.
Have an awesome day today!
Temira