The best snow forecast for Mt. Hood. The best wind forecast for the Gorge.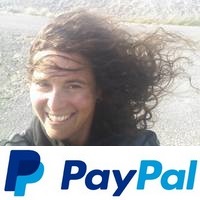 Thank you for using this forecast. Like it? Find it useful? Support it (and me!) by sending some cash my way. What's it cost to support me and get the email version? Not $99 a year. Nope. Not $49. Just $19.99 or more gets you a year. People are added to this list on Thursday and Sunday. My day job is crisis mental health, and I don't have time on other days. Thanks for your patience! Click below to contribute. Thank you!!
| | |
| --- | --- |
| | |
| | Auto-renewing subscription. Easy. Awesome. Set and forget! |
Thank you for contributing and keeping this forecast going! I appreciate your support!
The Forecast
Today's Gorge Wind – these are ranges for the average speed, not a predicted wind range. =)

Your favorite beach
Dawn
Patrol
9am-
11:30a
11:30a-
3pm
3pm-
dusk
Rooster Rock
lightning
and buns
…bad
combo!
Steven's Locks
10-13
14-17
14-17
17-20?
Swell-Hood River
17-20
17-20
14-17?
17-20?
Lyle to Doug's
5-10
5-10
11-14?
17-20?
Rufus, etc.
10-13
5-10
calm
calm
Roosevelt & Arlington
10-13
5-10
calm
calm
Gorge Wind Forecast
Happy Tuesday! It sure was a good thing I added the "+" to the forecast yesterday! So let's look back at what happened. In most of the iterations of the hot-spell scenario, the arrival of cooler air is delayed from model predictions. That was not the case this time. As a matter of fact, the model runs from yesterday morning kept the cool air's influence out of the picture until after sunset. You saw what happened instead – the cool air arrived much earlier than expected and drove much bigger gradients and wind than expected! In addition, instability didn't chime in yesterday afternoon. So, we ended up with 26mph between Viento and Hood River. What an unexpected treat!
Looking at the next few days, we have thunderstorms messing with things today, strong westerlies tomorrow, and lighter wind on Thursday as a low sits offshore and suppresses gradients. Totally unrelated… I'm going through my shed and have some extra gear. 2010 71L Starboard Quad in good shape: $234.56; 2010 Hot Sails Fire 3.5 barely used: $76.54; 2010 Hot Sails Fire 4.5 barely used: $76.54. I need to clear space for a downwind SUP foil board, and yes, I still like windsurfing! Email me at twomirrors at gmail if you are interested.
Okay, Tuesday morning. We've already had showers. Elevated instability and thunderstorm potential increases this afternoon as an offshore low drifts slowly north along the coast. That makes for unreliable and difficult-to-predict wind. Pressures this morning were 29.96/29.85/29.84 for 0.11 from PDX to DLS. Wind speeds were in the 17-20 range from Viento to Hood River with 10-16 in the eastern Gorge and 10ish at Stevenson. Areas east of The Dalles are a writeoff today due to heat and lack of wind – it'll turn light/variable out there and add thunder. Models suggest we'll have 17-20 this morning with a dip to 14-17 early afternoon between Stevenson and Hood River. Models then suggest 17-20ish from Stevenson to Doug's this afternoon. However, thunderstorm potential increases this afternoon. It's worth noting that these are elevated, not surface-based storms. The wind is likely to continue until a storm gets near enough to cause trouble. Still… expect it to be up-and-down today and somewhat unreliable. In other words: get it while you can! River flow readings are 139-157kcfs, river temp is 70F, and high temp forecast is 91F (which we are unlikely to reach).
The disturbance causing all the chaos on Tuesday moves clear of the area by mid-morning Wednesday. Giant thermal gradients result: Hood River's forecast is 80F, and Hermiston's is 99F! Westerlies start (assuming the thunderstorms are gone) at 23-26+ from Stevenson to Arlington (30+ at Viento) and rises to 28-32+ from Viento to Arlington with 25-29 at Stevenson and Threemile. High temp: 80F. Actually… now that I look at the sounding model, I see marine clouds possible as far east as Hood River, so you may have to shift east to Mosier if you're chasing Dawn Patrol. Another note: regarding the consistency of the models… about 85-90% of the ensemble members like the idea of a day in the 25-30 range, so a big day on the river is close to certain. Moving on to Thursday… that persistent offshore low moves right near the mouth of the Columbia and hangs out all day. This causes gradients to fall significantly from prior days. Current forecast is 13-16 in the morning, 9-12 midday, and 16-19 in the afternoon. That's subject to change.
Looking deeper into the future… models are in good agreement that we'll see at least 17-20 on Friday and Saturday with the operational GFS calling for mid to upper 20's Friday and low to mid 20's Saturday. In other words, it looks windy enough for many sports, but there's not yet clarity on how windy. Strong hints of lesser wind are present for the Sunday forecast. Enjoy this windy week!
Jones, Sauvie's, Coast
Coast forecast (north/central/south, waves). Swell forecast provided by NWS. Wind direction northerly unless otherwise noted. Tuesday: LTW?LTW/S10-15, NW swell 6′ 9 seconds. Wednesday: S20-25/SW10-15/LTSW, NW 5′ @ 8. Thursday: LTS/LTW/N10-15, NW 4′ @ 8. Jones Tuesday: 16-19. Wednesday: LTW. Thrusday: 15-18?. Sauvie's Tuesday: 10-13. Wednesday: 7-10. Thursday: LTV.
Mt. Hood Snow Forecast – Back on vacation until next fall
Hood River Weather Forecast
Clouds today with intermittent showers and thundershowers, especially later. Temps will be in the mid 60's early and upper 80's to low 90's later (or less, as it's cloudy). Moderate westerlies. 53% chance of rainbows. Wednesday starts cloudy with thunderstorms and shower and turns dry and sunny. Temps will be in the mid 60's early and near 80 later. Strong westerlies. 19% chance of rainbows. Thursday will be sunny and dry. Temps start in the upper 50's and end in the upper 80's. Light to moderate westerlies. NO rainbows.
Looking for a complete Columbia Gorge forecast? Looking for more humor in your weather? Obscenities? You're looking for my TATAS: Temira's Awesome Travel Advisory Service on Facebook.
Local-ish Events
Please let me know of outdoor-related local-ish events. If you don't tell me, I don't know! Ferment's Tuesday night 4-mile walk/run is at 6pm. At 7:15am on Wednesdays, there's a run from the White Salmon Bakery. At 7am on Friday morning, you can get a donut and coffee for going for a run at Kickstand Coffee. The Small Boat paddlers have a group paddle at 6pm on Thursday at the Hatchery. Post and Pint happens Thursday evenings at 5:30. The women's Post-and-Pinot ride is Wednesday evening at 5:30.
Cycling
Some nice Hood River folks went and cleared the Smith Creek trail by St. Helens. That loop is now open. As a matter of fact, I'm not sure of anything being closed. No report yet on Boulder Lakes or Gunsight, but I'm sure someone will email me after changing this. Caveats: the road connecting Plains of Abraham to Smith Creek closes at noon Monday-Friday and will not be open to bikers during that time. Courtney Road (the road that goes up above Syncline) is closed until October. Do not attempt to use it to access trails. If you're riding Post Canyon, you will need a parking pass. Those can be purchased at many local shops or online.
Sprinter Van of the Week!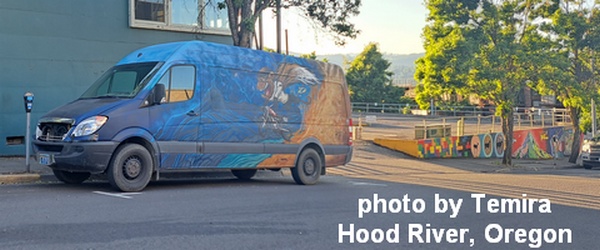 Click here for the Sprinter Van map of the world!!!
Have an awesome day!