Please support this forecast by clicking on the photo of the forecaster and making a donation via Paypal!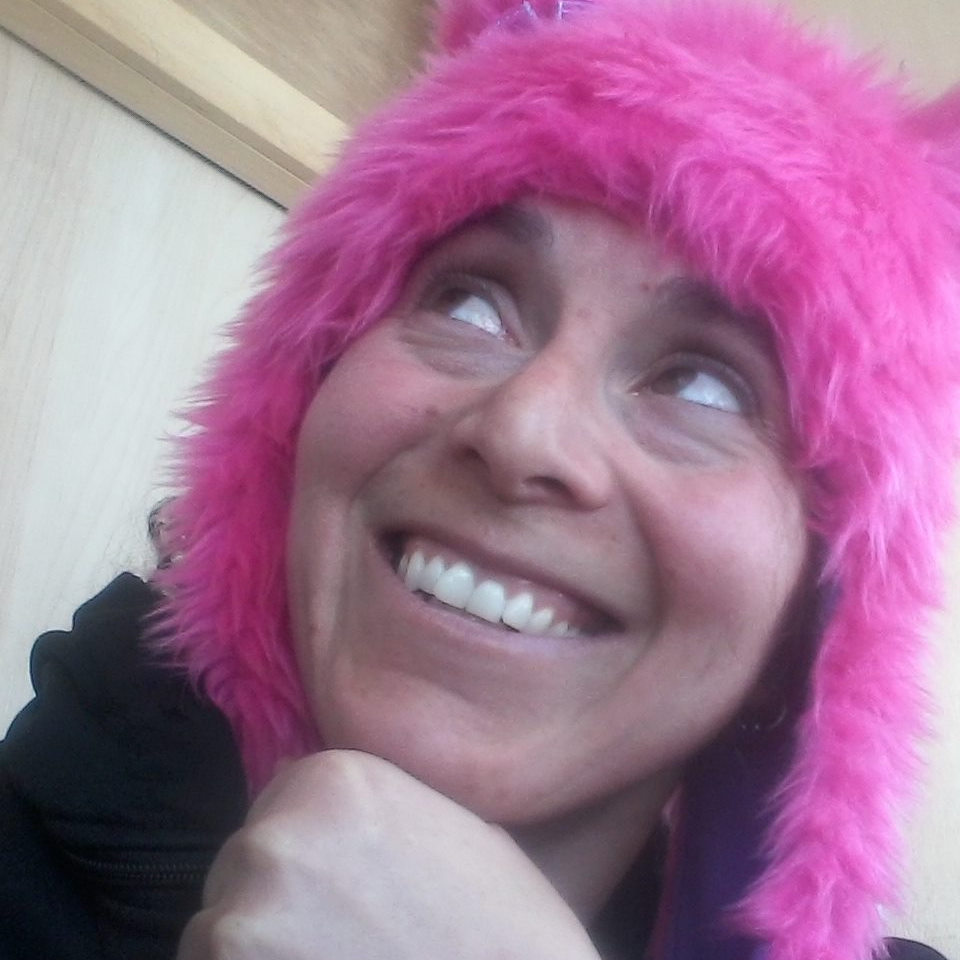 Your forecaster. Click on her to donate. Thank you!
Thank you for using this forecast. Please tell your friends about it. And if you or your friends think this service is awesome/useful/saves you gas money/makes your life more fun (that's the important part), make a donation by clicking on my photo above. Is more fun worth $50/year? $20/year? More? Less? Donate what it's worth to you (and thank you!), but $12 minimum gets you on the email list (with occasional giveaways) for a year. Don't use Paypal? You can mail a check to Temira at PO Box 841 in Hood River, 97031. Thank you!
If you would like to help Matt Klee's dear, sweet, hilarious wife, please sign up to help feed her and her family and friends a meal sometime in the next month. You'll get an email reminder the day before, so you don't have to remember. Also, if you have been by Dirty Fingers Bike Repair in the last couple of days, you've seen grown men in tears. Matt was a brother to those guys. If you would like to show a local bike shop that they have the support of the community (the same way they've created a community for many of us), please sign up to take them lunch one day in the next couple of weeks.
Random Morning Thoughts
Dear Universe: please do something nice for me today. Thanks. Love, Temira.
Today's Gorge Wind

Your favorite beach
Dawn
Patrol
9am-
11:30a
11:30a-
3pm
3pm-
dusk
Rooster's Rocks
light
5-10
5-10
5-10
Steven's Locks
14-17
14-17
17-21
21-24
Hatchery (minus a few for Hood River)
18-22
22-25
25-29
25-29
Doug's, etc.
22-25
26-30
30-35
30-35
Rufus, etc.
24-28
28-32
30-35
28-32
Roosevelt, etc.
16-19
19-22
22-26
24-28
Gorge Wind
The current overall weather setup is ideal for Gorge wind. We call this the Classic Gorge Day, and really, this is turning into a Classic Gorge Week. High pressure off the coast. Marine clouds. Sun in the desert.
Gradients this morning are a whopping .15 (pdx-dls) and .08 (dls-psc), and it's already blowing hard near Rowena. Expect the wind to rise to 28-32 from the Hatchery to Rufus by late morning. Pick your beach. It should be good. 30-35 is likely at Doug's, Rowena, and the Maryhill stretch of the river. Expect less wind at Stevenson and Roosevelt. With the Columbia running at 356kcfs at John Day, there's going to be a lot of current out there, but it was doable at 378kcfs last week. Be careful, and watch for fishing nets.
Tomorrow starts off with less clouds. That'll give us 17-21 from Stevenson to Mosier early, picking up to 24-28 from the Hatchery to Doug's in the afternoon with less wind at Stevenson and a touch less at Maryhill.
Models still insist Thursday will be less windy, possibly even easterly, but I still think the models are off base. Expect westerlies on Thursday, Friday, and quite frankly, until we transition out of this weather setup. June = 3/3 so far.
Gorge Weather
What you see is what you get for the next few days: temps in the mid 50's early, low to mid 70's in the afternoon, and strong west wind.
Road and Mountain Biking
Holy moly. It's dusty in Post. Somebody make it rain. Remember that this weekend is the Enduro race in Post Canyon. You may want to ride elsewhere on Saturday and Sunday. If you want to get out of the wind to do a road ride, consider the upper valley, because this is a decent setup to keep the wind on the river and out of the upper Hood River Valley.
The Clymb: free membership. Cheap gear. Temira approves. Click to join.
River Levels
The White Salmon is at 3.5′. The Hood is at 4.2′, the Klickitat's at 1900cfs, and the Columbia is at 356kcfs at John Day. The Dalles Dam is reading 340kcfs.
Events – email me if I've missed any outdoor-related events
In events, tonight is pickup rugby at the Hood River Marina at 5:30. There's triathlon practice at Mayer park at 6:15. Coming up tomorrow night, there's the women's Post N' Pinot mountain bike ride at Dirty Fingers at 5:30. There's sailboat racing at the Hood River Marina. And there's Karma Yoga, free or by donation, at Flow at 4pm.
This weekend is the Oregon Enduro bike race both days in Post Canyon. There's a shuttle day fundraiser at Sandy Ridge on Saturday, benefiting the Northwest Trails Alliance. There's a huge and extra-special bike ride in Portland on Saturday to kick off pedalpalooza. And Sunday in The Dalles it's the Gorgeous Gals ride benefiting Haven.
If you would like to say goodbye to Matt Klee, his memorial service is at the Gorge Room at the Hood River Inn at 5pm on Saturday. Jen Klee has asked that people make donations to the Hood River Area Trail Stewards in lieu of sending flowers.
Have an awesome day today!
Temira