Please support this forecast by clicking on the photo of the forecaster!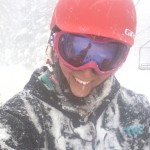 Your forecaster. Click on her to donate. Thank you!
Thank you for using this forecast. Please tell your friends about it! And if you or your friends think this service is awesome/useful/saves you gas money/makes your life more fun, make a donation by clicking on my photo above. Is more fun worth $50/year? $20/year? Donate what it's worth to you (and thank you!), but $12 minimum gets you on the email list (with occasional giveaways) for a year. Thank you for your support, and have fun today!
Random Morning Thoughts
When you normally get up at 4am and jump out of bed and start working, there's little that's more enjoyable than lying in bed and waking up slowly. No alarm clock. Cuddle Monkey and Big White Bear hogging the bed cuddling with each other… Just another relaxing morning at my house. Now, if I could just get the stuffed animals to write the forecast while I stay in my cozy nest, all would be perfect.
Mt. Hood Snow Forecast – 5000′

4a-8a
8a-12p
12p-4p
4p-8p
8p-4a
Tuesday
Wednesday
Thursday
Mt. Hood Snow Forecast
Today starts partly cloudy on Mt. Hood. The freezing level will be 5000′ early, dipping a bit midday, and rising back to 5000′ in the afternoon before dropping to 4000′ overnight. We'll see high clouds move in midday and light snow start after 8pm, for .2" water value (WV) and 1-2" of snow. Wind today will be NW 30 early, NW 15 in the afternoon and W 10-15 in the evening.
Wednesday morning brings continued light snowfall, probably switching to snow mixed with rain in the afternoon with sprinkles overnight. The snow level will be 4000′ early, 5500′ mid-morning, 6000′ in the afternoon and 8000′ overnight. We'll see .3" WV between 5am and 5pm, for 1" of new snow at best. That will be followed by trace amounts of sprinkles. Wind will be NW 20-30 early and NW 15-20 in the evening.
Thursday starts off cloudy, or possibly misty or sprinkly or rainy, becoming snow mixed with rain or possibly just wet snow after 5am. We'll see the snow level at 8000′ at 5am, 6000′ at 11am, and 5500′ from 2pm on through the evening. From 5am to 5pm, we'll receive .5" WV, for an unspecified amount of new snow. Not a lot, and possibly just rain, but most likely an inch or two.
Friday looks clear and sunny with the freezing level at 5000′ early and 8000′ in the afternoon with moderate wind.
Gorge Wind
I don't know if any of you were watching the Stevenson wind meter yesterday afternoon. I was. It went from 20mph out of the east to glassy to 20mph out of the west over the space of about an hour. Pretty cool. The wind never got as strong as I'd hoped yesterday, so I still haven't been windsurfing. This is pitiful.
Anyway, we're starting off with nice gradients this morning as a low pressure system exits to the east. We're at .10 (pdx-dls) and .13 (dls-psc) which says to me that we should be somewhere between Mosier and Maryhill for the strongest, steadiest wind today. Expect gusty 16-19 under the clouds in Stevenson and Hood River with 23-27 from Mosier to Maryhill all day. The wind will probably back off at Arlington later on as temps warm up, and the wind will be steadiest mid-morning to early afternoon before the next weather system approaches, making it gustier and more likely to be good at Stevenson.
Tomorrow starts with W 13-15 pretty much everywhere, picking up to gusty 22-25 in the afternoon at Stevenson, Avery and Arlington with a little less wind (still gusty) everywhere else. Thursday starts off light and picks up to relatively steady 22-25 east of Mosier in the late afternoon.
Gorge Weather
It's a partly cloudy, windy start to the day. There aren't really any showers around near Hood River, but if you head a bit west, you might find showers and/or rainbows. Expect partly cloudy sky today, becoming high overcast in the afternoon with a chance of light rain overnight. Temps will be in the upper 40's early and mid-50's later with moderate west wind.
Wednesday looks partly to mostly cloudy and showery in Hood River with temps in the mid-40's early and mid-50's late. Expect moderate west wind and rainbows on Wednesday.
Thursday looks showery, possibly even rainy for much of the day, becoming partly cloudy with rainbows likely late in the afternoon. Temps will be in the mid-40's early and low 50's late with light wind early and moderate westerlies late.
Road and Mountain Biking
The road biking was spectacular yesterday. Dee Highway, Trout Creek Ridge Road, Clear Creek, 35, and every road I took in Odell has been swept. Not sure about Cooper Spur, but the lower section was clear of gravel. Guess that's my next ride. =)
Anyway, it's going to be a bit on the windy side today and tomorrow for road biking, but Thursday morning looks good. Our mountain bike trails will get some much-needed rain, possibly tonight, likely tomorrow, and definitely on Thursday.
River Levels
The Hood is at 4.8′, the Klickitat is at 2260 cfs, and the White Salmon is at 4.something feet.
The Clymb: free membership. Cheap gear. Temira approves. Click to join.
Events – email me if I've missed any outdoor-related events
Tonight is pickup rugby at Collins Field. It's also $12 Prime Rib at Cebu. I love beef.
Wednesday night is really busy: there's Karma Yoga (free/by donation) at 4pm at Flow. There's a Port of HR meeting about park potential for Nichols Boat Basin at 5:30pm at the Port building. There's a track workout with the Hood River Running Club folks at the high school at 5:30pm. There's sailboat racing at the Hood River Marina at 6ish, and there's ping pong at the armory at 6:30pm.
Thursday is the Post n' Pint shop mountain bike ride, running intervals at the Event Site, and rugby at Henkle Middle School at 3:30.
Saturday is the Gorge Short Track mountain bike race at Cascade Locks' EasyCLIMB trail. I rode in the Thursday night series last year, and it was pretty much awesome. If you have Saturday free (sadly, I'm working), I'd highly recommend doing the race. You can get more information here. Coming up this weekend, Riverkeeper has a cleanup at Mayer Park on Saturday from 10am to 2pm. If you're interested in participating, shoot them an email at volunteer@columbiariverkeeper.org
Have an awesome day today!
Temira