Please support this forecast by clicking on the photo of the forecaster!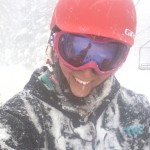 Your forecaster. Click on her to donate. Thank you!
Thank you for using this forecast. Please tell your friends about it! And if you or your friends think this service is awesome/useful/saves you gas money/makes your life more fun, make a donation by clicking on my photo above. Is more fun worth $50/year? $20/year? Donate what it's worth to you (and thank you!), but $12 minimum gets you on the email list (with occasional giveaways) for a year. Thank you for your support, and have fun today!
Interesting Local Opportunity
The Hood River Sister City Committee is immediately seeking candidates for a unique position that places a Hood River County resident in Japan for one year starting this summer. The Coordinator of International Relations position comes with a competitive salary and benefits package and living arrangements in Tsuruta, Japan, Hood River's longtime sister city. The CIR works at the Tsuruta town office and is responsible for helping with exchange activities, maintaining communications between cities and teaching basic English to the townspeople. For more information or to get an application, contact Sister City President Niko Yasui at nyasui@hoodriver.k12.or.us or call 541-490-2876. You can also contact me, Temira, if you have more questions about what the position involves.
Random Morning Thoughts
I missed yesterday's storm skiing in favor of getting my taxes done. This feels good. The taxes done part. Not the missing skiing part.
Mt. Hood Snow Forecast – 5000′

4a-8a
8a-12p
12p-4p
4p-8p
8p-4a
Tuesday
Wednesday
Thursday
Mt. Hood Snow Forecast
We ended up with 15" of snow out of yesterday's system. Hooray! And we are now at 73% of snowpack for the Mt. Hood basin and 99% of ytd precipitation.
Today looks like a clear start on Mt. Hood with high clouds moving in later. The freezing level will be 1500′ early, 3000′ this afternoon and 4000′ overnight, although the strong March sun may warm temps above what the models predict. No precip today. Wind will be NW 30 early becoming N 15-20 this afternoon and light and variable overnight.
Wednesday starts off with a multi-layered cloud combo, for a beautiful Mt. Hood sunrise, most likely. We'll see more clouds move in during the afternoon with flurries after 2pm. The snow level will be 4000′ early, dropping to 2000′ in the evening. We'll see .1-.3" water value out of this system by Thursday morning for 1-3" of new snow. Wind will be WSW 20 in the early morning, 30 mid-morning, and W 40 after 2pm.
Thursday brings orographic snow flurries for much of the day, becoming clear overnight. The snow level will be 1000′ early, rising to 2000′ in the evening. We'll see .1-.3" water value during the day, for 1-3" of new snow. Wind will be WNW 30 early, 20 mid-morning, becoming NW 20-30 in the evening and going to northerly overnight.
Friday looks clear with the freezing level around 2000′ and light NE wind. At this point, the weekend looks sunny.
Gorge Wind
Yesterday looked like a pretty awesome day for windsurfing and kiting at Arlington. I spent the day doing my taxes. (That's my excuse for not freezing my butt off). Today starts off with a west .04 gradient and westerlies in the low double-digits. The wind will slowly fade to nothing today.
Wednesday starts off light, but a midday cold front combines with North Pacific high pressure for 30+ east of Lyle (?) in the afternoon. I'd say The Wall (273,000cfs – too much? Not too much?) and Arlington are your best bets, but the Lyle stretch of river might be okay too. Drive pre-emptively for the most water time. It should be ripping windy by 2pm.
Thursday brings west wind at 15-18 east of Mosier, maybe more, as models tend to underestimate this setup. Friday and Saturday bring east wind. River water temp is 43 degrees.
Thursday and Friday both look good at the central and south coast with 20-25 at the central coast and 30+ at Pistol with an 8′ swell.
Gorge Weather
The rainbows were lovely yesterday, weren't they? Rainbows are unlikely today, as we're not really going to see any precipitation. Expect partly cloudy sky this morning with increasing high clouds this afternoon and decreasing west wind through the day. Temps will be in the low 40's early and upper 40's in the afternoon.
Wednesday looks like a partly cloudy start with increasing clouds in the afternoon and a few light sprinkles possible late in the day. That will give us a slight chance of rainbows, although I suspect there will be too many clouds to the west for afternoon rainbows. Wind will be light west in the morning and strong west in the afternoon. Temps will be in the mid-30's early and low 50's in the afternoon.
Thursday looks partly cloudy with a few sprinkles (and hence rainbows) possible during the day along with moderate west wind. Temps will be in the mid 30's early and upper 40's in the afternoon. Friday looks clear and sunny with light wind. There's a good chance of frost Friday night.
River Levels
The Hood is at 6.25′, the Klickitat is at 3360cfs, and the White Salmon is somewhere in the mid to upper 4's.
Road and Mountain Biking
I have no report on the condition of Whoopdee, so maybe I'll have to check it out this morning. I'd imagine it's pretty good. Post probably has some muddy areas after yesterday's rain. And Syncline, of course, will be perfect after yesterday's wind.
I was informed by Kris yesterday that State Road in Mosier has been swept of gravel, leaving fine-grit red dirt along the edge of the road. I would assume that means Sevenmile has been swept too. Does anyone know if Rowena Curves were swept yesterday? For you road bikers, remember that the Gorge Roubaix bike race is coming up next weekend.
The Clymb: free membership. Cheap gear. Temira approves. Click to join.
Events – email me if I've missed any outdoor-related events
Today is Tuesday, which means I'm 1) driving to Vancouver to talk to my therapist and 2) picking up Terrydactyle at the airport this afternoon. You can do as you like on Tuesday, but remember that you have the option of $12 prime rib at Cebu this evening, pickup rugby at Collins Field at 5:30, and the movie Food, Inc., at Columbia Center for the Arts at 6pm.
Have an awesome day today!
Temira