Please support this forecast by clicking on the photo of the forecaster!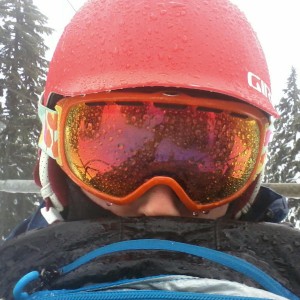 Your forecaster. Click on her to donate. Thank you!
Thank you for using this forecast. Please tell your friends about it! And if you or your friends think this service is awesome/useful/saves you gas money/makes your life more fun, make a donation by clicking on my photo above. Is more fun worth $50/year? $20/year? Donate what it's worth to you (and thank you!), but $12 minimum gets you on the email list (with occasional giveaways) for a year. Thank you for your support, and have fun today!
Random Morning Thoughts
Crystal Mountain was running on generator power yesterday morning after a power outage. Then a tree fell across the lines from the generator to the resort. No more power. They've had 65" of snow in this storm cycle, and it's all waiting for you, if you can get there. My god. It gives me the chills thinking about it.
Mt. Hood Snow Forecast – 5000′

4a-8a
8a-12p
12p-4p
4p-8p
8p-4a
Tuesday
Wednesday
Thursday
Mt. Hood Snow Forecast
Yesterday was nothing short of epic on Mt. Hood. Today is a tougher call. The early morning will be great – I can say that, at least. We'll see the snow level at 3500′ early, rising to 5000′ around 10am and 6000′ around 1pm. The snow level will drop to 5500′ at 4pm and 2000′ around 7pm. We'll see light flurries and maybe some sunbreaks early, before heavier snowfall starts around 10am, increasing dramatically by 1pm. We'll see .4-.6" water value between 10am and 4pm. That's probably going to fall as a mix, or maybe as just very, very wet snow. Call it 2-3" of new, with maybe some sleet or rain mixed in. After 4pm we'll see another 1-1.5" WV for 8-13" of new snow by Wednesday morning. Oh happy night ski tonight at Skibowl. Wind today will be SW 30-40 early, rising to SW 55-60 in the afternoon and swinging to W 45 overnight.
Wednesday starts off with more snow falling from the sky. The snow level will be 1000′ or less all day, rising to 3000′ after midnight. We'll see .5-.7" WV between 4am and 4pm, for 6-9" of fluffy powder. There will be a break in the storm late afternoon, and then heavy precip returns overnight. This depends a lot on the storm track. We could see anything from .3-1.5" water value Wednesday night, for a little new or a lot of new. The way things are going, I'm leaning towards 8-10" of new by Thursday morning. Wind on Wednesday will be W 40 early becoming WNW 40 for the rest of the day.
Thursday starts with fresh powder on the ground and is followed by lots more powder falling during the day. The snow level will be 3000′ early, rising briefly to 4500′ mid-morning before dropping to 3000′ by noon and 1500′ in the afternoon. We'll see 1-1.5" WV during the day, for another foot or more of snow. Snowfall tapers off after 4pm Thursday, for no more accumulating. Wind will be nuking Thursday: WNW 55 early, W 50 midday and WNW 40 in the afternoon.
Friday looks cold and partly cloudy with the freezing level under 1000′. What a day that will be!
As of right now, Saturday looks cold and sunny. Sunday looks partly cloudy and warmer, with temps possibly rising to the low 30's on Mt. Hood.
Gorge Weather
It's 40 degrees in Hood River this morning with the moon shining on my wet parking lot. Let's call it thin high overcast, meaning we're going to see a pretty sunrise and some sunshine this morning. Clouds will increase, and rain will pick up after 10am, becoming heavy after 2pm. West wind will pick up after 2pm also. The temp will rise to near 50 degrees.
Tomorrow starts off with rain showers and rainbows and the temp in the upper 30's. Showers will decrease in the afternoon and the temp will rise to the low 40's. West wind picks up during the day. Thursday looks rainy all morning, becoming showery in the afternoon. Rainbows are possible. Temps will be in the low 40's early and mid 40's late.
Gorge Wind Forecast
We have a front moving through today that will bump the west wind to 24-28 late this afternoon. Until then, expect light wind. Tomorrow starts with west 15-18, picking up to gusty 25-29 in the afternoon east of Lyle with gusty 13-15 near Hood River. As an upper low moves across the BC border on Thursday, high pressure builds off the coast. That'll cause steadier west wind at 30+ east of The Dalles for much of the day.
Road and Mountain Biking
Your spin instructor will be happy to see you today, I'm sure.
Boating
The Hood's at 7.24′ this morning. The Klickitat's at 3470 cfs. The White Salmon is at 4.75′ and the Wind River is at 9.75′. Thanks to Wet Planet Whitewater for those last two.
The Clymb: free membership. Cheap gear. Temira approves. Click to join.
Events – email me if I've missed any outdoor-related events
Tonight is pickup rugby at 5:30pm at Collins Field, Kayak Polo at 8pm at the Hood River Pool, a HRATS meeting at the fire station at 5:30pm, and $12 prime rib at Cebu. Tonightt is also the night when Terry returns from Bali.
Have an awesome day today!
Temira