Random Morning Thoughts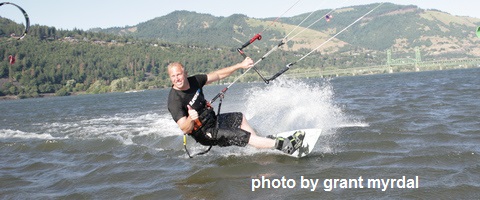 It's Thursday, August 28th, 2014, and that means that the Seattle Seahawks are playing Oakland at 7pm. There really is a point to this, other than me spouting my 12th Man pride. I read an article a while back, or maybe it was part of a book, talking about people's emotional links to sports teams. Turns out that our brains attach to our sports teams like our brains attach to our family, our friends, and our pets. Boiled down to its essential components, fan loyalty is no different than the bond between a baby and its mom. And that's what makes it so hard to switch allegiances. Go 'Hawks!

Thank you for using this forecast!
Please donate to support it!
Thank you to everyone for using this forecast. Does it save you time, gas money, or help you find more wind, powder, or just plain fun stuff to do? Please consider making a donation to keep it going! Use it here for free or make a donation and get on the mailing list for wind for the summer and Mt. Hood snow in the winter. It's not $99/year. Not $50/year. No, just $12.34 or more gets you on the list for 12 months. Do it via PayPal/CC by clicking on my happy photo below. Don't PayPal? You can send a check to Temira @ PO Box 841 in Hood River. Thank you for your support, and thank you for trusting my forecast. You guys mean the world to me.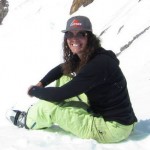 ---
Gorge Wind
This morning's gradients are looking pretty good, and should give us some wind today, although a passing weather disturbance will probably degrade the quality. Expect 17-21 from Swell to Mosier pretty quickly this morning, picking up to 21-24 by midday and 24-28 this afternoon. The wind is going to fill in all the way from Stevenson to Rufus by early afternoon and probably fill in at Arlington late in the afternoon. The one catch today is this shortwave moving through: generally what we see in these situations is lighter, gustier wind from Swell to Hood River with stronger wind at Stevenson, Doug's, Avery, Celilo, Rufus, and Arlington. So, don't be surprised if your Swell/Sandbar session poops out early.
Tomorrow sees a more powerful weather system move into BC, quite possibly dragging clouds into Hood River. Expect westerlies at 10-13 through the whole Gorge, all the way to Arlington, in the morning, picking up to gusty 26-30 in the afternoon, probably strongest east of Hood River.
Saturday's models currently show 8-13 early and 22-25 in the afternoon. Sunday looks light early with 15-18 later in the day, but given the dynamic nature of this weekend's weather, those models are going to have very little validity this far out.
Out on the coast, you'll find the following (north/central/south): light/15-20/20-25, SW 3@13. Tomorrow: light/light/20-25, NW 3@9. Saturday: light/light/20-25, NW 4@12.

Today's Gorge Wind – these are ranges for the average speed, not a predicted wind range. =)

Your favorite beach
Dawn
Patrol
9am-
11:30a
11:30a-
3pm
3pm-
dusk
Rooster's Rocks
tan
those
pale
parts
today!
Steven's Locks
light
10-13
15-18
22-25
Hatchery/White Salmon Sandbar (minus a few for Hood River)
13-16
21-24
gusty
24-28
maybe
21-24
Doug's, Lyle, Rowena
14-18
18-23
24-28
24-28
Rufus, etc.
14-18
18-23
24-28
24-28
Roosevelt, etc.
10-13
10-13
15-18
18-23
Temira's sail: 35-40: 2.9 / 30-35: 3.2 / 26-30: 3.5
23-26: 4.0 / 20-23: 4.5 less than 20: something bigger!
Tonia's kite: 35-40: 4m / 30-35: 4-6m / 26-30: 5-7m
23-26: 7-9m / 20-23: 8-10 / 15-20: 10-12 / 10-15: 13-15.
Advertising Worth Reading
Stoked Roasters on the Hood River Waterfront

THE MOMENT OF STOKE. For every adventurous soul, the magic moment varies. For us, that moment begins the second we drop our freshly roasted beans into the cooling tray… the stoke is born, ready to brew. Come taste the stoke right in our tasting room here in Hood River, OR at the waterfront. Don't live here? no problem! Check us out at stokedraosters.com and order today!
Gorge Weather
It's yet another lovely morning in the Gorge, with just a few clouds in the sky to catch the colors of the sunrise. Expect temps in the mid 60's this morning and mid 80's this afternoon with increasing high clouds from a weak weather system.
A stronger weather system moves in tomorrow afternoon, giving us more clouds and a 1% chance of rainbows. Expect temps in the upper 50's early and low 80's in the afternoon. Saturday looks partly cloudy and cooler, with a chance of showers and a 7% chance of rainbows. Temps will be in the mid 50's early and mid 70's in the afternoon.

White Sprinter Van of the Day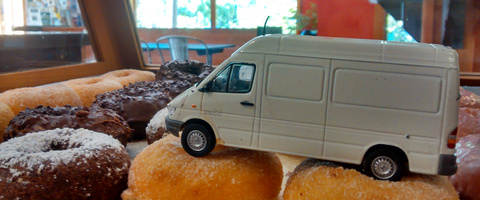 Road and Mountain Biking
The chance of rain this weekend probably is chancy enough that we aren't going to see any tacky dirt, which means you still get to practice your dust-shredding. Just a remind not to lock up your brakes: you lock up your brakes and you leave skid bumps in the trails. Yuck.
On a bright, but sad note, it seems like Ellen's death is rallying support across Oregon's cycling community to complete the Historic Columbia River Highway Trail between Wyeth and Hood River. Given the number of cycle tourists who are foreced to ride that section of I-84, it's miraculous nobody's died before. Hopefully it won't take another death to complete the road and keep cyclists off I-84 forever.


The Clymb: free membership. Cheap gear.
Temira approves. Click to join.
River Levels / Cheezburger update
The John Day Dam is reading 108-131kcfs. The Dalles Dam is putting out 121kcfs. The White Salmon is at 1.8′. If you plan on running the White Salmon yourself, remember that there is a riverwide log about 150 yards below Cave Wave. The Columbia River is 72 degrees. I don't have any Cheezburger news today.

Events – email me if I've missed any outdoor-related events
Tonight's events include the weekly Post n' Pint mountain bike ride leaving Dirty Fingers at 5:30. There's a wonen's road bike ride at The Dalles City Cyclery at 5:30, and there's Community Yoga at Yoga Samadhi in White Salmon at 6:30. At 7pm, the Seahawks play the Oakland Raiders. Best place to watch the game is River City.
Tomorrow is outdoor movie night: Jurassic Park plays at Sunshine Mill in The Dalles, Hugo shows at Movies in the Park in Cascade Locks.
Coming up this weekend, it's Barlow Trail Dayz in Wamic, and that should be a fun place to take the kids. Not so fun for the kids, but maybe fun for a few of you, it's the Bunker to Bonneville 50k trail ultramarathon on Saturday.
Then on Saturday night, it's the annual Windance Customer Appreciation party and BBQ from 6-9. On Sunday morning there's a swap meet at the Luhr Jensen parking lot, followed by a Hot Dog BBQ fundraiser for Columbia Gorge Windsurfing Association. Ellen Dittebrandt's memorial service is Sunday at 6pm at the Mosier School.
Have an awesome day today!
Temira