Random Morning Thoughts
It's funny how we all have blind spots. I was talking to my therapist yesterday about situations where I feel powerless, and she started talking to me about ways I could create power in those situations. And I just looked at her and started laughing, because I'd had the identical conversation with a mediation client recently, where I was the professional, not the client. This person said how powerless he/she felt, and I started talking to him/her about how he/she could create power and choice in this situation.
This raised a couple points for me: sometimes we don't see how we have power, especially when we're feeling powerless. When we're feeling helpless and powerless, we need a different perspective. Maybe we can view the situation from the other party's perspective. If we put ourselves in their shoes, we might see where their fears of our power lie, and that can help us identify our options. Or we might need to ask a friend to point out how we can create power for ourselves, because sometimes we need an outside perspective.
The second point is that we all have blind spots. Really, really blind spots. Areas of our lives where we just can't see a wider perspective. And it's hard to know when we're stuck in one of those spots, because we tend to get freaked out when we're there. I find that if I can notice myself stuck in either/or – black/white thinking, it's a pretty good sign that I'm in a blind spot. So, next time you find yourself freaked out, take a look and see if you're thinking in yes/no or black/white terms. Maybe there are some maybes or grays you're missing.

Thank you for using this forecast!
Please donate to support it!
Thank you to everyone for using this forecast. Does it save you time, gas money, or help you find more wind, powder, or just plain fun stuff to do? Please consider making a donation to keep it going! Use it here for free or make a donation and get on the mailing list for wind for the summer and Mt. Hood snow in the winter. It's not $99/year. Not $50/year. No, just $12.34 or more gets you on the list for 12 months. Do it via PayPal/CC by clicking on my happy photo below. Don't PayPal? You can send a check to Temira @ PO Box 841 in Hood River. Thank you for your support, and thank you for trusting my forecast. You guys mean the world to me.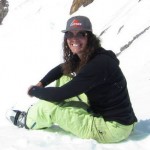 ---
Mt. Hood Snow Forecast – 5000′

4a-8a
8a-12p
12p-4p
4p-8p
8p-4a
Today
Tomorrow
The next day
Mt. Hood Snow
It's always good to start off the season with well-saturated ground, right? Expect a mostly cloudy start to the day today, followed by rain showers midday and partly cloudy sky again in the evening. The snow level today will be 10,000 in the morning and 7000′ in the evening after the weather system moves through. We'll see .2-.3" rain. Wind today will be SW 30-4 early and WSW 40-50 in the afternoon.
Tomorrow looks clear and sunny. The free air freezing level (FAF) will be 4500′ early and 12,000′ in the afternoon, so expect an icy drive to work. Wind tomorrow will be NW 15-20 early and light and variable (LTV) in the afternoon.
Expect another sunny day on Saturday with the FAF around 12,000′ all day. Wind will be W 15-20 all day. Sunday starts off sunny and becomes cloudy, with rain likely after noon. The snow level Sunday will be around 10,000. No snow or cold temps in the extended model runs. Sorry, skiers.
Gorge Wind
There's a pretty good chance you can get on the water today if you can manage your schedule properly. A cold front moving through teams up with building offshore high pressure for the best setup we can hope for this time of year. We started with an E .06 gradient, but as a cold front moves in mid-morning, we'll see the wind switch to westerly. It's hard to say what'll happen near Hood River – probably a short blast of 23-26, fading quickly as the rain hits and then becoming 15-18 after the front moves through. Further east, probably from Lyle eastward, we'll see more sustained wind of 26-30, likely starting around noon or a bit later. Models even suggest we could see some 30-35 from Rowena east to Arlington between 1 and dark. You will want to drive pre-emptively for this one.
Tomorrow starts with leftover westerlies at 10-13 or less, followed by light and variable wind midday and E 10-15 in the afternoon. Saturday looks light and variable. We may see some westerlies at 15-18 on Sunday.
Gorge Weather
I woke up late this morning, too late for the rainbows and too late for the sunrise. But it's still a lovely partly cloudy morning. Expect some rain to start around 10am, followed by partly cloudy conditions again this afternoon. Temps will be around 50 this morning and near 60 this afternoon. We have a 99% chance of rainbows today.
Tomorrow sees much different weather: high pressure. That means we'll likely have the inversion cloud in the morning and sunshine in the afternoon. However, light leftover west gradients in the morning may spare us the worst of the inversion – we may just see partly cloudy sky. Anyway, temps tomorrow will be in the mid 40's early and the mid 50's in the afternoon. No rainbows.
Saturday also looks like a high pressure sort of day. Expect some inversion clouds in the morning followed by sunshine in the afternoon. Temps will be around 40 in the morning and in the upper 50's in the afternoon. We may see a few rain showers on Sunday.
White Sprinter Van of the Day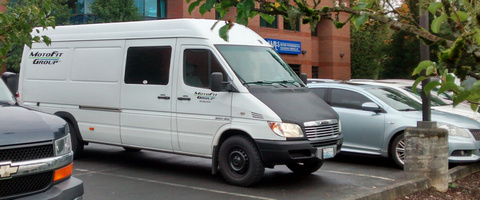 Road and Mountain Biking
The dirt was insanely good at Syncline yesterday, and I bet Post and Whoopdee are good too. If you want to ride, do it this morning before the next round of rain hits Hood River. If you want to road ride today, do it early because it's going to get quite windy this afternoon. Friday and Saturday look awesome for road biking: light wind, temps in the mid to upper 50's and sunshine in the afternoon. Betcha the dirt will be good all weekend too. As a matter of fact, I'm requiring all of you to ride bikes this weekend.


The Clymb: free membership. Cheap gear.
Temira approves. Click to join.
Events – email me if I've missed any outdoor-related events
It's Thursday, and that means there's pickup touch rugby at 3:30 at Henkle Middle School. There's Community Yoga (free or by donation) at 6:30pm at Yoga Samadhi in White Salmon.
Tonight at Double mountain, there's a fundraising party in support of Cascadia Wildlands, working to give rural communities a voice when public lands are used for development and other projects. They've got some great music and raffle prizes, so swing by and check it out. Friday is the annual Fashion Show, benefiting the Hood River Christmas Project. The Gorge Gear Swap is this weekend at HRVHS (drop off gear on Friday, shop on Saturday). The Mt. Hood Independent Film Festival is Friday through Sunday, with local filmmaker Manny Marquez' film Psychopath on the list Sunday. Mt. Hood Meadows employee orientation is thisweekend, and so is the Oregon Mediation Association annual conference.
On Sunday, the Columbia Gorge Tri Club folks are riding the Petersburg Loop at 10am.
In interesting events not related to sports this weekend, there's a Death Cafe in Hood River on Saturday at 2pm at the Library. I'm pretty excited. I've always wanted to go to a death cafe.
Have an awesome day today!
Temira