Random Morning Thoughts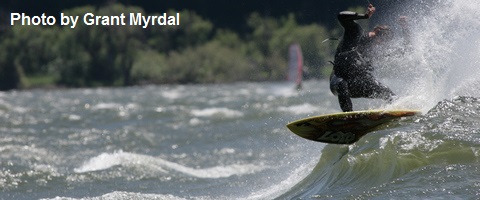 The random thoughts have been rather serious for a long while, so I thought it was time to touch on a lighter subject: poop. A really good friend of mine just had her large intestine removed, and so she's stuck with a colostomy bag for the next 6 months to a year. We had a lovely time yesterday sitting on the curb and waving to traffic on 13th street – she's not really up for doing much, and that was the nearest entertainment to her house. I have to say that I'm really impressed how friendly drivers are (more friendly than cyclists on the Twin Tunnels trail, strangely) when you wave to them, yell "hello", or smile and give them the peace sign.
Anyway, back to poop. My friend and I are both Seahawks fans, and she somehow ended up with 3 yards of Seahawks fabric. She gave me the fabric yesterday, and I looked at her with an evil grin and said, "I'm going to make you a 12th Man colostomy bag cover." She laughed so hard she had to go medicate herself. Now, I do sew, but it's a somewhat complicated project, so I hit up The Google this morning, and you know what? I found a pattern for a colostomy pouch cover.
That's all. I hope you have a nice poop today. Enjoy doing it, because some people don't have the luxury of a morning poop any more.

Thank you for using this forecast! Please donate to support it!
Thank you to everyone for using this forecast. Does it save you time, gas money, or help you find more wind, powder, or just plain fun stuff to do? Please consider making a donation to keep it going! Use it here for free or make a donation and get on the mailing list for wind for the summer and Mt. Hood snow in the winter. It's not $99/year. Not $50/year. No, just $12.34 or more gets you on the list for 12 months. Do it via PayPal/CC by clicking on my happy photo below. Don't PayPal? You can send a check to Temira @ PO Box 841 in Hood River. Thank you for your support, and thank you for trusting my forecast. You guys mean the world to me.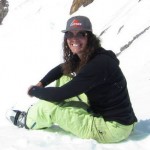 ---
Gorge Wind
We're still under the influence of a pesky upper level low (ULL), and that's going to make the wind a bit difficult to predict. That said, we started our Thursday with gradients of .05 (pdx-dls) and .02 (dls-psc) and westerlies at 15-18 or less from Swell eastward. We'll see up-and-down 15-18 this morning, before the ULL's approach knocks down wind speeds and cross-Cascade gradients midday. As the ULL moves east of the Gorge this afternoon, we'll see gradients increase again, giving us gusty westerlies at 21-24 from Swell to Rufus.
Tomorrow starts with 15-18, probably from Mosier to Doug's, as Hood River will likely be cloudy. The wind will pick up to 21-24 in the afternoon from Mosier to Roosevelt. Saturday starts off light and picks up to 17-21 in the afternoon and Sunday currently looks like 15-18. Next chance for big wind looks like next Tuesday or Wednesday as high pressure rebuilds off the coast, giving us a Classic Gorge Setup (but you know how those long-range forecasts are – total garbage!)
Out on the coast, you can expect light wind for the next couple of days. Surf will be W 4′ at 9 seconds today, W 5′ at 13 seconds tomorrow, and W 4′ at 12 seconds on Saturday with a chance of some useable northerly wind on the central coast.

Today's Gorge Wind – these are ranges for the average speed, not a predicted wind range. =)

Your favorite beach
Dawn
Patrol
9am-
11:30a
11:30a-
3pm
3pm-
dusk
Rooster's Rocks
raindrops
keep
falling
on your
bare
butt
Steven's Locks
light
8-11
15-18
???
Hatchery/White Salmon Sandbar (minus a few for Hood River)
13-16
17-21
gusty
21-24+
more ???
Doug's, etc.
8-11
13-16
gusty
21-24+
more ???
Rufus, etc.
light
5-8
15-18
more ???
Roosevelt, etc.
light
8-11
12-15
lightning
Temira's sail: 35-40: 2.9 / 30-35: 3.2 / 26-30: 3.5
23-26: 4.0 / 20-23: 4.5 less than 20: something bigger!
Tonia's kite: 35-40: 4m / 30-35: 4-6m / 26-30: 5-7m
23-26: 7-9m / 20-23: 8-10 / 15-20: 10-12 / 10-15: 13-15.
Advertising Worth Reading
Camp 1805 Distillery on the Hood River Waterfront

Here's a sad story: In 1805, Lewis and Clark were camping in Gorge. Unfortunately they'd run out of whiskey upriver, and hadn't had a drop in months. Well, that won't happen again. The Gorge has a distillery now: Camp 1805, on the waterfront. Camp 1805 makes Whiskey, Rum and Vodka on site in a handmade copper still. Enjoy handcrafted cocktails in a laid back setting (no minors please) and watch the whiskey and rum flow from the still. Bottle sales on site too. Food coming soon. Let no flask go unfilled, let no life go timidly by. Camp 1805.
Gorge Weather
It's a partly cloudy morning in the Gorge, and I'm feeling sad about the weather. I haven't seen a rainbow in weeks, and I was sure I'd see one this week. I really need a bit of a pick-me-up, so come on, rainbows! Maybe today? As an upper level low (ULL) moves east, we'll see increasing clouds and a chance of thunderstorms. Temps will be in the low 60's early and upper 70's this afternoon. Tomorrow sees decreasing clouds as the ULL moves east. Temps will be in the low 60's early and low 80's in the afternoon. Saturday looks sunny with temps in the low 60's early and low 80's in the afternoon.

White Sprinter Van(s) of the Day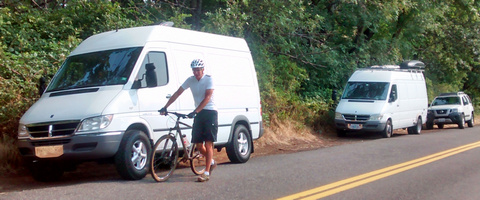 Road and Mountain Biking
I rode in Post Canyon yesterday, and it was mixed dry/perfect down low and 100% tacky up high. I don't know how much it dried out during the day yesterday, but it's probably still worth riding today. BROWN POW!!! (sorry, I got a little excited there) Nobody got back to me with a 44 Road trails report, but I bet there was a lot of rain up there. I bet it's good. Remember, Saturday is the Kleeway work party, meeting at 8:30am at Family Man. Wear long pants and gloves, and bring water and snacks.


The Clymb: free membership. Cheap gear.
Temira approves. Click to join.
River Levels / Cheezburger update
The John Day Dam is reading 110kcfs. The Dalles Dam is putting out 96kcfs. The White Salmon is around 2.2′. If you plan on running the White Salmon yourself, remember that there is a riverwide log about 150 yards below Cave Wave. The Columbia River is 72 degrees.
Events – email me if I've missed any outdoor-related events
If you need something to do tonight, there's the Post n' Pint mountain bike ride at Dirty Fingers at 5:30. Do the ride in the company of a bunch of lovely (and fast and sweaty) men, and you earn a free pint of beer. There's a slower-paced women's road bike ride at The Dalles City Cyclery at 5:30, there's community yoga (free or by donation) at Yoga Samadhi in White Salmon, and there's pickup touch rugby at Henkle Middle School at 3:30.
Tomorrow night is Movies in the Park at Cascade Locks, showing The Lego Movie, and Saturday night is Movies in the Park Hood River, showing Wall-E.
There's an uphill running race at Meadows on Saturday morning, the Bridge of the Gods Kitefest Blowout (for windsurfers and kiters) has been rescheduled for Saturday, and the King of the Hook is Saturday evening at 5pm at, duh, The Hook.
Finally, Hood River County has a work party on the Kleeway, the new Seven Streams downhill trail, on Saturday morning at 8:30, with support from the Hood River Area Trail Stewards, Pfriem Brewery, and 10 Speed Coffee. This is a monster project, so if you are a runner, hiker, equestrian, or just a person who uses Seven Streams trail, please come help us on Saturday! Please RSVP here for the work party.
Have an awesome day today!
Temira