Random Morning Thoughts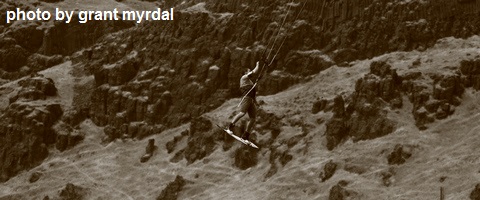 It was a dark and smoky morning in the Gorge, and the ripples on the river reflected the dullness of the sky. Salmon from the biggest run since 1938 swarmed and circled under boats at the mouth of the White Salmon, free from Condit Dam's confinement. Bald Eagles floated in the still air, watching for fish foolish enough to approach the surface of the Columbia. And somewhere in the Gorge, the elusive Snowy Owl, tired from a night of hunting mice, moles and rats, took refuge in nest high in a tree infested with pine beetles.

Thank you for using this forecast!
Please donate to support it!
Thank you to everyone for using this forecast. Does it save you time, gas money, or help you find more wind, powder, or just plain fun stuff to do? Please consider making a donation to keep it going! Use it here for free or make a donation and get on the mailing list for wind for the summer and Mt. Hood snow in the winter. It's not $99/year. Not $50/year. No, just $12.34 or more gets you on the list for 12 months. Do it via PayPal/CC by clicking on my happy photo below. Don't PayPal? You can send a check to Temira @ PO Box 841 in Hood River. Thank you for your support, and thank you for trusting my forecast. You guys mean the world to me.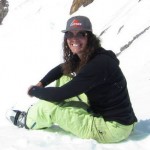 ---
Gorge Wind
It's not an ideal setup for Gorge wind today, with upper level lows parading around off the coast and a weak weather system swinging through to the north in the afternoon. That said, we have gradients of .07 (pdx-dls) and .04 (dls-psc) at 7am, and that's enough to give us westerlies at 15-18 at Swell and probably Mosier this morning with 11-14 east of Mosier. After noon, the wind will pick up to gusty 22-25 from Stevenson to The Dalles, likely dropping to 18-22 from Swell to Hood River as the weather system does whatever it is that weather systems do to Corridor wind.
Tomorrow looks like 10-13 all day, but we might get lucky with 13-16, just like we got lucky with 23-26 at Swell last night at sunset. Anyway, strongest wind tomorrow will be at Swell early and from Stevenson to Mosier in the afternoon.
Saturday brings easterlies at 26-30 at Rooster and 23-26 at Steven's Locks and Sunday brings easterlies at 24-28 at Rooster and a little less at Steven's Locks.
Out on the coast, expect light and variable wind today. Waves will be SW 4 @ 17 seconds, which will be big and awesome. Waves today will also be W 4@11. Tomorrow looks awesome at the coast, if you have time to drive a long ways (north/central/south): N 5-10/15-20/25-30, SW 4@12. The wind switches to NE 10-15 everywhere tomorrow with waves at W 7@12.

Today's Gorge Wind – these are ranges for the average speed, not a predicted wind range. =)

Your favorite beach
Dawn
Patrol
9am-
11:30a
11:30a-
3pm
3pm-
dusk
Rooster's Rocks
sand
brown
clouds
grey
Steven's Locks
5-10
12-15
15-18
22-25
Hatchery/White Salmon Sandbar (minus a few for Hood River)
15-18
15-18
22-25
18-22
Doug's, Lyle, Rowena
10-13
15-18
22-25
22-25
Rufus, etc.
10-13
15-18
20-23
20-23
Roosevelt, etc.
5-10
5-10
10-13
10-13
Temira's sail: 35-40: 2.9 / 30-35: 3.2 / 26-30: 3.5
23-26: 4.0 / 20-23: 4.5 less than 20: something bigger!
Tonia's kite: 35-40: 4m / 30-35: 4-6m / 26-30: 5-7m
23-26: 7-9m / 20-23: 8-10 / 15-20: 10-12 / 10-15: 13-15.
Gorge Weather
Today will showcase the ability of the atmosphere to create high clouds along the fringes of an offshore upper low. We may get lucky with clearing skies and a colorful sunset this evening. It will be muggy today – temps are in the mid 60's this morning with relative humidity of 69%. The humidity, being relative, will drop this afternoon as temps rise to the mid 70's, but it will still feel muggy. It's all relative, after all. Tomorrow starts with temps in the upper 50's and ends up with temps in the upper 70's and a few evening high clouds. Saturday morning brings low 50's and Saturday afternoon brings low 80's.

White Sprinter Van of the Day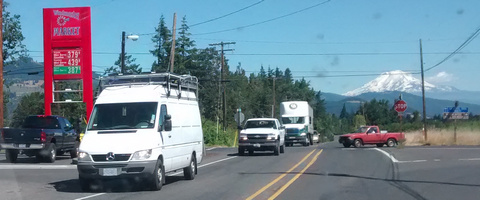 Road and Mountain Biking
The coast received .1" of rain last night, but we didn't get anything. And I forgot to mention that ODF took us back to Industrial Fire Protection Level 3, meaning moto is still closed and so are private lands for all uses. Road biking will be bus this morning, as the wind will pick up in the afternoon.


The Clymb: free membership. Cheap gear.
Temira approves. Click to join.
River Levels / Fish Counts/Cheezburger Update
The John Day Dam is reading 70-92kcfs. The Dalles Dam is putting out 95kcfs. The White Salmon is at 1.75′. There is a nearly river-wide log on the Middle White Salmon just after the cave rapid. There is also a river-wide log about 150 yards below Cave Wave on the Lower White Salmon. I need to call Cheezburger today and see what his plans are for the winter. There were 20,900 Chinook, 6600 Coho and 4100 Steelhead over Bonneville Dam yesterday. Columbia river temp is 67 degrees.

Hood River Adventures – Bike Shuttles, Fishing Trips & More…
Hood River Adventures is a local company owned by Drew Scharns, master guide specializing in fishing tours, mountain bike shuttles, and well as brewery and winery tours. Biologists predict this is going to be the biggest salmon run since 1938. Get some of it: Spend a day with Drew on the Columbia fishing for salmon, steelhead, and sturgeon or try fly fishing on the Klickitat. Feeling active? Head to the trails for shuttle laps with end-of-day car retrieval. Want to taste the local libations? Take a brewery or winery tour with HRA: no more arguments over who's going to be the designated driver – that's Drew's job! Fish counts are way up. Call Drew if you want to go: 541-400-1216

Events – email me if I've missed any outdoor-related events
In a last-minute addition to events, I just found out about a fun slide show at the Hood River Middle School this evening. Join Hood River local Alex Titus and Maggie McDonnell as they share their lessons learned and adventures earned from riding their bikes from Alaska to Hood River. Their journey continues to the very tip of South America after they leave town. Suggested donation of $5 goes to funding bicycle education.
Coming up this evening, there's pickup touch rugby at Henkle Middle School at 5:30, and there's the Post n' Pint mountain bike ride at Dirty Fingers at 5:30. There's a women's road ride at The Dalles City Cyclery at 5:30, and community yoga, free or by donation, at Yoga Samadhi in White Salmon at 6:30.
Off the water this weekend, you can check out the Northwest Homesteading Fair in Lyle on Saturday and the Ride-Row-Run race in Maupin on Saturday. Sunday brings the Gorge Kids Triathlon at Hood River's Waterfront Park and the Grominator Skate contest at Hood River Skate Park. Sunday afternoon is Gorge Owned's sense of place lecture in rafts on the Lower-Lower White Salmon.
Have an awesome day today!
Temira