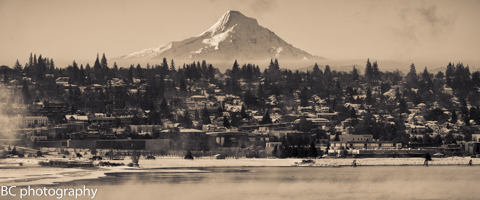 There are two big questions on Mt. Hood today. The first is, "When will the snow switch to rain?" The second is, "Will Skibowl open Upper Bowl tonight?" I suspect a lot more of you are interested in the first question, and we'll get to that in a minute. But first, I just want to say that it's nice to have Skibowl back. I feel sad when we don't have all our resorts operating; now that Skibowl's back, I feel a sense of wholeness. Hi Hans and Erich and the rest of the gang. Welcome back! Continued after the chart.
Mt. Hood Snow Forecast – 5000′

4a-8a
8a-12p
12p-4p
4p-8p
8p-4a
Today
0′–>6500′
Tomorrow
5000′–>1500′
The next day
1000′
Mt. Hood Snow Forecast, continued…

Now, on to really important stuff. When is the snow going to switch to rain? As I was writing this at 6am, it was 26 degrees and dumping on Mt. Hood. When I talked to NWS at 4:30, they told me the snow level was already 8000′ over Salem. I'm guessing that doesn't give us all that much time, so the earlier you're at the resorts today, the better. The sounding model says we have until 10am. The sounding model is your friend. Listen to it.
We'll see the snow level at the surface (in the Gorge) this morning. By 10am, if the sounding model is correct, we'll see temps between 3000′ and 6500′ rise to 33-34 degrees, giving us a snow level at 6500′. And there, my friends, sadly, is where the snow level will stay through 4am tomorrow. We'll see 2" water value (WV) between 7am and 4pm, some of which will fall as snow, and a lot of which will fall as rain. Call it 4" of snow, perhaps, followed by 1.5" of rain. Then we'll see another 1-1.2" rain tonight. Ah well. Get the powder early, in other words. Wind today will be light SW early, picking up to SW 30-40 mid-morning and becoming W 35 in the afternoon and SW 60 overnight.
Tomorrow morning starts with a little snow, then flurries, then sunshine, then clouds in the afternoon and a little snow overnight. The snow level tomorrow will be 5000′ early, falling to 1500′ overnight. We'll see 1-2" of snow in the morning and an additional 1-2" overnight. Wind tomorrow will be WSW 45 early, fading to SW 20 after noon.
---

Donate and keep the forecasts coming
See below for details.
---
Saturday looks partly cloudy for much of the day, maybe with some low clouds and fog on the slopes. Clouds move in late, and snow starts up after midnight. The snow level Saturday will 1000′ or less all day long, possibly falling to the surface in the Gorge after midnight. We'll see .1-.2" WV for 1-3" of snow by Sunday morning. Wind Saturday will be SW 15-20 in the morning and SW 30-40 overnight.
Sunday sees the snow level at 1000-1500′ all day. If the models are correct, we'll see 5-7" during the day Sunday and another 5-7" Sunday night. But that's a long ways out to be predicting. Looking even further out, there's a beast of a system headed our way Monday night into Tuesday. As of right now, models show a snow level of 6500′ with many inches of moisture. A shift in the storm track could change that scenario. Whatever the actual precip type in that particular system, the models show us staying in an active weather pattern for the long run.

Support your forecaster, Temira!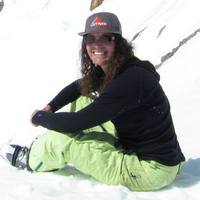 Thank you for using this forecast. Does it save you time, gas money, or help you have more fun in your life? Make a donation! Get your forecast here for free or donate and get on the mailing list for year-round wind forecasts and ski season snow forecasts. Just click on my photo to donate via PayPal or credit card. The email isn't $99/year. Not $50/year. No, just $12.34 or more gets you on the list for 12 months, and sometimes there are cool prizes. Don't PayPal? Send a check to Temira @ PO Box 841 in Hood River. Thank you for your support, and thank you for trusting my forecast.
---
Gorge Wind Forecast
There's a big cross-Cascade gradient this morning of E. 22, and that's why it's snowing. That's also why it's blowing 40-50 at Rooster and 30-40 at Stevenson. Expect easterlies to slowly fade today, ending up at 25-30 this afternoon. By tomorrow morning, we should have W 5-10. Saturday looks like light westerlies in the morning and light and variable conditions in the afternoon. Sunday currently looks like moderate westerlies.

Random Morning Thoughts
One of the delightful things about being a weather forecaster is that it gives me the opportunity to practice making mistakes. There was a time when I felt terrible if I didn't get a wind, snow or weather forecast correct. It's easier now for me to get a forecast wrong and be kind to myself.
After all, "wrong" is a matter of degree, and I'm not just talking about weather. When we make mistakes, we tend to shame ourselves, perhaps even hate ourselves. We may experience frustration, regret and confusion. We see our actions in terms of "right" and "wrong". That's a limiting worldview. With just a few exceptions, our actions have mixed outcomes.
We may have handled a situation poorly, but we may have had good intent. We may have handled parts of a situation well and screwed up other parts of the same situation. Some of our words may have been kind, and some may have been cruel. It's infrequent that we mess up 100% completely; there's generally something positive to salvage out of our experiences.
See if you can notice this the next time you're beating yourself up over a mistake. Sure, you may have some learning to do in one domain, but you may have handled other parts of the situation quite well. Go ahead and give yourself kudos for what you got right. That'll make it easier for you to learn from what didn't go so well. For example, we don't have 8-12" of snow this morning, but we do have a couple inches on the ground. Y'all got prepared for that, right? Something good came of all this doom-and-gloom forecasting. Have an awesome day in the snow, and go make some mistakes!
Disclaimer required by my grad school program: I am not your therapist. I am your weather forecaster. Take everything I say with a grain of salt, and consult with your actual therapist about your mental health issues.

Gorge Weather Forecast
Our massive snowstorm didn't really materialize, did it? I mean, there's some snow on the ground, and more than some the higher up you go, but it's not the 8-12" we were hoping for / dreading. Why not? Well, cold air didn't end up being as cold as expected, and it didn't get here as early as predicted. We'll still see snow for a while today, but it's not cold enough to maintain snowfall all day long. So, expect another inch or two or three or four before a switch to heavy rain at some point this afternoon, continuing tonight. Temps will be right at freezing early and in the mid to upper 30's later. East wind. No rainbows. There are no rainbows when it's snowing.
Tomorrow starts off mostly cloudy with sprinkles, becoming partly cloudy midday (unless the Nothing shows up, but light westerlies should keep that from happening) and mostly cloudy with a chance of sprinkles (or flurries) overnight. Temps will be in the mid 30's early and the low 40's in the afternoon. Light westerlies. 16% chance of rainbows.
Saturday looks partly cloudy or maybe just Nothing. Clouds move in during the evening, and some light rain falls after midnight (snow above 1000′) Temps will be in the mid 30's early and the upper 30's in the afternoon. Light wind. No rainbows.
Things look interesting on Sunday. The sounding model has the Gorge below freezing in the morning and above freezing in the afternoon. With at least a few tenths of an inch of moisture headed our way, we could see an inch or two of snow Sunday morning before a switch to rain. Or maybe it'll just be rain. In that case, there's a 79% chance of rainbows.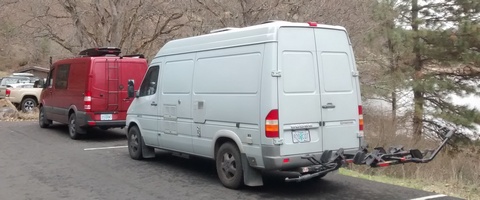 Road and Mountain Biking
I told you to ride yesterday, and I hope you did. Or maybe everyone has a fat bike now, and snow isn't a problem. I will say that the dirt at Syncline yesterday, Moab specifically, was awesome. It's not awesome now. As a matter of fact, it's not even dirt. It's snow!

Upcoming Events
Given that Hood River County School District is closed, and that there's snow on the ground, it's likely lots of events won't happen tonight. However, if I know those Kickstand Coffee Run people, they'll still be doing the jog at 7am tomorrow: 4.1 miles that'll earn you a free cup of coffee and a donut.
Have an awesome day today!
Temira

The Clymb: free membership. Cheap gear.
Temira approves. Click to join.