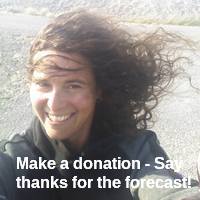 Get the email free through the end of January – try it out! Click here.

Thank you for using this forecast. I offer it freely so you can have more fun and plan your life. It does take significant time and energy to produce. If you find yourself using it often, or if you feel your life is enhanced by this information, please make a donation. I count on your support to pay my bills, and am deeply grateful to you for choosing to help support me. You can get this forecast via email by donation. The email subscription isn't $99/year. Not $50/year. Donating $12.34 or more gets you on the list for 12 months. Click on my photo to donate. Don't PayPal? Send a check to Temira @ PO Box 841 in Hood River. Thank you for your support and thank you for trusting my forecast.
Mt. Hood Snow Forecast – 5000′

4a-8a
8a-12p
12p-4p
4p-8p
8p-4a
Thursday
2000′->9000′
Friday
10000′->7000′-10000′
Saturday
8000′-9000′
---
Mt. Hood Snow Forecast

It's Thursday, and it looks like the mountain got a few inches of snow last night. You'll want to take advantage of that this morning, like right now, because the snow will switch to rain mid-afternoon and stay rain (or warmer than freezing) for the extended forecast period. The one positive thing about this is the fact that a couple of days of rain will turn the snow granular, soft, wet, fast and fun, and nobody will be there to ride on it but you!
For Thursday, Mt. Hood sees flurries in the morning and heavy rain overnight. The snow level will be 2000′ early and 10,000′ by Friday morning. A trace of snow falls during the day. The snow switches to rain around 4pm, after which 1.3" rain falls. Wind will be W 15 early, rising to W 45-50 overnight. Depending on overnight temps, this could cause some serious icing issues on lifts…
Friday looks rainy and windy. The snow level will be 10,000′ early 7000′ midday, and 10,000′ in the evening. The mountain will see 1/2-3/4" rain during the day and another 1/4-1/3" rain overnight. It's worth noting that very strong orographic effects could increase the rain amounts significantly. Wind will be W 40 early, W 50 midday, WNW 50 (very problematic for lifts) late afternoon, and NW 40-50 overnight.
Saturday looks rainy. .The snow level will be 8000′ all day. About 1/4" rain falls during the day and 1/2" rain overnight. Again, those amounts could rise due to orographic effects, which will be impressive on Saturday: wind will be NW 40-50 all morning, NW 50-55 in the afternoon, and NW 40 overnight. If the wind ends up on the high end of those ranges, all the high speed quads on Mt. Hood are likely to shut down (and Upper Bowl at Skibowl).
Sunday looks just as rainy and just as warm. The wind will be just a little less: NW 40 with a little back and forth between NW and W. The snow level will drop briefly to 4500′ or so on Monday night, which could result in a couple inches of snow, or could also result in some serious icing problems on lifts. Anyway, the long range forecast looks showery and warm through midweek.

Random Morning Thoughts
We all want to be understood, right? One of the most effective ways to convey experience is to do so by naming our emotions. Why? Because emotions are universal across cultures – everyone feels them.
Unfortunately, our culture is one that doesn't teach or encourage the sharing of emotions. Instead, we learn to talk about the content of a situation: "He did this to me… can you believe it???" Sharing content leaves the door open for misinterpretation of what we need.
I have a couple points to make. First, as a listener, you may find yourself getting angry or frustrated or feeling helpless in the face of such he-said-she-said storytelling. Your emotional response might just be what the storyteller was experiencing at the time. You can ask them: "So, you were feeling angry and frustrated and helpless?" That'll deepen your conversation and let the person know you really understand them (secret: if you're wrong, they'll correct you!)
Second… um, well I forget what other point I was going to make. Perhaps it was something about noticing how you tell stories about your experiences. You're more likely to get what you need (emotionally speaking), if you talk about your emotional experience – it's generally easier for your listener to understand that experience. When you talk content, they have to interpret and filter through their experiences. More steps. More opportunity for confusion. Have fun with that. Have an awesome day.

Disclaimer required by my grad school program: I am not your therapist, but I am seeing clients at this time at Comprehensive Healthcare in White Salmon. In the meantime, I am your weather forecaster. Take everything I say with a grain of salt, and consult with your actual therapist about your mental health issues. One other thing: I plan to keep doing this forecast indefinitely. Forecasting and counseling are both deeply meaningful and nourishing to me.

Gorge Wind Forecast
We have an interesting mid-winter setup on the schedule for later this week. After a couple days of rain, high pressure will build offshore and combine with low pressure in the desert for several days of west wind. It's not a perfect setup, but it's as close as it gets this time of year. Do keep in mind the river temps is 39 degrees. Don't go out alone, and do go out prepared to deal with a breakdown quickly.
For Thursday, we'll have E wind at 10-15 all day near Rooster Rock with light wind elsewhere. Friday starts with 10-13 west of Hood River and east of The Dalles. In the afternoon, the wind will pick up to W 24-28 everywhere, gusty under the clouds, steadier in the sunshine. Head east for the best chance of "good" wind. Saturday looks like gusty W 15-18 between Stevenson and The Dalles. East of The Dalles, the forecast has 25-29. Sunday and Monday, really too far away to predict, both look like west wind at 25ish.

Gorge Weather Forecast
It's cloudy out there. We'll have sprinkles and showers during the day with heavy rain after 5pm. Temps will be in the upper 30's early and mid 40's in the afternoon. Light east wind. 1% chance of rainbows. Friday looks rainy. Temps will be in the low 40's early and mid 50's in the afternoon. Light westerlies early, strong westerlies later. 99.99% chance of rainbows. Saturday looks partly cloudy with occasional sprinkles. Temps will be in the mid 40's eraly and low 50's in the afternoon. Strong west wind. 89% chance of rainbows.
For weather specifically directed at travel through the Gorge, please visit Temira's Awesome Travel Advisory Service on Facebook.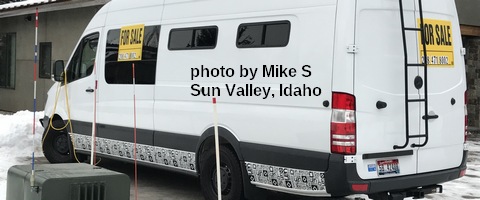 Road and Mountain Biking
The road biking forecast is looking up for the end of the week: warm and mostly dry weather for a long stretch. Yay! Post Canyon is currently closed to all users to protect the trails from damage. Hospital Hill is too wet to ride, and someone with the initials H.S. saw two cougars fighting in a tree along Jewett Creek on Monday. Whoopdee is closed to bikes and horses for the same reason. Syncline remains mobbed. I'm not sure about the upper half of Nestor, but the Horse Camp section is in good shape with one tree down.

Upcoming Events
There's free meditation at Trinity Natural Medicine at 6:15am. There's free yoga at 8am at Flow. That's followed by $5Tai Chi at the Hood River Adult Center at 2:30, community yoga at 6pm at Samadhi in White Salmon, and free Tai Chi at Our Savior Church in Bingen at 6:30. At 7am on Friday, there's the Kickstand Coffee Run, where jogging or walking 4 miles gets you a free cup of coffee and a donut. There's a talk about the Oregon Desert Trail tonight at Pfriem at 6pm.

Click here for the full events calendar.
Have an awesome day today!
Temira