Random Morning Thoughts
I just got a new computer, and to be quite honest, I was dreading it.I wasn't keen on learning a new operating system, I wasn't keen on figuring out how to transfer my files (you know, all those Sprinter Van photos), and I wasn't all that keen on the touchscreen. I solved the W-8 problem by using Pokki. Now I have a desktop and start menu. As for the touchscreen, I'm in love.
For me, this new computer is a good reminder that change can be a lot easier than we build it up to be. We can get caught up in catastrophic thinking about a tiny change like a new OS. But then we actually move into the space of change, our adaptable brains take over, and we move through the difficulty with less-than-expected pain. Sometimes it's big change we're planning, and it can feel overwhelming before it starts. But once we're in it, it's generally easier than we imagined. And moving through that fear gives us more courage for the next round of change. So maybe we need to create all sorts of little change all the time so the big changes don't feel so scary.
Speaking of change, I think I'll go to the gym today, rather than using the Gorge as my gym. 😉

Thank you for using this forecast!
Please donate to support it!
Thank you to everyone for using this forecast. Does it save you time, gas money, or help you find more wind, powder, or just plain fun stuff to do? Please consider making a donation to keep it going! Use it here for free or make a donation and get on the mailing list for wind for the summer and Mt. Hood snow in the winter. It's not $99/year. Not $50/year. No, just $12.34 or more gets you on the list for 12 months. Do it via PayPal/CC by clicking on my happy photo below. Don't PayPal? You can send a check to Temira @ PO Box 841 in Hood River. Thank you for your support, and thank you for trusting my forecast. You guys mean the world to me.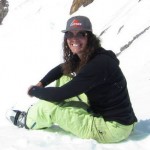 ---
Mt. Hood Snow Forecast – 5000′

4a-8a
8a-12p
12p-4p
4p-8p
8p-4a
Today
Tomorrow
The next day
Mt. Hood Snow
Today looks to be a bit of a mixed bag of weather up on Mt. Hood. Expect some clouds, some sunbreaks, some fog, and a few sprinkles. No accumulation. Expect partly cloudy sky tonight. The snow level will be around 6000′ early, dropping to 5000′ mid-morning. Wind today will be SW 35 early and SW 15 after mid-morning.
Friday starts off with partly cloudy sky up high and a blanket of low/mid clouds, quickly becoming cloudy. Precipitation will start falling around 1pm, with the snow level initially around 6000′, rising to 9500′ by 7pm, holding there until midnight, and then crashing to 3000′. We'll likely see a few inches of snow, call it 1-3", before 4pm, when we'll see a switch to sleet and then rain. A total of 1.5-2.5" water value (WV) will fall between 1pm Friday and 4am Saturday, mostly as rain, but with 2-5" of snow possible between midnight and 4am. Wind will be SW 30 on Friday morning, rising to SW 50 in the afternoon, becoming WNW 40-50 overnight.
Saturday morning will be clear, with some orographic snow flurries possible in the morning. The next weather system moves in late morning or early afternoon, with .9" WV possible overnight. The snow level will be around 3000′ for this system, so we'll see 8-12" of snow at 5000′ with lots of drifting. Wind will be quite strong: WNW 40 in the morning and WNW 45-50 in the afternoon and overnight.
Looks like we'll see more snow (quantity TBD) Sunday night into Monday, followed by 40 degree rain (amount TBD, but no longer looking like 4") Monday into Tuesday.

Gorge Wind
There's still plenty of east wind out there for folks who'd like to experience hypothermia or frostbite. Easterlies continue at 30-35 pretty much all day today at Rooster with less at Steven's Locks. Tomorrow looks like east wind at 26-30 at Rooster for much of the day, fading late in the afternoon. The wind switches to west, scouring out the inversion, early Saturday morning, for a west wind start at 26-30. The westerlies will fade to the teens or less by late Saturday morning or early afternoon.

Gorge Weather
As predicted, the Gorge is my Skating Rink this morning, with a bumpy coating of ice on all surfaces, both elevated and ground-based. Perhaps Hood River should buy a Zamboni to go along with the street sweeper? Creating a forecast for the next 48 hours is really tricky – models just don't handle the "when will the cold air get scoured" question well at all. Forecasting this is more gut instinct than anything else.
We start, once again, with what we knew at 6am: it's 30 degrees in Hood River and 28 in Parkdale, meaning the cold pool is still quite deep. Models suggest we'll get to 37 in Hood River today. I think that's optimistic, but I'll say we'll see above-freezing temps late this afternoon. Expect a cloudy day with a few sprinkles possible and a few sunbreaks possible too. Rainbow chances are 3%.
Tomorrow starts with an inversion clouds with temps around 30 and icy roads. This is where the forecast gets very tricky. Models think we'll get to 39 degrees, but models also suggest we'll still have east wind at 26-30 at Rooster. The east wind will keep pulling cold air into the Hood River Valley. The next weather system hits around 1pm on Friday with .5" rain easily possible here in the Gorge.
I dunno… With the rain starting during the warmest period of the day, we might sneak by with unfrozen rain, but it's also possible temps will drop below freezing overnight, for a big mess in the dark hours. And it's very possible that Parkdale and Odell, where the cold pool lingers, will see all freezing rain, and .5" of freezing rain would be really bad. Either way, go play outside in the morning before the rain starts. That much is certain – the weather in the morning will be better. Rainbow chances are 13%.
We'll finally be above freezing on Saturday morning as west wind scours the cold air out of the the Gorge. Expect temps in the upper 30's in the morning and mid 40's in the afternoon. The morning should be partly cloudy with showers, and the afternoon will be rainy. Rainbow chances are 67%.
Sunday morning looks dry. Sunday afternoon looks wet.

White Sprinter Van of the Day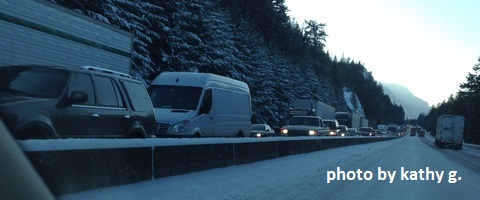 Road and Mountain Biking
I went to Post yesterday for a run. It was quite nice, if a bit snowy. Chainsaw Boy and Ian were both out riding bikes. So apparently it's okay to ride a 26" or 29" bike in the snow. I would recommend we all try it, but now the snow is coated in ice. So I'm going to recommend a nice spin class, or maybe a drive to Portland or Vancouver, where the weather is more civilized. Just don't go to Buffalo, New York, okay, because they have too much snow for even a fat bike. And remember, there's a work party on the Kleeway at 10am on Saturday. Meet at Family Man.


The Clymb: free membership. Cheap gear.
Temira approves. Click to join.
Upcoming Events
It is Thursday. Today and tomorrow you can go shopping at the Kerrits friends and family sale at their warehouse in Bingen. The sale runs from 2-6pm on Thursday and 10am-7pm on Friday. Location is 154 E Bingen Point. There's community yoga tonight at 6:30 at Yoga Samadhi in White Salmon. Tomorrow night, Columbia Center for the Arts hosts the (women's) ski movie, Pretty Faces and the (poor decision maker's) ski movie, A Dozen More Turns.
Have an awesome day today!
Temira