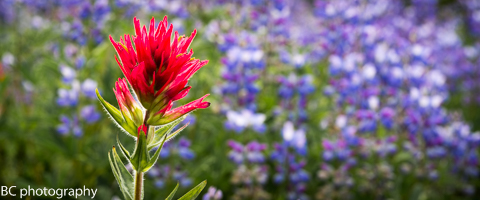 Today looks like a sunny day on Mt. Hood with some passing clouds in the afternoon and a very, very slight chance of a few sprinkles tonight. The free air freezing level (FAF) will be around 12,000′ all day with 5000′ temps maxing out in the mid 40's. Wind will be SW 25 all day. Continued below the chart…
Mt. Hood Snow Forecast – 5000′

4a-8a
8a-12p
12p-4p
4p-8p
8p-4a
Today
12,000'
Tomorrow
12,000—>6500'
The day after
6500'
Tomorrow brings periods of high clouds and times of sunshine, with overcast sky in the afternoon. The FAF will be 12,000′ in the morning and 10,000′ in the afternoon, falling to 6500′ overnight. There's a decent chance of some sprinkles overnight, for .1-.2" water value. Wind tomorrow will be SW 15 all day.
Saturday may start off with a few sprinkles, depending on the timing of the weather system, but the weather will quickly dry and the sky will clear by mid-morning. The FAF will be 6500′ early and 6000′ in the afternoon. Wind will be NW 25 early and light and variable in the afternoon. Expect clear sky Sunday with the FAF at 6000′ and NW wind rising to 35+ in the afternoon. No snow through the middle of next week.

Thank you for using this forecast!
Click on my photo to support it with a donation.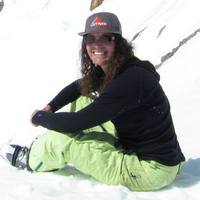 Thank you for using this forecast. Does it save you time, gas money, or help you find more wind, powder, or just plain fun stuff to do? Please make a donation to keep it going! Use it here for free or get on the mailing list for wind for the summer and Mt. Hood snow in the winter. Just click on my photo to donate. The email isn't $99/year. Not $50/year. No, just $12.34 or more gets you on the list for 12 months, and sometimes there are cool prizes. Donate via PayPal/CC by clicking on my happy photo below. Don't PayPal? You can send a check to Temira @ PO Box 841 in Hood River. Thank you for your support, and thank you for trusting my forecast. You guys mean the world to me.
---
Gorge Wind
There's an E .07 gradient this morning, giving us 15-25 or so at Rooster and not much to speak of at Steven's Locks. Expect those easterlies to fade, giving us W 10-15 after 2pm from Steven's Locks to Mosier. Expect a quick shot of E 30-40 tomorrow morning, becoming W 10-13, maybe 13-16, from Steven's Locks to Mosier as high pressure builds offshore. As of right now, Saturday looks like W 13-16 in the morning, switching to LTV or light E by midday.
Out on the coast, it's still looking like a two-day shot of this: (north/central/south). Saturday: 20-25/25-30/30-40, 6′ swell. Sunday: side-off, 20-25/25-30/30-35 (gusty), 6′ swell.

Random Morning Thoughts
When I got home from Vancouver yesterday, I was feeling pretty crappy. I'm fighting off the latest Hood River Superbug, and my little chat with my therapist didn't go all that well. It left me feeling lonely and miserable and a bit on the hopeless side, to tell the truth. That s**t goes away, it's true, but it feels awful in the moment.
When I pulled up to my house, I saw a pretty little bag hanging from my doorknob. Presents!!! I love presents! I'm not so good at recognizing when people care and remembering that they do (long story, of course), but it's pretty easy to recognize that someone gives a s**t when they leave a present at my door. Thanks, Bianca. I needed that!
We're all really busy people. Sometimes it's hard to connect with friends. And when we don't see each other all that often, it can be hard to remember how much we care about each other. I wonder what the world would be like if, when we didn't see our peeps for a few days, we sent a text letting them know we care? Or dropped off a present? Or left a kind and loving and thoughtful voicemail? Betcha that would leave us all feeling more loved and more connected with the people we care about…

Gorge Weather Forecast
When I walked outside this morning, I saw the moon and a few stars. This leads me to believe we're looking at a partly cloudy day that will quickly become sunny with maybe some high clouds in the afternoon. Temps will be in the upper 30's early and the mid 50's later.
Expect some Nothing tomorrow morning with high clouds moving in during the morning. Temps will be in the low 40's early and the mid 50's in the afternoon. We may see just a few sprinkles overnight. Saturday looks partly cloudy early with a few scattered sprinkles possible, becoming clear in the afternoon. Temps will be in the low 40's early and the mid 50's in the afternoon. 8% chance of rainbows Saturday morning.

White Sprinter Van of the Day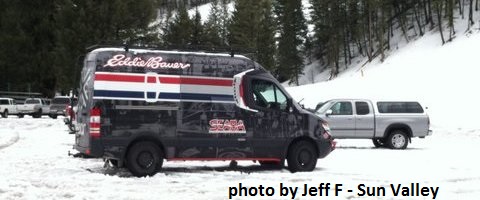 Road and Mountain Biking
I took one lap on Syncline yesterday. The doubletrack is a mess. Really muddy. Probably not so good to be riding it. Maui looked OK. Moab was good. The grass widows are going nuts; there are purple flowers everywhere. It's probably worth taking a lap at Columbia Hills now for wildflowers. I had a report from Post Canyon from yesterday: "it's not too bad". Hmm. Sounds a little muddy still. Maybe tomorrow? As far as the road biking… well, it's going to be awesome today. It should also be awesome tomorrow midday and Saturday afternoon.


The Clymb: free membership. Cheap gear.
Temira approves. Click to join.
Upcoming Events
In theory, there's Community Yoga at Yoga Samadhi tonight, but I really need to double-check that. Most definitely happening tomorrow morning is the 10 Speed Coffee run, where 4.5 miles of jogging with a fun crew of people gets you a free cup of coffee and a doughnut. Saturday is the Kleeway "love your trails" work party – meet at 10am at Family Man with trail tools, wheelbarrows, shovels, and buckets. If you'd like a workout before or after the work party, the Tri Club folks run from the bottom of Post at 8am and the Cold Lap cyclocross ride leaves Dirty Fingers at 3pm. Coming up Friday, the 20th (not Saturday, as I said yesterday), there are two things happening: Helping Hands' annual bacon-themed fundraiser ($20 at Springhouse, and well worth it), and the HRATS Lumberyard bike night in Portland.
Have an awesome day today!
Temira