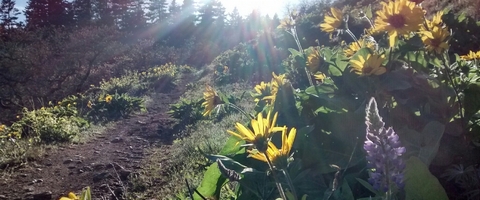 There's no snow in the forecast, at least not until the middle of the week. But the sunbeams will pile up on the slopes, creating the opportunity for goggle tans and t-shirt skiing. It's definitely a weekend to wax warm – if you don't have yellow wax, you'll want to pick some up or your skis will be sticking to the slopes before noon. Continued after the chart…
Mt. Hood Snow Forecast – 5000′

4a-8a
8a-12p
12p-4p
4p-8p
8p-4a
Today
8000'–>10,000'
Tomorrow
10,000'
The day after
8000'–>10,000'
The free air freezing level today will be 8000′ early and 10,000′ in the afternoon with light and variable wind and max 5000′ teps in the upper 40's. Tomorrow sees the freezing level at 10,000 all day with W wind at 10-15 and 5000′ temps maxing out in the upper 40's. Expect another warm day on Saturday with the FAF at 8000′ early and 10,000′ in the afternoon with N wind at 20 and max 5000′ temps in the mid to upper 40's. Sunday will be warm and sunny with the FAF at 10,000′, light and variable wind, and max temps near 50.

Donate and keep the forecast going!
(contribute to Temira's grad school, bike repair and coffee fund)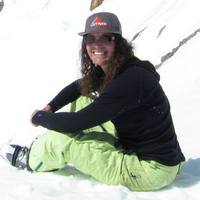 Thank you for using this forecast. Does it save you time, gas money, or help you have more fun in your life? Make a donation! Get your forecast here for free or donate and get on the mailing list for year-round wind forecasts and ski season snow forecasts. Just click on my photo to donate via PayPal or credit card. The email isn't $99/year. Not $50/year. No, just $12.34 or more gets you on the list for 12 months, and sometimes there are cool prizes. Don't PayPal? Send a check to Temira @ PO Box 841 in Hood River. Thank you for your support, and thank you for trusting my forecast.
---
Gorge Wind
We have a light east gradient to start today with light and variable wind on the water. Expect E 15-18 by mid-morning at Rooster and Steven's Locks with light and/or glassy conditions elsewhere. Tomorrow starts off light and variable (LTV) with gusty west wind at 22-25 at Steven's Locks. The Viento to Doug's beaches will also see a short-lived period of 22-25 before dropping to a more moderate (and quite gusty) 18-22 as a passing weather system destabilizes the wind flow.
Saturday brings easterlies at 10-13 at Steven's Locks and Rooster. Sunday looks like E 13-16.
Out on the coast, the epic conditions continue. I am so tempted to load up my car, head to Oceanside, sail for two hours, and then go to school… Anyway, here's the forecast (north/central/south). Today: 20-25/20-25/25-30, W 8@12, increasing. Tomorrow: 20-25/20-25/30-40, W 11@16 (whoa!). Saturday: 20-25/30-40/40+, W 8@13.

Random Morning Thoughts
Someone important to me pushed some major buttons this week. And that got me thinking about emotions and our responsibility for them. Some thinkers say that we are completely responsible for our emotions – that another person can't "make us angry" or "make us sad".
I disagree with that if we are talking about someone who knows us well. "Pushing buttons", I think, happens when we tap into old memories and thought patterns and emotional patterns. Doing that creates more than a "now" emotion. Pushing buttons brings up old emotional patterns too, making the sensations a lot stronger than they would be for a situation without past correlates. When we push buttons, we make someone experience something.
In other words… if you know what buttons to push, and you push them, you are manipulating your conversation partner into feeling old and powerful stuff. That's cruel. Be nice: don't push buttons. If you really, really want to, just say it, and maybe the desire will go away: "Hey, I feel myself wanting to push your buttons right now. Maybe we should take five…"
As for pushing buttons that bring up pleasant emotions (a sense of approval, love, joy, etc…) I'm not sure about the morality of that. Talk amongst yourselves… =)

Gorge Weather Forecast
It's a beautiful blue sky day, and fortunately, it's above freezing this morning. You see, I planted my tomatoes yesterday and put my peppers and basil outside my door to harden them off. I have decided it's summer, and Mother Nature, for the next several days at least, has decided the same. Today will be sunny. Temps will be in the mid 30's early and the upper 60's this afternoon. Light wind. No rainbows.
Tomorrow will be sunny for much of the day with high clouds in the afternoon. Temps will be in the low 40's early and the low 70's in the afternoon. Light wind early, moderate westerlies late. No rainbows. Saturday, Sunday, and Monday will be sunny with temps in the mid 40's early and the mid 70's in the afternoon.

White Sprinter Van of the Day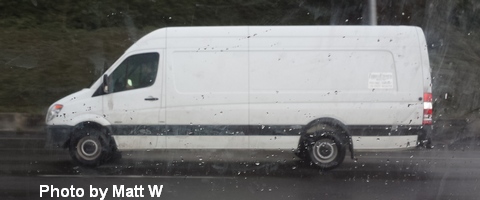 Road and Mountain Biking
I talked to someone who rode Post yesterday, and she said there were a few puddles and slick spots. I rode Whoopdee yesterday, and it was in really good shape. The first section of the climb out is closed due to timber harvest operations, so you'll have to ride the old road part of the way. However, the Balsam Root is in full bloom and the lupine is starting, so you'll have a gorgeous ride. In road biking news, today will be epic, and so will tomorrow morning, and the whole day on Saturday and Sunday.


The Clymb: free membership. Cheap gear.
Temira approves. Click to join.
Upcoming Events
Tonight is the Post n' Pint hammerfest ride at Dirty Fingers at 5:30. There's community yoga at Flow at 8am tomorrow, and another class at Yoga Samadhi at 6:30. There's also a new community yoga class (Vinyasa) on Sunday morning at 9am at the Power Station (aka Big Gym).
Tomorrow is the 10 Speed Coffee run, 7am at 10 Speed. Completing the run earns you a free cup of coffee and a donut. Coming up this weekend, there's an Earth Day weeding party at the Hood River Waterfront Park on Saturday at 9am. Sunday is the Cherry of a Ride in The Dalles, benefiting St. Mary's School.
Next weekend is the Anson's Bike Buddies bike collection drive. This local charity (started by an 8 year old), collects old bikes (and parts, but not helmets), fixes them up, and gives them away to kids who don't have bikes. If you have an old bike sitting in the garage, pull it out and bring it to the Cascade Eye Center parking lot next Saturday and Sunday (the 25th and 26th) between 10am to 2pm.
Have an awesome day today!
Temira