Random Morning Thoughts
So, I heard there's a massive storm coming this way. And am I thinking about that this morning? Well, yes, of course, but I have deeper thoughts on my mind. I've been thinking a lot about trust lately. No, not trust funds, you hopeful people. I don't have one of those for myself, and I don't have one to give you, but if I did, I'd spend all my time volunteering instead of working. Anyway, back to trust. I don't know what it is. I don't know what it feels like. On some level, it's the absence of fear that those around you will screw you. And it's the visceral knowledge that you can expose your soul without having it trampled. And it's being able to predict the behavior of the people around you. And I'm sure it's lots of other things. But that's what I'm trying to figure out this week.
Join me. Take a deep breath. Still your mind. And think about it. Feel it. Do you have trust? What does it mean to you? And why am I babbling on about it? Because it's the foundation of every single interpersonal relationship. Is there trust, or is there not? And it's something that comes both from your perceptions as well as the other person's actions. So, think about it. Be aware of it. Because awareness never hurts. And trust, or lack of it, is a very powerful thing.

Thank you for using this forecast!
Please donate to support it!
Thank you to everyone for using this forecast. Does it save you time, gas money, or help you find more wind, powder, or just plain fun stuff to do? Please consider making a donation to keep it going! Use it here for free or make a donation and get on the mailing list for wind for the summer and Mt. Hood snow in the winter. It's not $99/year. Not $50/year. No, just $12.34 or more gets you on the list for 12 months. Do it via PayPal/CC by clicking on my happy photo below. Don't PayPal? You can send a check to Temira @ PO Box 841 in Hood River. Thank you for your support, and thank you for trusting my forecast. You guys mean the world to me.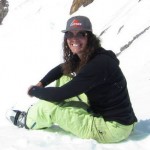 ---
Mt. Hood Snow Forecast – 5000′

4a-8a
8a-12p
12p-4p
4p-8p
8p-4a
Today
Tomorrow
The next day
Mt. Hood Snow
This is still killing me. Lots of uncertainty… Anyway, we can start with what we know: Earlier models suggested we'd see 2-3" of moisture from this system. Now we're down to 1.5" total. Temps and RH are both rising at 5000', indicating there's a warmer air mass coming in. But how warm will it get over Mt. Hood? Aye, there's the rub.
Expect snow this morning, starting before daybreak. Precip will continue through 7pm, when the sky will clear as the precip zone drops back to the south. In that period, we'll see 1.5" water value (WV). My best guess is 8-12" of snow, fluffy at first, becoming denser. Eventually the snow will switch to sleet and/or freezing rain, for .2-.4" WV of that nasty stuff. Wind today will vary by elevation, blowing out of the east down low and west up high, with the west wind filling in at lower and lower elevations (down to 5k?) as the day goes on. Expect easterlies at 20ish mph down low and WNW wind building to 20-25 above 5000'.
Clear sky overnight leaves us with the free air freezing level (FAF) at the surface and 5000' temps in the low 20's on Friday morning. Expect clear sky all day with WNW wind at 15-20 early, becoming NE 15-20 in the afternoon as another surge of cold air pushes in.
Saturday looks clear and cold to start with temps at 5000' in the teens early. In the afternoon, a warmer air mass moves in, bringing temps to the upper 20's to low 30's. Wind on Saturday will be NE 20-25 in the morning, becoming ENE 25 in the afternoon.
Sunday looks sunny. Temps will be right around freezing early. The FAF will rise to 10,000' in the afternoon. Monday through Thursday look warm (like as warm as 50 degrees at points) and dry.
Gorge Wind
Once again, this is the easy part of the forecast. Expect easterlies at 40-50 this morning at Rooster (for a full-on blizzard on I-84). The east wind will back off to 30-40 this afternoon. Stevenson will get 30-35 for much of the day, for a blizzard there too. I guess that's why there's a blizzard warning posted for the western Gorge? Tomorrow, Friday, brings easterlies at 30-35. Saturday and Sunday bring east wind at 35-45.
Gorge Weather
I love days like today. Days where the models are all over the place and all we know is that something interesting is going to happen. Days where the forecast is more a product of gut instinct than model runs. Days where you look at NOAA's area forecast discussion, and they've conveniently forgotten to do any predicting for the Gorge. Come on NOAA – take a risk and make a guess at predicting our weather!
I'll take a risk: Expect snow today. The latest model run shows .7" water value for the Gorge, so call it 4-6" of snow this morning followed by .2" of freezing rain after 1pm. That's for Hood River/White Salmon. Bigger totals for those of you in Odell and Parkdale. Of course, a small shift in the movement of this weather system could make a big difference in precip amounts. The precip should end by 7pm as the weather system drops back to the south. Temps today will be near 30 early, dropping into the mid to upper 20's at moisture moves in and cools the atmosphere.
Tomorrow may start off with an inversion cloud, but that should clear out as the atmosphere dries out from the next blast of cold air. So, expect sun by mid-morning. Temps tomorrow, according to NOAA, will be in the mid 20's early and near 40 in the afternoon. I think that high temp is a bit optimistic. I'll call it mid 30's in the afternoon.
Saturday looks cold and sunny. NOAA says 13 degrees overnight and upper twenties in the afternoon. The 4k temp model says mid 20's overnight and low 30's in the afternoon. Let's split the difference, okay? Sunday looks like a carbon copy of Saturday. No more snow in the future.
White Sprinter Van of the Day – please send photos of snowy Sprinter Vans or Sprinter Vans getting snow tires.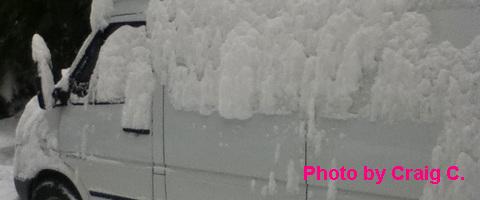 Road and Mountain Biking
If you are up really early (like I was) and you have a bright light, you could sneak in a quick bike ride before the snow hits. If not, you will have to break out your fat bike and ride on snowy trails with Clint H., owner of the biggest, strongest thighs in Hood River. He's so strong that you could probably just sit on his handlebars while he pedals. In other words, this would be a good time to take your bike in to your favorite shop for servicing.


The Clymb: free membership. Cheap gear.
Temira approves. Click to join.
It's cold out, and you still want to ride your bike, don't you? Me too. Bikes are fun! But cold weather makes for cold hands. What's a cyclist to do? Get some Bar Mitts! These neoprene handlebar covers keep your hands way, way warmer than the outside air. This isn't hype. This is Temira's personal testimonial. I begged these guys to let me advertise for them, because I have the coldest hands on the planet. Not anymore. Bar Mitts. Making it possible for me (and you) to have happy hands all winter long.
Events – email me if I've missed any outdoor-related events
Of course, we have the Snowpocalypse to look forward to today and tonight. I have no idea what events, if any, will be cancelled or postponed. And I have no idea what events will go on. I do know that Toshi at Kaze was debating whether to be open today. I hope he is, because there's nothing better than a bowl of hot ramen on a cold night. Oh well. If not tonight, then last night's ramen will suffice. And I'll have more on Saturday night when it's cold enough to wear my fur coat.
Have an awesome day today!
Temira