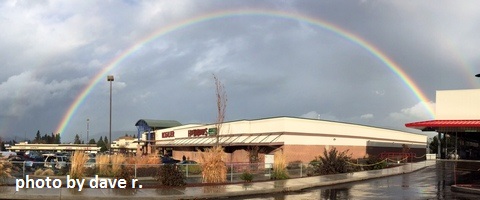 It's snowing on Mt. Hood this morning, thankfully. The temp was a couple degrees over freezing in the wee hours today, but the snow stayed snow and not that other stuff. Expect the snow level to hover around 5000′ for the rest of today before dropping to 3500′ overnight. We'll see .2" water value (WV) by 4pm for 1" of heavy new snow. We'll see another .5-.7" WV tonight (depending on the path of the heaviest precip), for 4-6" of new snow at 5000′. Wind today will be NW 20-25 all day. Continued below the chart…
Mt. Hood Snow Forecast – 5000′

4a-8a
8a-12p
12p-4p
4p-8p
8p-4a
Today
5000'
Tomorrow
3500'
The day after
4000'–>2000'
Friday starts with light snow flurries, and those will continue through the afternoon before tapering off after 4pm. We'll see .3-.4" WV in that period, for 3-4" of new snow. The snow level will be 3500′ all day. In a nice touch for those of you headed to Mt. Hood tomorrow, the wind will be relatively light: W 5-10 early and NE 15 in the afternoon.
Saturday may see a few clouds early, but it's going to be a sunny and cold day for the most part. The free air freezing level will be at the surface early, rising to 1000′ in the afternoon. 5000′ temps will be in the low 20's all day. Wind will be a pain in the butt: NE 20 early and NE 35-40 in the afternoon, possibly enough to give T-Line a big smackdown after noon (NE wind tends to hit T-Line the hardest, NW hits Meadows harder).
Sunday looks sunny with decreasing wind. Monday may bring a few inches of snow.

Thank you for using this forecast!
Click on my photo to support it with a donation.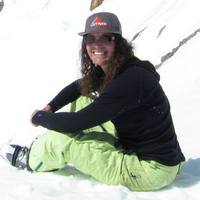 Thank you for using this forecast. Does it save you time, gas money, or help you find more wind, powder, or just plain fun stuff to do? Please make a donation to keep it going! Use it here for free or get on the mailing list for wind for the summer and Mt. Hood snow in the winter. Just click on my photo to donate. The email isn't $99/year. Not $50/year. No, just $12.34 or more gets you on the list for 12 months, and sometimes there are cool prizes. Donate via PayPal/CC by clicking on my happy photo below. Don't PayPal? You can send a check to Temira @ PO Box 841 in Hood River. Thank you for your support, and thank you for trusting my forecast. You guys mean the world to me.
---
Gorge Wind
We start off Thursday with a light west gradient and wind in the 5-15 range. Expect westerlies at 10-13 for much of the day from Hood River to Doug's, with a chance of 13-16 this afternoon. Yes, it will be gusty. Friday starts off light and variable, becoming gusty (and rainy) E 15-18ish in the afternoon, strongest at Rooster, but likely close to useless due to rain. Expect east wind at 10-15 from HR to The Dalles on Saturday with 20-25 at Rooster and Steven's Locks. Out on the coast this weekend, we'll have (north/central/south)… Saturday: side-off, 10-15/20-30/40-50, 5'@9. Sunday: 10-15+/20-25/30-40, 4′.

Random Morning Thoughts
I was sitting at my desk this morning with the two happy lights shining on me, looking around my living room trying to figure out what to say. My eyes landed on the glass float my friend Chris found on the beach at Misawa and sent me via military post. I saw the painting I bought for a steal at an auction when I was a broke college student. There's the plant I rescued from a dumpster 5 years ago. My ukulele in memory of my friend Rick. A painting my friend Mark just left in my house for me one day. A rainbow photo my friend Grant gave me. A painting by my late friend Ellen, and a framed NYT that mentions my blog.
I smiled. You know how you go into a house sometimes and it feels sterile, despite the nice art and furniture? And you know how you go into a nearly empty house and it feels cozy because of the objects within?
I'm kinda thinking this morning about creating safe spaces, and how we can do that. The things in my house are not just things. They have very happy memories and emotions tied to them. My house is full of happy memories. Being here makes me feel safe and happy and cozy. What's your house like? How can you make it happier, cozier, and more supportive of you?

Gorge Weather Forecast
This is the part of the day where I go outside to look at the sky coverage. I did. It's damp out there. My feet aren't cold, but my core has lost a few microdegrees. Anyway, it's cloudy at my house and looks clear to the east. Expect a partly cloudy day with a few sprinkles through afternoon and heavier rain after 4pm. Temps will be in the upper 40's early and the low 50's this afternoon with a 93% chance of rainbows.
Tomorrow also looks sprinkly, but will likely be more overcast than today due to the proximity of an upper level low pressure system. Temps will be in the low 40's early and the upper 40's in the afternoon. 13% chance of rainbows on Friday.
Saturday looks mostly clear (possibly with a few clouds early). NOAA's calling for 35 degrees early, but I bet we'll drop below freezing. Anyway, expect a sunny day with temps maxing out in the upper 40's. No rainbows. Sunday looks sunny. Temps will be in the upper 20's early (NOAA says low 30's, and I say screw that) and upper 40's in the afternoon, maybe low 50's. No rainbows.
Monday looks showery and cold with a chance of light snow flurries in the Gorge in the morning before a quick switch to rain. Models currently suggest a bit of a dry arctic blast on Tuesday and Wednesday.

White Sprinter Van of the Day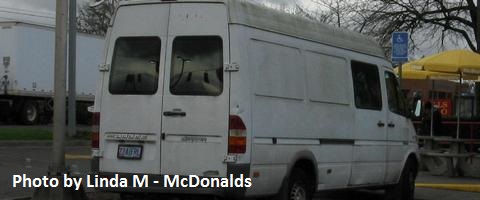 Road and Mountain Biking
I received a bunch of dire messages about the trail conditions over the last couple of days. Freeze-thaw everywhere. Thankfully, yesterday brought warm-enough temps and strong-enough westerlies to dry out some trails. I didn't ride Seven Streams, because I know the clearcut gets hit hard by freeze-thaw, and the best way to damage a trail is to ride it when it's soft. I rode up the road to Spaghetti (fine), up Charley's (fine), up the road to GP (perfect) and up 140 (fine) to Mitchell Ridge (perfect).
If you avoid the exposed areas, Post is fine. Whoopdee, not so much. Syncline, well, I haven't had a report, but I betcha the wind yesterday dried it out. Get your riding in while it's still dry – we'll see more rain tonight, and that might make some trails too wet to ride.
In road biking news, say goodbye to your high elevation rides for a bit. Down here, today will be a little windy, but not too bad. Tomorrow will be less windy. Expect strong easterlies on Saturday afternoon through the whole Gorge and lesser wind on Sunday.


The Clymb: free membership. Cheap gear.
Temira approves. Click to join.
Upcoming Events
It's Thursday. Coming up today, there's community yoga at Flow at 8am, community yoga at Yoga Samadhi at 6:30pm, and Ranger Jimmy T's avalanche awareness clinic (free) at Dog River at 6:30pm. If you can't make Jimmy's avalanche clinic, there's one at Meadows at 1pm on Saturday (also free). Tomorrow morning at 7am, it's the Sunshine and Rainbows 10 Speed Coffee run. Free coffee, donut and special 6th Street goodie for everyone who participates this week. Here's another "save the date" reminder: Interesting Gorge is March 14th at 7pm at the Mosier School. 20 or so talks on random, and interesting, subjects. It's the intellectual stimulation you've been longing for. Be there. You'll be happy you did.
Have an awesome day today!
Temira